Creamy Chicken and Tarragon Pots
with Rosemary Potato Wedges
Credit for this menu combination really goes to the Hairy Dieters (Book 3)
chicken: 231 calories per portion
potato wedges: 109 calories per portion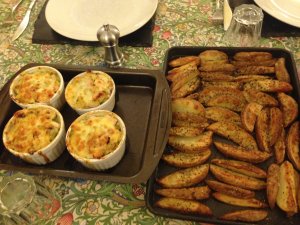 Serves 3
1tsp olive oil
2 medium leeks, trimmed and sliced into 5mm rings
2 garlic cloves, crushed
3 rashers of lean smoked bacon
2 boneless, skinless chicken breasts
200ml chicken stock
small bunch of fresh tarragon or 1 tsp dried tarragon
2 tbsp low-fat creme fraiche
30g reduced-fat mature Cheddar
freshly ground black pepper
Rosemary-roasted new potato wedges
400g new potatoes (about 6 large ones), cut into quarters lengthways
1 tsp vegetable oil
a large sprig of rosemary
1 garlic clove crushed
flaked sea salt
freshly ground black pepper
Place a large pan over a medium heat. Add the olive oil and leek slices and cook for 3 mins until the leek is starting to soften. Add the crushed garlic and cook for another 2 mins.
Preheat the oven to 200oC. Trim any fat off the bacon and chicken and dice the meat. Add it all to the pan with the leeks, stir and cook over a moderate heat for 5 – 10 mins until the chicken is no longer pink. Add the stock to the pan and reduce the heat a little. Cook for 10 mins until nearly all the stock has reduced and the leeks are completely soft. Turn the heat right down and add the tarragon and creme fraiche, then cook for another 2 mins. Season with a good grind of pepper.
Spoon the mixture into ramekins and top with the grated cheese. Place the pots on a baking tray and cook in the oven for 15 mins until bubbling and golden. Allow to cool for a couple of minutes before serving with green veg and roasted new potato wedges.
Rosemary-roasted new potato wedges
Preheat oven to 200oC and put a large non-stick backing tray in the oven to heat up. Bring a pan of water to the boil, add the potato wedges and cook for 4 mins. Drain and put the wedges in a bowl wit the oil and rosemary, then season generously. Mix everything together until the potatoes are well coated, then transfer to the heated baking tray in a single layer. Cook for 20 mins, then add the garlic, give them a good shake around and cook for another 10 – 15 mins until golden and crispy.
USEFUL LINKS
BBC Good Food recipes – http://www.bbcgoodfood.com/recipes
Cairngorms Food and Drink Trail – http://visitcairngorms.com/foodtrails
Taste our Best – http://www.visitscotland.com/about/food-drink/taste-our-best
Scotland Food and Drink network – http://www.scotlandfoodanddrink.org/
Taste of Scotland – http://www.taste-of-scotland.com/
RELATED BLOGS
Recipe Requests: Sticky Toffee Pudding, Venison with Chocolate, Green Tomato Cake, Grasmere Gingerbread, Mascarpone Dessert with Raspberry puree, Oatcakes with cream cheese and smoked salmon, Potato, leek and cheese pasties, vanilla struesel slices, Kiran's venison curry, Very Chocolately Brownies, Thai Spinach Soup, Braised root vegetables with pearl barley and tarragon