Mascarpone dessert with Raspberry Puree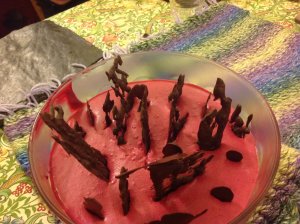 This raspberry dessert is a popular addition to our menu. We have also used our prolific worcesterberries as a raspberry substitute throughout the year.
Serves 4
Prep: 5 – 10 mins
1 cup raspberries
1 cup mascarpone
2 tbs sugar
1/2 tsp vanilla essence
Mash raspberries or put in food processor and process to a pulp. Push puree through a sieve and put pulp and seeds into your compost. Take remaining smooth puree and add to mascarpone, sugar and vanilla. Mix all together. Divide between 4 ramekins or glasses and put in fridge until ready to serve.
This recipe works with both fresh and frozen raspberries and is a really good standby to have when you have guests. Always useful to have mascarpone in the fridge for a quick dessert standby, especially if you're not watching the calories too much.
We've prepared these for groups of 13 or more as the recipe is easy to multiply up.  You could also try substituting the raspberries for strawberry and lemon verbena but you need to be a wee bit more careful with the puree method as strawberries are better a bit more lumpy and don't need to go through a sieve.
Other desserts: