Oatcakes with cream cheese and smoked salmon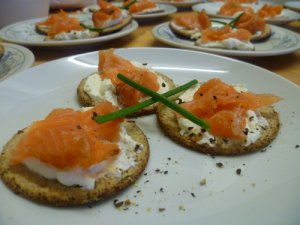 (a quintessentially Scottish starter with smoked salmon produced at Fraoch Lodge for 13 Belgian guests on a birdwatching holiday in May 2013)
Almost a store cupboard special which can be thrown together when guests unexpectedly arrive, this is a typical Scottish snack which can be presented as a posh dinner starter, canapes or a snack. The only issue is that you'd need a supply of smoked salmon in the fridge. We're lucky in that we have a local smokehouse so it's easy for us to pick up salmon trimmings from the smokehouse itself where we can in fact watch the workers producing the salmon we're about to buy.
Unfortunately the smokehouse went into liquidation and has been bought by another company so we now have to get our salmon locally, but not to worry Glenfeshie regularly stock our local shop with good quality trimmings.
What you need:
3 oatcakes per person
cream cheese
smoked salmon trimmings
chives (optional)
Spread the cream cheese over the oatcakes. Top with smoked salmon and if wanting extra pizzazz for the presentation arrange some chives artistically on top.
This classic Scottish combination is very popular but we can only serve it if we don't have any vegetarians in the group – which doesn't often happen these days.
Alternative starters: