Highlands of Scotland: Self Guided Walking Tour in the Cairngorms
Duration:
6 days, 7 nights
Transport:
Private minibus
Tour Type:
Self-guided walking
£485.00
Cairngorms walking tour:
Explore the Cairngorms National Park on carefully selected self-guided walks based from Fraoch Lodge.
The Cairngorms national park is an amazing destination for walking tours because of it's size.
Cairngorms walking tours offer an amazing diversity of hikes, because of the range of habitats which make up the park. You can hike on the high mountain tops or across moorland or through ancient pine forests. It's amazing the range of wildlife you might encounter due to the difference in habitat.
Wildlife encounters on cairngorms walking tours
You can see red squirrels with relative ease around the village due to the Caledonian pine forest surrounding us. If you're lucky, you might even encounter a Capercaillie. (Capercaillie are Britain's largest grouse bird.) Some clients on our Cairngorms walking tour have seen Capercaillie while they were doing the Carrbridge circuit.
Favourite day on the Cairngorms walking tour
Our French guests have unanimously voted the Glenfeshie day to be their favourite. Glenfeshie is really one of the most beautiful parts of the northern Cairngorms because of the contrasting habitats. It is relatively remote and not accessible by public transport, which is one of the reason why we have included it here.
Meeting point: Aviemore station
HIGHLIGHTS
7 nights accommodation at Fraoch Lodge in a standard twin room
5 days of self-guided walks
1 day to explore or relax as you will
transport as detailed in trip dossier
pick up/drop off at Aviemore station
dinner and breakfast at Fraoch Lodge
maps and route book
OPTIONAL EXTRAS:
packed lunches (£5 per person)
room upgrades (to en suite or double room)
Loch Ness tour
single occupancy
PRICES FROM
TBC
RELEVANT BLOGS:
when to come to the Cairngorms
Carrbridge ciruit: an example route description
7 in stock
Enquire about this tour

Arrival Day: Hiking from Aviemore to Boat of Garten
You'll be met at Aviemore station and depending on the time of your train (and the prevailing weather) you will be offered the choice of hiking to Fraoch Lodge, your base for the week, along the Speyside Way, through some of the most beautiful countryside of the north of Scotland; or alternatively you can explore the footpath network surrounding Fraoch Lodge.
Walking time : 2 h.
Day 1: Glenmore
Transfer to Nethybridge
This route is a linear one which finishes in Glenmore forest. You'll hike through Ryvoan pass through ancient Caledonian pine forest where, depending on the time of year, you may be able to forage to your heart's content for mushrooms and fruit, especially raspberries.
You'll pass beautiful turquoise lochs and end the route at stunning Loch Morlich, where you can either pick up the bus back to Aviemore and on to Boat of Garten or phone for a transfer to Fraoch Lodge
Pick up from Glenmore or Aviemore. Phone to arrange.
Walking time : 5h. Route profile : +420m / -420m.
Day 2: From Craigellachie or Aberlour to Ballindalloch Castle
Transfer to Craigellachie/Aberlour.
From the pretty town of Aberlour, you'll be following the old railway route (now the Speyside Way) to Ballindalloch Castle. Along the way you'll also pass through the wee hamlet of Knockando where there is a historic wool mill and cafe. The mill is still in production with restored victorian machinery. If you have time, you can stop in for a wee tour of the mill.
Additional option:
Make a visit to the Aberlour distillery or extend the route slightly to include a visit to Britain's only Cooperage with visitor centre. The Cooperage is where almost all the casks are made for the whisky industry.
Pick up from Ballindalloch at a pre-arranged time.
Walking time : about 4 or 5h.
Day 3: Boat of Garten to Carrbridge circuit
The hike to Carrbridge passes through the small settlement of Chapelton and on up the hill through the woodland to the hillside farm of Docharn. As the route traverses the hill before descending into the woods surrounding Carrbridge, you will have spectacular views across the whole Cairngorm range.
In the woodland you could well be rewarded with sightings of red squirrel and roe deer.
Route starts and finishes at Fraoch Lodge.
Walking time : approx 5h.
Day 4 : Free day.
There are plenty of options to fill your day:
a day of relaxation – perhaps a visit to the spa at the Macdonald's resort
canoe, kayak, river tubing, zip wire, canoening, gorge walking with one of our local activity colleagues (we can book this for you)
visit the Highland Wildlife Park and/or the Highland Folk Museum
take the bus/train to Inverness and explore Culloden Battlefield and visitor centre
take a Jacobite boat tour on Loch Ness or visit the Nessie centre
Day 5: Ascent of Cairngorm
Transfer to the Cairngorm ski car park where you can start the route to ascend to the summit of Cairngorm Mountain (1245m), the sixth highest summit in Scotland. The summit of Cairngorm is atop a vast arctic plateau which offers you an amazing 360o view of the neighbouring summits.
Pick up from Cairngorm ski car park as arranged.
Walking time: 5h. Route profile : +941m / -941m.
Day 6: Glen Feshie
Transfer to Achlean.
Walk the length of Glen Feshie, arguably the prettiest valley in the Cairngorms. Heather-clad slopes stretch up the mountains either side of you while the river wends its way through the middle. You'll probably come across red deer, mountain hare and ptarmigan during the course of your walk as you pass through the different habitats on your way to the summit of Mullach Clach a Blair (Munro). It's a big day out but well worth the effort.
Pick up from Achlean car park.
Walking time: 6h30. Route profile: +706m / -706m.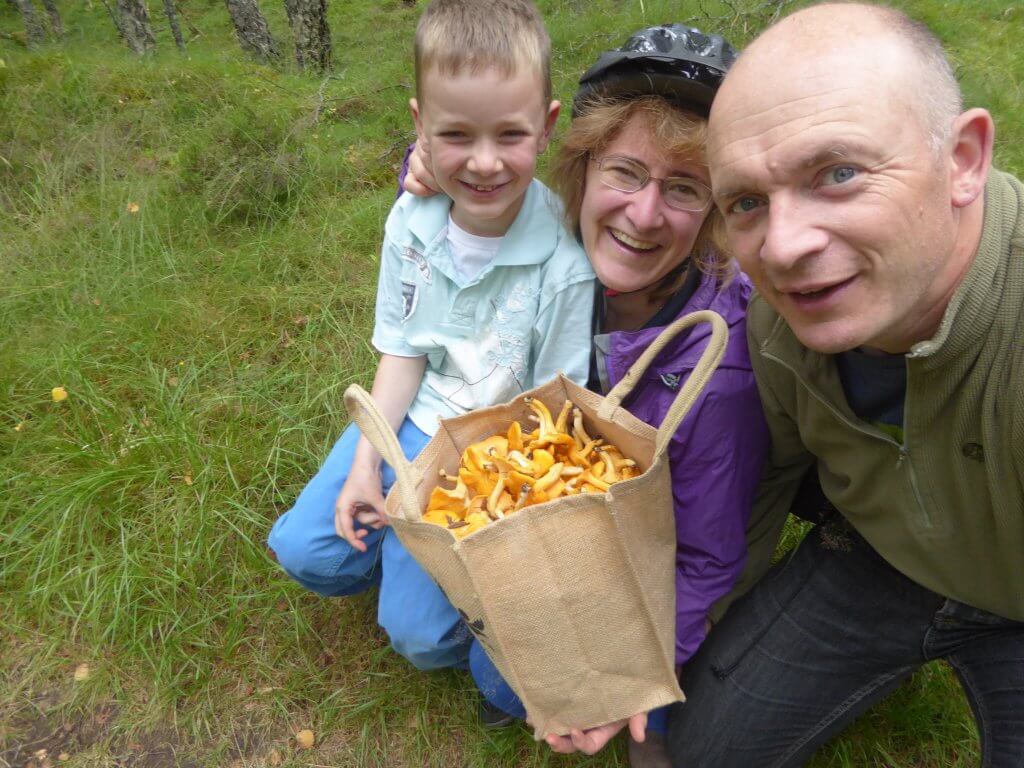 Nature's bounty: handpicked chanterelles mushrooms
Day of departure:
Depending on your departure time, you may have the chance to explore the local trails round the village before you transfer through to Aviemore. The salmon trail meandering along the River Spey is always a good one if you have an hour or 2 free.
Additional options:
There is the possibility that guided groups may be going out at the same time as your trip. For a small supplement, you may the opportunity to join the guided group if their route is suitable. Alternatively if you would like a guided day as part of your tour, please contact us for a quote.
We asked our guests what sets Scot Mountain Holidays apart, why they return year after year:
"the social aspect"  –  "the camaraderie, food and conversation"   –
"the company of the hosts"  –  "so warm and welcoming"  –  
 "a profound sense of belonging"  –  "the welcome of Rebecca's home cooked meal"  –  "Andy's skills as a guide, naturalist and leader"  –  "stewardship, sustainability and a small footprint"  –  "in harmony with the land"  –  "a slice of rural Scottish life"
Scot Mountain Holidays is the ONLY adventure tour operator in Highlands of Scotland with a combined home and guest lodge. We strive to be more than just an tour. We aim to provide you with a 'home away from home' on your adventures. We thought of no better way of doing this than to welcome you into our own home.
We have owned and operated Fraoch Lodge as our home base and business since 1999. In that time, we have come to embrace our guests as members of our extended Highland family.
We source our meals from locally produced and home grown ingredients to provide you with the most delicious flavours and traditions the area has to offer (while minimising our impact on the environment, too). Our dining room and lounge are shared spaces where we gather with guests and friends to share in the holiday and offer you extensive knowledge of your tour.
No matter the season, the Cairngorms and Fraoch Lodge is a place to relax and explore all its beauty and comforts, and we hope to make you feel as at home as we are.
We have achieved Gold Star Awards from the world's most highly respected green accreditation scheme, Green Tourism, and were awarded Highly Commended in their Green Star Awards 2013 for both Scot Mountain Holidays and Fraoch Lodge. We offer a Green Travel Discount of £15 to any guests who travel to us by public transport. Our primary aim is to minimise the carbon footprint of our holidays, and to this end we donate 1% of the price of our tours to the RSPB's Abernethy Reforestation project.
It is a holistic approach we have to the care of the environment. Andy your adventure guide has a passion for the natural world – whether it's the flora, fauna or fungi. He has a background in geology and a lifelong interest in natural history, as well as being a keen gardener.  He knows a Golden Plover from a Dotterel, a Green Shank and a Dunlin. He also makes no apologies to being very excitable upon spying a Golden Eagle!
For further information, please don't hesitate to check out our Environmental Responsibility page, or contact us directly at info@scotmountainholidays.com.