Recipe Request: Vanilla Streusel Bars
This is very easily used as either a bake for teatime or one to add to the packed lunch. Very versatile and easy to freeze.
Requested by Lorraine Telfer and her family (July 2014)
Makes about 25
175g self-raising flour
5ml baking powder
175g butter, softened
175g vanilla sugar
3 eggs beaten
1 1/2 tsp vanilla extract
1 – 2 tbsp milk
For the topping:
115g self-raising flour
75g butter
75g vanilla sugar
icing sugar to finish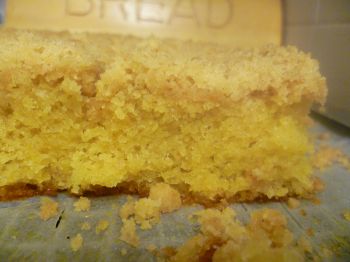 Preheat over to 180oC. Line a shallow rectangular 23 x 18 cm tin with baking parchment.
To make topping, sift flour and rub in butter until mixture resembles breadcrumbs. Stir in sugar and set aside
Sift flour and baking powder into a bowl. Add butter, sugar and eggs. Beat well until mixture is smooth, adding vanilla extract and just enough milk to give a soft dropping consistency.
Spoon mixture into prepared tin and sprinkle over with topping.
Bake for 45 – 60 mins. Cool in tin for 5 minutes then turn out on to wire rack to cool. Cut into bars and dust with icing sugar.
Alternative bakes:
Recipe Request: Very Chocolatey Brownies (GF)
USEFUL LINKS
BBC Good Food recipes – http://www.bbcgoodfood.com/recipes
Cairngorms Food and Drink Trail – http://visitcairngorms.com/foodtrails
Taste our Best – http://www.visitscotland.com/about/food-drink/taste-our-best
Scotland Food and Drink network – http://www.scotlandfoodanddrink.org/
Taste of Scotland – http://www.taste-of-scotland.com/