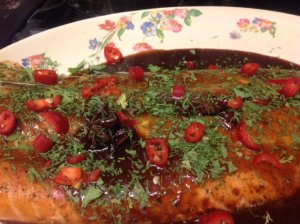 Great salmon recipe to have in your arsenal if you're likely to be feeding a few more than usual. It can easily be prepared ahead and will serve 8 – 10 people. There are a great many recipes around for serving a side of salmon. My mother's preferred way was to poach the salmon and dress it with cucumber. lemon and salmon, but I prefer to roast a side of salmon, either with a breadcrumb coat, a sticky ginger sauce or as below.
Asian Sticky Salmon recipe
1 whole side of salmon
To serve: finely chopped coriander, red chilli and lime wedges
FOR THE MARINADE
2 tbsp each soy sauce**, honey and rice vinegar
4 tbsp hoisin sauce
2tsp each thai 7 spice* and Thai fish sauce
2 garlic cloves
* We couldn't find a Thai 7 spice mixture anywhere commercially and had to mix up our own from a combination of ingredients we did have. We substituted galangal for ginger.
**Remember to use Tamari soy sauce if you have anyone joining you who doesn't eat wheat or is coeliac
Mix all the marinade ingredients together. Place the salmon on a large piece of foil, bring the edges up to form a boat around it, pour over the marinade & scrunch the edges together & leave to marinade for at least 6 hours. (You don't have to use the foil and could just place the salmon in a container the right size so long as you have a lid which fits, but most of us don't have containers long enough to serve the purpose.)
To cook: heat the over to 200oC (fan). Remove the salmon from the marinade and place on baking parchment or well oiled foil. Roast for 15 – 20 minutes.
Meanwhile transfer the marinade to a pan, bring to the coil and simmer for a few minutes until thick and syrupy. Pour over the salmon for the last 5 minutes of cooking, then, when sticky and slightly caramelised, transfer the fish to a serving platter and scatter with coriander & chilli.
Serve with lime wedges.
Just one of the many delights we serve up at Fraoch Lodge. If you are planning to stay with us and would like to join us for dinner it is an advantage to let us know the evening before if possible. We can try to accommodate last minute orders but might have to adjust the menu accordingly.