The people behind Scot Mountain Holidays
Andy Bateman
Born in Ipswich, Andy grew up in the Midlands where he developed an ambition to live in Scotland whilst on a family holiday in the Torridon. Andy is a mineral engineer by training and worked in South Africa after qualifying from The University of Leeds. During his studies he developed experience in UK hill walking trekking extensively across Yorkshire and participating in British Schools Exploring Society (BSES) expeditions in Pakistan and India. Andy has also been to Kenya as part of a scientific expedition, recording data of the Grebi Zebra for a peer's zoology dissertation in protecting endangered species.
After working in South Africa Andy returned to the Midlands to run his own garden maintenance operation which gave him the independence to complete his training as a Mountain Leader, concurrently being an active member of his local mountaineering club. Through the club Andy was given the opportunity to fulfil his long-time ambition of moving to Scotland and managing his own outdoor tourism business.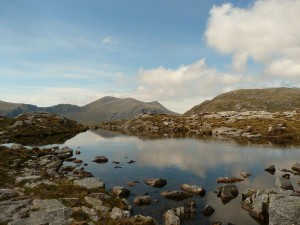 Since 1998 Andy has been living at Fraoch Lodge with Rebecca developing their tours and hospitality. Andy is a qualified International Mountain Leader and does the majority of guiding at Scot Mountain Holidays, incorporating his personal interests in wildlife, environmentalism, geology and current events to deliver outstanding and one-of-kind walking holidays of Scotland's landscapes.
Rebecca Field
Rebecca grew up in the South East of England before her family moved to the Midlands following her graduation from secondary school. During her childhood, Rebecca was fortunate enough to make annual trips to Scotland where her family purchased a timeshare at Loch Rannoch, 60 miles south of Fraoch Lodge, where she developed a fondness for the area.
Rebecca spent six years working and traveling in Australia, New Zealand and Southeast Asia before returning to the UK in 1997 to study for her Post Graduate Certificate in Education (PGCE). Being so well traveled, Rebecca imagined she might one day provide hospitality herself, deriving joy in providing comforting lodgings, warm hospitality and exquisite cuisine for her guests.
Rebecca and Andy met in 1998 and shortly afterwards they moved to Boat of Garten where they set up the beginnings of their business in mountaineering skills, guiding and catering which has developed into the Scot Mountain Holidays of today. Rebecca's knowledge of the local wild and plant life is the basis of her unique and mouthwatering catering designed to showcase offerings of the area.
Gregor Bateman
Gregor was born in 2008 at Raigmore Hospital, Inverness. He has grown up in a busy, joyful houseful and welcoming guests into his home. He regards everyone as part of his extended family and is usually quite comfortable with the idea of providing entertainment; taking in the toast, being coal man, and all manor of other tasks, not least of all being Fraoch's longstanding Star Wars connoisseur.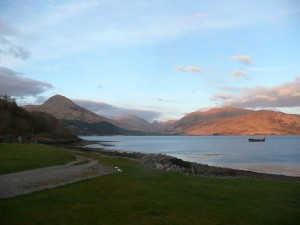 Seasonal helpers
We have been hosting Worldwide Opportunities on Organic Farms (WWOOF) volunteers since 2008. With their help, we have completely re-envisioned our garden to make it almost exclusively full of edible plants. We provide seasonal fruits and vegetables which are taken fresh from the garden straight onto your plates.
Guides and partners
We work with carefully selected and experienced local guides who are experts in their chosen fields to enhance your Highland adventures. Please don't hesitate to ask us to learn more.