Experience the stunning wildlife of Scotland
Scotland's wildlife is unbeatable. The Cairngorms are central to the BBC Autumn and Spring watch programmes and the wildlife listed are within or near the Cairngorms National Park. With an ongoing Wildlife Diary, Scot Mountain Holidays can direct you to where you can witness these stunning creatures.
Dolphin
The Moray Firth Wildlife Centre is right at the mouth of the River Spey at Spey Bay, and is well worth visiting. You might see dolphins, otters and ospreys all in one trip. Chanonry Point at Fortrose on the Black Isle, just north of Inverness, is a definite highlight. It is possibly the best shore-based dolphin viewing in Europe, with pods swimming within metres of the beach.
Pine Marten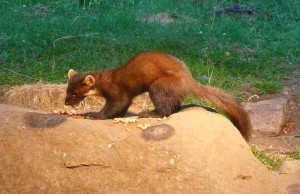 Local hotspots for pine marten include Glenmore Lodge and Rothiemurchus Bridge where the burn leaves Loch Morlich. There is a hide available to book for an evening with a wildlife expert for the best opportunity of viewing this nocturnal digger. For more information contact Scot Mountain Holidays.
Mountain Hare
Hillwalkers are most likely to see this animal. However, it does occur on high ground or moorland over 500 metres and thus are also spotted by motorists along higher roads. Stay long enough and you are bound to see this furry creature hopping along.
Otter
Spey Bay is the best spot in the valley for otter watching. Elsewhere, dawn and dusk along quiet stretches of river are advisable.
Red Deer

In daylight these creatures are mostly on high hill while at night they sometimes come lower to graze in the fields, so they are often seen at dawn and dusk near minor roads along the valley. No matter the time of day it is exciting to catch them bounding through the fields.
Reindeer
Hillwalkers may cross paths with wild reindeer within the high Cairngorm plateau. If no such visit can be made, try the reindeer centre in Glenmore.
Red Squirrel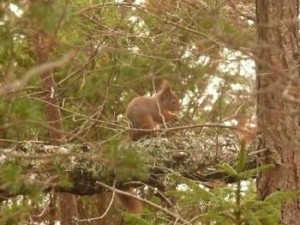 Early morning is the best time to see these charming little mammals. They live in the local pine forests and are attracted to gardens and visitor centres that put out nuts for birds. They are often seen in our garden where we have installed a squirrel feeder at the top of the garden. Guests often catch sight of them from their rooms overlooking the garden.
Seal
Seals are common at Spey Bay, and a true sight to behold. These slippery creatures can be overlooked, but well worth a patient scouting to glimpse.
Birds
Our area is a mecca for birdwatchers who come to see the Osprey at Loch Garten and the Capercaillie in April and May. The Osprey hide is opened early morning (05:00-08:00) to watch the Capercaillie and Ptarmigan in the mountains, Black Grouse in the woods and moorlands, and summer visitors such as the Slavonian Grebe and Ring Ouzel. We boast a visiting family of Scottish Crossbills in the garden, which is a big thrill for any birdwatcher. We've also had Crested Tit take to our feeders, which have otherwise become increasingly rare to see in the village in recent years.
We've also had Scottish Crossbill and Waxwings in the garden. We frequently spot Golden Eagle, Golden Plover and Snow Bunting on local walks. If you are a birder, the Cairngorms are tweeting your name.