The Story of our Highland Experience Tours
Meet the Team at Scot Mountain Holidays
Scot Mountain Holidays have created a wonderful paradox. You have the comforts of home whilst stepping off your doorstep to explore somewhere cherished or new. Andy's more extreme and challenging trips can take you decidedly out of your comfort zone. He also introduces a 'wild side' of Scotland and Europe that are delightfully unexpected.
Tours
Andy designs and leads an extensive collection of guided and self-guided tours. Trips range from weekend excursions to up to seven days. Every departure is guaranteed to operate, no matter how small the company.
Tours range in difficulty from easy (Grade 1) to challenging (Grade 5), and can be customized for individual holidaymakers. Being parents, Andy and Rebecca have itineraries for family adventures which include a wide variety of outdoors activities and cultural attractions. Paddling, wildlife viewing, castles, handicrafts, museums, and pubs are all offered here in the Cairngorms National Park.
Andy's extraordinary knowledge and expertise guarantees all guided outings are safe and full of adventure. You can enjoy a relaxed day hike or a demanding overnight snow-caving expedition. You could bag Munros at any time of year. There are so many ways to appreciate Scotland's diverse flora and fauna. Andy is a fully qualified  with over 20 years of experience. He has exceptional guiding knowledge of Scotland's most stunning locations. Tours are non restricted by season or weather.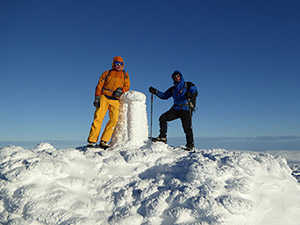 Aside from walking tours, if you seek a thrilling physical challenge and to gain outdoor skills then Andy is your man. He offers courses in navigation and mountain survival skills. He is perfectly capable of guiding in heavy fog and snow-driven whiteouts while even teaching you to do it too!  Besides being such an amiable companion, Andy is a wonderful teacher offering the encouragement and inspiration that allows guests to go further in their expeditionary adventure than they ever imagined they could.
The Lodge
Fraoch Lodge, the 'base camp' of Scot Mountain Holidays, came from our mutual love for mountain areas. We enjoy travel, geology, locally-sourced and home-grown organic food, living green, and teaching and sharing our knowledge. We began working at the lodge in 1999, opening it up as a home to our guests who quickly become part of our extended Highland family. They pay attention to the details – those small but meaningful touches – that make a stay so memorable.
The comfy lodge is now a 5* hostel with home-style hospitality, such as Rebecca's signature 'cake 'o clock' for returning hikers and daily fresh baked bread. Guests gather in the lounge with hot coffee and tea to share their adventures, or in the dining room over exquisite home cooked meals prepared in-house using organic home grown produce.
From the moment you arrive you will know our heartfelt hospitality. Whether you arrive by rail or air in nearby Inverness or Aviemore, Andy will be there to collect you and bring you to their home in Boat of Garten. (The village is named after the old ferry of the nearby River Spey.) Most guests stay at Fraoch for at least two nights, and depending on the itinerary may also stay in other boutique lodgings especially selected for their tours.
Green Tourism
Scot Mountain Holidays is a Gold-Green Tourism business. We are passionate about the environment and sustainable living. We believe the greater the indigenous biodiversity, the stronger and more productive the environment. If this is the case then the environment is more likely to support the high human demands we put on it.
Scot Mountain Holidays operates with a very small 'footprint', having designed their operation to minimize environmental impact. We are ardent supporters of the 'farm-to-table' movement.
Now in their 19th year, Andy and Rebecca bring an unparalleled combination of experience, passion, style and sensibility to set a new standard for sustainable travel. Scot Mountain Holidays and their guests are kindred spirits celebrating the beauty of the Scottish Highlands, respecting and preserving the bounty of its biodiversity.
We hope you join us!