Recipe Request: Venison recipe with Chocolate
This recipe is perfect for a snapshot of a taste of Scotland. All the ingredients can be found produced in Scotland, Marjoram can almost be a weed in some gardens and the deer roaming the hills (as in some other parts of the UK) are turning into a pest which needs active management as they now have no natural predator.
The combination of chocolate with game is not unusual. The intention is to add a deep, rich colour and flavour. Use the most bitter chocolate you can find. The marjoram enhances the sweetness of the chocolate. We usually serve with rice or mashed potato but almost any carbohydrate will do including couscous or any long pasta.
Ingredients:
3 tbs olive oil
1 onion, peeled and chopped
1 large garlic clove, peeled and chopped
1 leek, cleaned and chopped
1lb/500g casserole venison
1/4 pint stock
2 – 3 tbs red wine
1 oz bitter chocolate
2 tbs majoram
salt, pepper
1/2 – 1 tbs balsamic vinegar
Method:
Preheat oven to 160oC/325oF. Heat half the oil in a heavy ovenproof dish. Gently fry the onion, garlic and leek for about 10 minutes, then remove with a slotted spoon
Heat the remining oil, then brown the venison cubes all over for a few minutes. Add stock, wine, chocolate & marjoram. Bring to the boil, then season with salt and pepper. Cover tightly with a lid, then place in oven for about 1 1/2 hours. Stir every 30 minutes.
Taste and add enough vinegar to balance the sweetness of teh sauce.
Serve hot.
This dish freezes well and can alternatively be cooked on the hob.
I also often short cut and do not remove the onion etc while browning the meat.
With thanks to the deer of Scotland!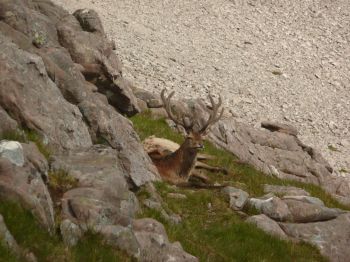 Alternative venison recipes: