Scotland, famous for … whisky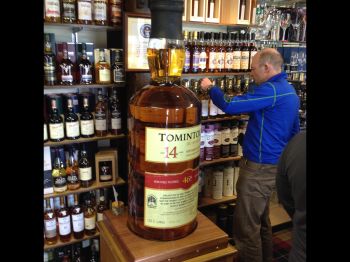 World Whisky Day is approaching along with the whisky festival (in May). We thought we'd share our own accumulated knowledge of Scotland's most prestigious drink. Why is Scotland famous for whisky?
Having a business in Scotland means that you can't help but be closely tied to the whisky industry; it is part of the fabric of life here and integrated in many aspects of life from furniture, to food, to farming.
The following blog is fascinating reading as a starting point:
http://www.worldwhiskyday.com/blog/9-facts-about-whisky-you-need-know
Whisky as inspiration: weird and wonderful concoctions
The influence of whisky on the Scots and our surroundings is felt not only by the drinking of whisky but also in the by-products of the industry itself. Though the industry is very demanding of resources such as energy and water, what is considered waste in the production of whisky is often reused and recycled as the following paragraphs show.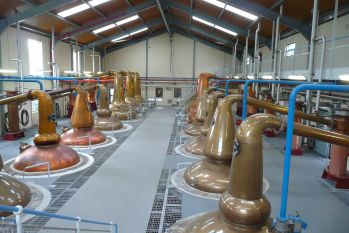 1. Whisky inspired recipes – very Scottish menu choices
Recipe 1: Whisky bread and butter pudding –
we enhance the whisky flavour further in this recipe by using our own whisky orange marmelade –www.bbcgoodfood.com/recipes/251622/marmalade-and-whisky-bread-and-butter-pudding
Recipe 2: Whisky and honey ice cream
Use a good sherry-cask-matured malt like a Macallan 10 and you'll end up with the silkiest, sexiest ice cream this side of a freezer full of Haagen Dazs. It's basically a hot toddy that thinks it's a pudding and is marvellous with a Mincemeat Tart, particularly if you take the time to make your own mincemeat.
600ml milk
6 medium egg yolks
25g caster sugar
150g heather honey
50ml whisky
85ml double cream
serves 6
Pour milk into a pan and bring to the boil. Meanwhile, whisk the egg yolks and sugar together in a bowl until pale and creamy. Whisk in the hot milk; return the mixture to the pan and cook over a gentle heat, stirring constantly, until it thickens enough to coat the back of the wooden spoon lightly. Pour the mixture into a bowl and stir in the honey, whisky and double cream. Leave until cold then cover and place in fridge before churning.
This ice cream does not freeze hard due to the alcohol content (the whisky) so don't take it out of the freezer until you need to serve it otherwise it will go sloppy on you.
Recipe 3: Salmon in a whisky sauce
125g unsalted butter
1 carrot
1 stick celery
4 salmon fillets
2 tbsp olive oil
2 tbsp whisky
4 tbsp single cream
salt and pepper
spinach to serve
serves 4
Melt 25g of butter in a small pan. Add carrot and celery and cook over low heat for 10 – 15 mins, until veg is tender.
Add salmon fillets skin side down & cook for about 6 – 8 mins until the skini s crisp. Turn the fillets over and cook for another 6 – 8 mins, or longer if thick.
Add the whisky to the veg and boil to reduce for about 2 mins.
Add cream and extra butter while stirring until sauce is thick and rich looking.
This sounds fantastic but I haven't personally had a chance to try it out.
Other options:
Whisky recipes on the BBC Good Food site – some must tries here.
2. Whisky inspired food
There are obvious whisky pairings and cocktails: whisky with ginger, whisky with chocolate, whisky with cheese. And then there are the not so obvious … we've done our research across the internet and found some examples here for you below, though one is not food we couldn't resist including them.
When you start to look it's amazing what has been flavoured with whisky. We usually have a good supply of the good stuff for drinking – which is how we tend to like our whisky flavour, but we have stocked whisky flavoured cheese and will hopefully shortly be working with Brodies to stock their chocolates here. The fruit filled ones are truly stunning in flavour and we're certain the whisky chasers will also be a hit.
Some of these pairings are truly Scottish, especially the haggis. I'm not so sure about the tea – but we'll have to try it one day. Can't diss something you haven't tried after all.
cheese – there are classic whisky and cheese pairings (http://www.worldwhiskyday.com/blog/whisky-cheese-pairings) and (www.britishcheese.com/userfiles/file/Cheese___Whisky_04-10.pdf), but also whisky flavoured cheeses: cheddar cheese flavoured with Arran Whisky http://www.taste-of-arran.co.uk/item.asp?itemid=11
smoked salmon – http://www.summerislesfoods.co.uk/prod-6/whisky-cured-smoked-salmon/ or http://www.jollyfish.co.uk/index.php?id_category=8&controller=category
coffee – check out this interpretation of whisky flavoured coffee, a wee bitty different from an Irish coffee http://ineedcoffee.com/scotch-coffee/
I'm not a coffee lover, so I can't vouch for this coffee, but maybe we should start to offer it just to find out what kind of impact it would have. You never know we might start a trend! http://www.beaniesflavourco.co.uk/flavour-coffee-premium/premium-blend-malt-whisky-flavour-coffee.html
beer – http://www.scottishfield.co.uk/the-grape-the-grain-six-of-the-best-whisky-beers/
chocolate – www.storychocolate.co.uk/box-of-whisky-chocolates/
http://www.buy-haggis.co.uk/brodies-whisky-chaser-chocolates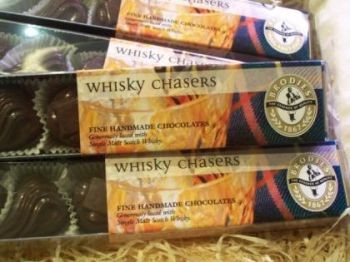 tea –
haggis –
and finally
condoms –
3. Whisky inspired housing
The Findhorn Foundation has a well-deserved reputation for advanced environmental practices. They run courses recognised by an Edinburgh university and produce a large amount of their own produce. Many of the properties built on the land in and around the foundation are as environmentally friendly as possible and even contain some houses which have been made with that the whisky industry would class as waste.
There is a cluster of houses at the Findhorn Foundation made out of whisky barrels:
This blog entry describes a visit to the whisky barrel houses at Findhorn:
4. Whisky inspired furniture
In January 2015, Karen and Rebecca were invited to attend the Scottish Speciality Food and Trade Fair in Glasgow, with a view to acquiring some more suppliers so we can enhance the meals we offer and potentially supply some of you with some souvenirs of your stay. We were quite astounded at the range of products on offer, but a little disappointed to discover that some were not produced in Scotland. We were only interested in supplying Scottish products preferably made from Scottish materials. These suppliers inspired by used whisky barrels are along the lines of what we'd like to offer though obviously the one we've bought (as photo) is not suitable to all homes as it's 5 candles long. We also hope to get some table lamps and if we've feeling flush at any time, we'll invest in chairs/tables.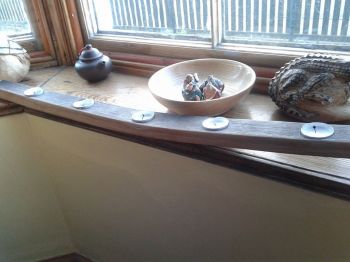 5. Whisky inspired energy
The production of whisky is a major industry in Scotland; we're famous for whisky. Exports alone are worth around £3 billion annually. However whisky production is also an energy intensive process. In 2008 the industry used just over 3.6 billion kWh of primary energy, equivalent to about 1.5% of Scotland's total demand.
To minimise energy costs and reduce emissions further, the industry therefore plans to exploit alternative energy sources. It aims to increase the proportion of energy derived from non-fossil fuel sources from 3% in 2008 to 20% by 2020.
A potential source of alternative energy is provided by the co-products from the distillation process itself. The first is draft or spent grain – the remnants of the milled, malted barley or grain after the soluble starches have been extracted. The others are Pot Ale and Lees – the liquid left in the stills after distillation. These co-products have historically been used to produce animal feed but shifts in agricultural practices and rising energy prices mean that other uses are now being investigated.
It is technically and economically viable to provide power generation from the co-products of whisky distillation.
It is the spirit that powers the Scottish economy, and now whisky is to be used to create electricity for homes in a new bioenergy venture involving some of Scotland's best-known distilleries. Read more
Commercial operations begin at 8.23MW whisky-to-energy facility that should provide electricity to 9,000 homes. Read more.
A £74m green energy project in Speyside will power more than 20,000 homes and provide heat for one of the world's best known whisky distilleries. Read more
6. Whisky inspired holidays
Spey Descent – Blending Open Canoeing on the River Spey with exclusive Malt Whisky Tasting Experiences. Facilitated by the Spey's most experienced River Guide ~ who has intimate knowledge of this iconic Scottish river and its famous malt whiskies.
Mountains and Malts – Walking, whisky & wildlife. Whilst others make a beeline for the highest peaks of the Cairngorms National Park we venture onto the quiet back waters of the Glenlivet to explore the history of whisky producing and how it has affected the landscape. We'll be rewarded with grandstand views from deserted mountain tops in this area famous for whisky production. This secretive area, away from the eyes of the Exciseman, was once the heart of illicit distilling territory. Not to fear though, whisky is now legal and a thriving industry. We'll discover the world of whisky and have a chance to sample its delights along with experiencing some of Scotland's finest mountain-scapes.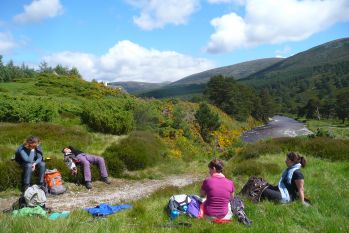 Speyside Way – The Speyside Way runs from Buckie on the shore of the Moray Firth coast of NE Scotland, south westwards to Aviemore on the edge of the Cairngorm Mountains, a distance of approximately 65 miles. There is also a 15 mile spur to Tomintoul. The route passes numerous distilleries in Dufftown as well as Aberlour Distillery.
Speyside Whisky Short Break – Speyside is world renowned as the heart of Scotland's whisky industry. The close proximity of so many contrasting distilleries, together with the wide range of other options locally, make this area a perfect short break destination for the whisky connoisseur.