So many people have heard of the isle of Skye, and millions have watched the movies set there. Everyone wants to go and experience the beauty of Skye for themselves. What they forget is that everyone else has now heard about Skye too. There are the down sides … rain, midges, crowds … but it still has a reputation to beat most other places in the Highlands, except perhaps Loch Ness.
Skye is blessed by being mentioned in music, in movies and in history. It has a distillery, castles, stunning jagged mountains and is eminently accessible now there is a bridge. Is it still an island if it is connected to the mainland by a bridge?
The isle of Skye now has iconic status and has made it on to the "must see" bucket list of so many when they plan their visit to Scotland. Unfortunately many just take a day or 2 on a bus tour. If you can, really try to get under the surface and spend a wee bit more time exploring to find those hidden gems most people whizz past.
More people – more the word spreads – more people …
Social media seems to have concentrated the effect of tourists travelling to Skye. You can't get away from tour minibuses if you're going to visit all those spots you've seen on social media: the Old Man of Storr or the Fairy Pools or the Quirang, unless of course you're going to go at antisocial times. However, Skye is a very large island and if you're prepared to divert from the popular hotspots and get away from the road, then you'll probably be able to find your own peaceful viewpoint – but it will take a little more effort than a 20 minute walk.
The spots most people have heard of will be the busiest. One of the reasons many people have heard of them is that they are accessible. Unfortunately the accessibility generates it's own issues and if you are driving on the isle of Skye you need to watch out not only for sheep on the road, but also for parking opportunities and take care with motor homes. The roads are not designed for wide vehicles. Be very careful to make sure you are not blocking any access and your car is well off the road if at all possible even if it means you might need to walk a wee bit further to get the best photo.
Popular sites on the isle of Skye
Heelan Coo
Not unique to Skye but there are many on the island. However, there is also a herd at Rothiemurchus, near Aviemore (Cairngorms National Park) and near Grantown on Spey on the Revack Estate.
Old Man of Storr
Clearly visible from the road and from Portree on a good day, the Old Man of Storr is a most photogenic rock formation. You can certainly understand why so many make the short walk up to it. It is on the minibus circuit so even on a bad weather day in the main season, starting in May, it can be difficult to find a space in the car park unless you get out early or arrive late. To be honest, unless you can get away from the other tourists, you may not fully appreciate the site anyway at there is nothing like the presence of other people to destroy a peaceful atmosphere, which could affect your memories.
Cuillin Mountains
Not so popular with most self-drive tourists due to the more serious nature of the walks. Still there are always people stopping by the Sligachan Hotel to take photos. Up close, they are even more stunning but a guide would be advised if you are intending to head into the high Cuillin as the peaks are quite sheer climbs and require some scrambling or in some cases roped climbing.
Dinosaur footprints?
Movie sites/backdrops
All these movies have featured shots of some iconic sites on the isle of Skye
The BFG, Macbeth, Stardust, The Land That Time Forgot, Snow White and the Huntsman, 47 Ronin, King Arthur: Legend of the Sword, and Transformers: The Last Knight, The Ridge, Highlander, Made of Honour, Breaking the Waves
Movie map of the Highlands and Skye
Disadvantages of high season
Lots of traffic on small roads
Lack of accommodation
Midges
Rain
Alternatives:
North West Scotland is one of the best kept secrets we have had here in the Highlands. While flocks of tourists have visited the isle of Skye, not nearly so many have made the pilgrimage north. This is changing now with the advent of the "North Coast 500".
It's interesting isn't it, what can be done by packaging something in marketing terms. There has always been a road around the north coast of Scotland. The road has always been there. Someone had a great marketing idea and renamed the road as the "North Coast 500" and introduced it to the general public as a must-see driving tour to rival Route 66 in the US. They have done an amazing job and now more and more people are driving up round the north of Scotland. New companies and tour experiences are popping up all over the place. If you do go up, more than likely you'll meet either a convoy of Lamborginis or a convoy of motorhomes!
Torridon:
This is one of our favourite areas of north west Scotland. Personally we think it is more stunning than the isle of Skye and certainly has hiking to rival the isle of Skye. We take groups over to Torridon nearly every year using a variety of large holiday cottages and getting to know the area well. There's a small community there so much so that we are recognised in the gallery now.
If you do go to Torridon, be sure to pre-book your accommodation and any places you'd like to eat out as there are a limited number of places to go and also a very limited number of places to top up your supplies. It's a great area for galleries and crafts with many artists taking their inspiration from the surrounding landscape. If you'd like to explore the Torridon area in depth, you should join us for our Classic Torridon itinerary.
Knoydart
Another favourite area of ours but only really appreciated by those who are looking to get away from mainstream living or those who love to hike. Knoydart is only accessible by boat or by a long walk-in. Wifi has reached the area so you don't need to be completely without access to the outside world, but don't expect to get a strong phone signal.
Knoydart is more remote than Skye but just as beautiful. There are plenty of opportunities to see wildlife as there are far fewer people around and there is a gorgeous beach which is right next to the main campsite. The beach is a definite plus – something which Skye lacks mostly.
We're heading over to Knoydart again in September so if you have a week to spare at the beginning of September, do come and join us.
Assynt
Needless to say we love Assynt and choose to take personal breaks here if our free moments coincide with good weather over there. Our Empty Quarter itinerary makes the most of the most spectacular walking in the area. As with all our trips, you need to take time to slow down and appreciate this area rather than rushing from place to place to fill up your camera with the same shots as everyone else.
Lewis and Harris
The Outer Hebrides are famous for their beaches. You need to look a little harder to find the hiking, but it is glorious wild country not much explored by others. The islands can absorb a lot of visitors particularly if you can get away from the roads. If you follow the coffin road across Harris, you're unlikely to see many people at all until you look down on the sandy stretches of Luskentyre. Should you be there at low tide, you'll probably find a long stretch of empty sand pretty much to yourself.
If you like hiking, you'll love the Western Isles Wilderness itinerary we're running at the end of September. Looking forward to some glorious light and photo opportunities.
Arran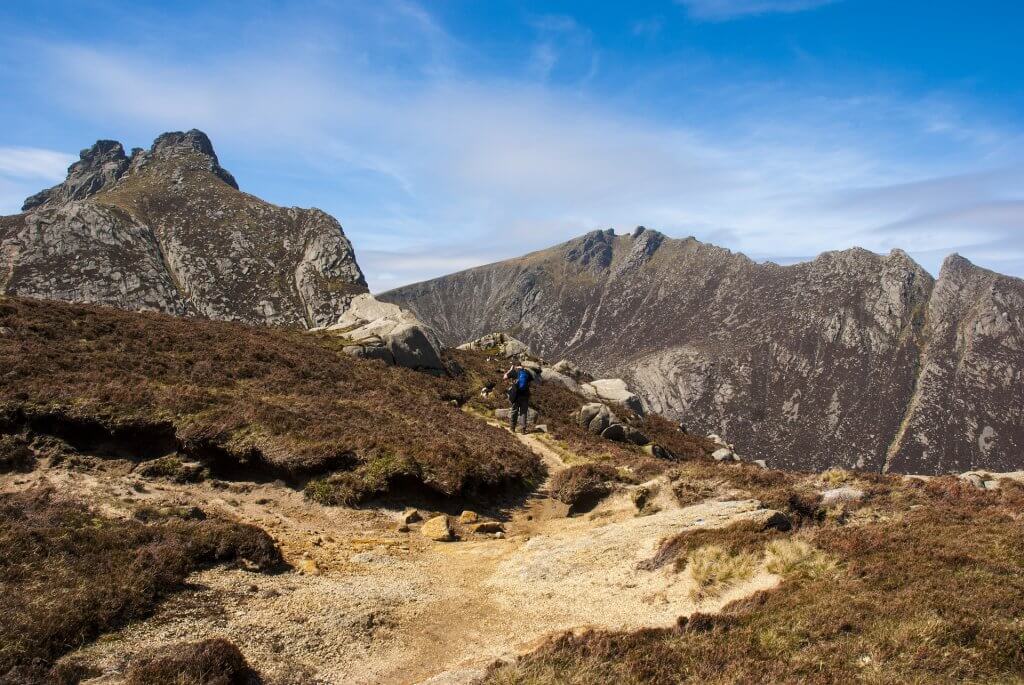 We often talk about Arran being Scotland in miniature. It is very much true. Arran has mountains, beaches, castles and amazing fresh produce. It is relatively accessible from Glasgow, but really you can easily spend a week on the island without being bored.
Kintail & Glencoe
Do you really need to say more than just "Glencoe"? The scenery is very dramatic. You can appreciate it from the road, but there are even more fabulous sites to be seen if you are able to hike up into the peaks which line the road. Summer programme will be forthcoming 2019 or 2020.
In short
Planning a summer trip to Scotland and want to go to the Isle of Skye? Make sure you pre-book and resign yourself to being in company if you want to visit the popular sites. All is not lost though as there are ways to avoid the crowds. Personally we like to head out and find our own space, so we tend to keep our visits to Skye out of the main season, which fortunately also means away from the midges and most of the campervan!