Highland Wilderness Glamping Taster
Duration:
3 days, 2 nights
Transport:
Packhorse supported hiking
Tour Type:
Pack horse supported hiking and hot tent wild camping
Hiking with Horses – Highland Wilderness Glamping
Packhorse supported hiking with wild camping comfort – a UK first!
This guided hiking holiday marries the traditional pack horse role of the native Highland Pony and more luxurious camping. For the first time, this wilderness trek offers guests comforts like heated nordic tipi's, warm showers and comfy camp beds! This Packhorse supported hiking holiday provides remote wild camping with an elevated level of camp comfort.  It offers wild camping and hiking with horses in some of the Scottish Highlands wildest and most beautiful scenery. It's a truly immersive, off grid experience.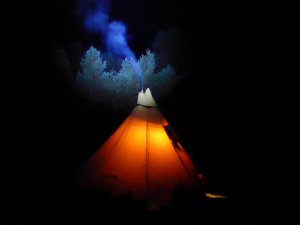 What to expect
The experience provides:
Woodburner heated Nordic Tipi's big enough to stand up in!
giving somewhere warm to sit and relax on camp chairs
A wilderness journey in the company of our Highland Ponies, Goldie and Foxy!
The ability to dry outdoor clothing in camp overnight
A trek through the beautiful Caledonian pines and mountains of the Cairngorms National Park.
Warm camp showers
Experience the Uk's most bio diverse natural habitat
A proper Camp toilet!
Half a day of expedition training
A sleeping experience akin to being in your own bed
The comfort of only having to carry the weight of a "day sack".
An off grid and truly immersive nature experience
Probably the most carbon neutral holiday you will ever have been on!
All conducted with Leave no Trace principles in mind.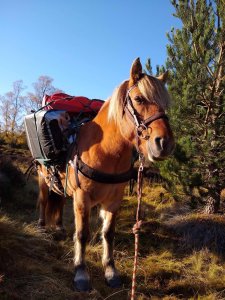 What's included?
This 2.5 Day/2 night fully inclusive adventure includes:
2 Days of guided hiking
1 night of wild camping
1/2 a day of expedition training
2 nights accommodation (Day 1) at Fraoch Lodge at the beginning of the trip and the last night after returning from the camp.
All meals from lunch on the first day of arrival through to breakfast on your day of departure
Transport from Fraoch Lodge to the start of the trek
Transfers between Inverness Airport or Aviemore Rail Station.
The Cairngorms National Park  is the UK's largest national park, home to 25% of the Uk's rarest and most endangered species. It holds 5 out of 6 of Scotland's highest peaks and contains Scotland's largest, most natural habitats. It is home to the country's most ambitious, landscape-scale nature conservation project, Cairngorms Connect
Additional information:
Add ons: Glamping addons
Dog policy: Dog Policy.doc
Read all about this trip in Scottish Field and Trail Magazines
Day 1: arrival
Guests are asked to aim to arrive for lunch by 1pm*. Over lunch you're able to meet your guides and settle in.  The trip kicks off with an afternoon of expedition training learning how to efficiently pitch and strike camp. Everyone gets involved! Cake O'clock follows and we go through what you will need and don't need to be carrying for the expedition.
Day 2
After a good breakfast we head over to the stables where the pony handlers will have already got the ponies ready. We head out onto the beautiful Rothiemurchas Estate. Taking a route though a lovely mix of native pine woodland and pastures we pass by the lovely Lochan Eilean and on into Inshriach National Nature Reserve.
At a certain point we head off the path and head into native woods that transcend time. Nothing has changed since the colonising vegetation chased back the glaciers 12 000 years ago. Lichens drape from the branches giving it a lost world feel. It is so incredibly beautiful! Though un-tracked heather, on a bearing and pacing out the distant we pick up a deer track through the heather. Winding its way beneath noble pines it leads us to our campsite.  It's a superbly secluded spot in open woodland and heather moorland. Another human you are very unlikely to meet! We pitch camp with plenty of time to enjoy the whole wilderness experience.
Route: 8km across fields, on estate tracks, footpaths and through heather moreland on undulating but gentle gradients. Ascent is negligible. Walking time excluding photo stops, breaks, etc is approximately 3 hrs.
Day 3
After packing up we head back onto the Rothiemurchas Estate along Rathad nam Meirleach (The Thieves Road). Route of the notorious Jacobite and cattle rustlers like John Dubh Cameron, this route served as a "back road" where stolen cattle could be ushered unnoticed back to their Lochaber lands.
Passing by beautiful Lochan Eilean we head back through birch woods and pastures along the route we originally set out along. The trip is then rounded off with a late lunch at Fraoch Lodge before you depart. Alternatively there may be the option of staying on a little longer if you prefer and one of Rebecca's delicious home cooked evening meals.
Route: 8km across fields, on estate tracks, footpaths and through heather moreland on undulating but gentle gradients. Ascent is negligible. Walking time excluding photo stops, breaks, etc is approximately 3 hrs.
Day 4: Departure
After breakfast we transfer you to either Aviemore rail station or Inverness Airport.
The trip provides a very sympathetic wilderness journey in the company of our native Highland Ponies Goldie and Foxglove. It's the ultimate immersive experience of one of the uk's most precious habitats – the stunningly beautiful native Caledonian Pinewoods and mountains of the Cairngorms National Park. This packhorse supported hiking offers a superb opportunity for "off grid" escapism and to re-connection with nature!
We asked our guests what sets Scot Mountain Holidays apart, why they return year after year:
"the social aspect"  –  "the camaraderie, food and conversation"   –
"the company of the hosts"  –  "so warm and welcoming"  –  
 "a profound sense of belonging"  –  "the welcome of Rebecca's home cooked meal"  –  "Andy's skills as a guide, naturalist and leader"  –  "stewardship, sustainability and a small footprint"  –  "in harmony with the land"  –  "a slice of rural Scottish life"
Scot Mountain Holidays is the ONLY adventure tour operator in Highlands of Scotland with a combined home and guest lodge. We strive to be more than just an tour. We aim to provide you with a 'home away from home' on your adventures. We thought of no better way of doing this than to welcome you into our own family home.
We have owned and operated Fraoch Lodge as our home base and business since 1999. In that time, we have come to embrace our guests as members of our extended Highland family.
We source our meals from locally produced and home grown ingredients to provide you with the most delicious flavours and traditions the area has to offer (while minimising our impact on the environment, too). Our dining room and lounge are shared spaces where we gather with guests and friends to share in the holiday and offer you extensive knowledge of your tour.
No matter the season, the Cairngorms and Fraoch Lodge is a place to relax and explore all its beauty and comforts, and we hope to make you feel as at home as we are.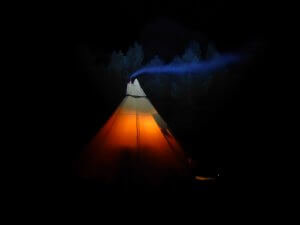 Our campsite on the second night is a magnificent spot only accessible by foot along faint deer tracks. It couldn't be more secluded and private. Situated within the stunningly beautiful Invereshie & Inshriach National Nature Reserve and set within the Cairngorms National Park, it's an open area with a mix of heather moorland, grassy glades and native Caledonian Pinewood. With August's purple heather, the blue-green of the Scots Pine and home to many of our iconic species, the setting couldn't be more naturally Scottish!
Your abode for the night is a camp wood burner heated Tentipi (Nordic Tipi). The combination of a stove and the breathable fabric is a game changer as far as wild camping in Scotland goes. With camp chairs you have somewhere warm to sit, relax and chat around the fire at night. The tipi is lit by a traditional Coleman Lantern. Above you on the drying rail and lines any damp clothing is dry by the morning! Beneath the stove we achieve the impossible – dry boots by daybreak!
The group has the use of a proper camp toilet as well as the option of a warm camp shower. Warm water is added to the shower tank, it's sealed and pressurised and hey presto you have a wilderness shower with decent water pressure.
Your bed is a down duvet (comforter) over a luxuriously 12cm deep insulated mattress which you can inflate to your preferred firmness without the risk of cold spots.  Pillows are included of course.
This is all carried in on the backs of our very capable and gorgeous Highland Ponies, Foxy and Goldie. This is wild camping at its very best!
Animal Welfare
This aspect should quite rightly be a consideration for anyone booking an adventure trip involving animals.
Firstly, our ponies are inspected by the Highland Council appointed Vet as part of Strathspey Highland Ponies yearly inspection. By law there is now a strong animal welfare element to this inspection which is connected to the granting of the licence to operate as a pony trekking centre.
Aside from our personal desire that our animals shouldn't suffer, happy comfortable ponies are safe ponies and quite rightly equine welfare is central to the sustainable business model. We use the most advanced fitted pack saddles which adjust to the shape of the pony.
It's also worth bearing in mind that horses are naturally a flight animal (as in fight or flight) and so posses a natural athleticism. Like humans, horses do need to exercise regularly if they are to stay healthy and not to put too much weight on. Generally, obesity in ponies has become an increasing welfare issue. As with humans, the extra weight puts added wear and tear on their joints. They can develop the equine equivalent of diabetes or Laminitis, etc.
The Sustainability of the trip
This is probably the most carbon neutral trip you will have ever been on. The Highland Ponies are a native breed to the Scottish Highlands so are superbly adapted to the hill environment. They are amazingly tough animals being well adjusted to the rough grazing of our hills. Horse power – no fossil fuels required here! With their short backs they are ideally suited as pack animals and are impressively sure-footed on rough steep ground. In winter there is no need to rug them as they are that well insulated snow can lie on their backs!
If done correctly, the poaching of ground by the horses hooves can help in the forest regeneration by making the ground more receptive to pine and birch seed. In the past this would have naturally been achieved by animals like wild Boar and the Great Auroch – the ancester of all modern cattle, both of which are now missing from our ecosystems. Additionally, the natural exposure of soil is also achieved by the root plate rearing up when a tree is blown over. During the Neopolonic and subsequent wars, the demand for timber has meant the these root plates were left in-situ and the moss layer remained intact preventing a germinating seed getting its initial root into the soil.
Dead wood is an important component of the forest ecosystem so we carry in all the fuel for the camp wood burners.  The camp wood burners are fuelled by spent whisky barrel staves, birch and peat briquettes.
We have achieved Gold Star Awards from the world's most highly respected green accreditation scheme, Green Tourism, and were awarded Highly Commended in their Green Star Awards 2013 for both Scot Mountain Holidays and Fraoch Lodge. We offer a Green Travel Discount of £15 to any guests who travel to us by public transport. Our primary aim is to minimise the carbon footprint of our holidays, and to this end we donate 1% of the price of our tours to the RSPB's Abernethy Reforestation project.
It is a holistic approach we have to the care of the environment. Andy your adventure guide has a passion for the natural world – whether it's the flora, fauna or fungi . He has a background in geology and a lifelong interest in natural history, as well as being a keen gardener.  He knows a Golden Plover from a Dotterel, a Green Shank from a Dunlin. He also makes no apologies to being very excitable upon spying a Golden Eagle!
For further information, please don't hesitate to check out our Environmental Responsibility page, or contact us directly at info@scotmountainholidays.com.