Yummy catering triumphs
at Fraoch Lodge, Boat of Garten – February 2016
Our photo diary of some of the meals we've prepared this month. Unfortunately some of them made it to the table and got eaten too fast for the camera to record our efforts. Check these out. If there's anything you particularly take a fancy to let us know and if we haven't provided a link to an online recipe we'll post up one of our own for you to try. If you'd like to join us for a cookery weekend send us an email and we'll clear a space in the calendar.
Russian night at Fraoch Lodge – chicken breasts topped with crunchy cheese and mayonnaise, Russian salad, mashed potato, and pickles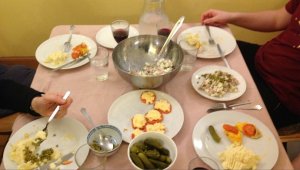 A Scottish take on a British classic, bread and butter pudding with whisky soaked raisins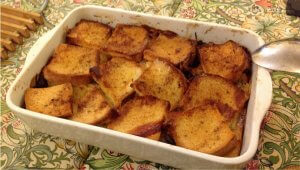 Curry night at Fraoch Lodge – chicken curry, vegetable curry, plain rice, and spiced spinach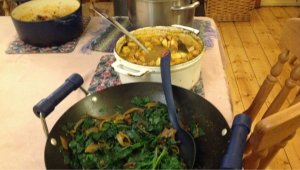 Venison and vegetable pie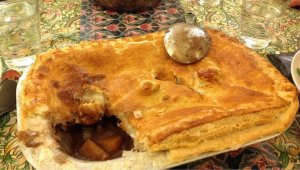 Aubergine and roast tomato soup with gluten free carrot cornbread (GF)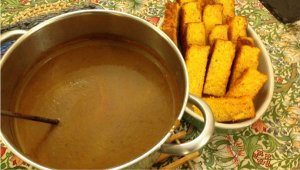 Spiced beef with bashed beans (GF and dairy free)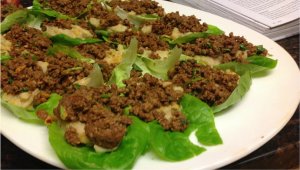 Pork chops with fennel and olives (GF and dairy free)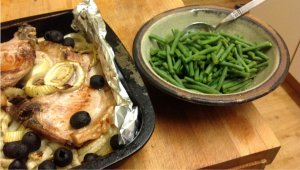 Chocolate mousse cake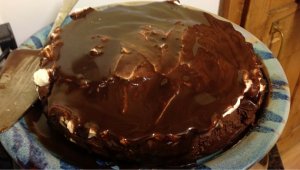 All our meals are prepared here at Fraoch Lodge. We like to try new recipes and have a huge stock of books with which to draw up the menus. We usually provide a set menu which we tailor to the guests who book in to eat with us. This formula usually works for us and is very similar to what we've encountered in France when on our trekking with a donkey vacations. Usually we are just provided with the menu of the day – always plentiful and more often than not delicious.
We tend to cater seasonally so you're far more likely to receive traditional comfort food like bread and butter pudding during the winter months and salads in the summer when we have fresh salad available in the garden.
If you have any dishes you'd particularly like us to try during your stay, please just ask.