There's nothing a bowl of homemade vegetable soup on a cold day – it feels properly comforting and sustaining. This hearty soup has a great velvety texture which we both love. Just the thing to chase away your dieting blues. 
SERVES 6 
Ingredients:
1 small butternut squash (about 850g)
4 medium carrots (about 375g)
2 medium parsnips (about 325g)
1 medium onion
2 garlic cloves
2 tsp sunflower oil
1 ltr just boiled water
1 vegetable or chicken stock cube
freshly group black pepper
low-fat natural yoghurt
freshly snipped chives (for garnish)
METHOD
Peel the squash, cut in half then scoop out the seeds. Chuck the seeds away and cut the squash into cubes. Peel the carrots and parsnips and cut roughly tip of finger size (no need to be precise as it will be blitzed). Do the same for the onion and garlic.
Heat the oil in a large saucepan and gently fry the onions and garlic for about 10 minutes until softened and lightly coloured. Stir in the squash, carrots and parsnips. Then pour the just boiled water and crumble the stock on top and bring to a boil. When boiling, turn heat down and let the pot simmer the vegetables for about 30-40 minutes or until the vegetables are tender.
When vegetables are done, take off the heat and blitz until smooth.
Before serving, warm the soup, season with some black pepper and top with a swirl of yoghurt and snipped chives for a more fancy effect.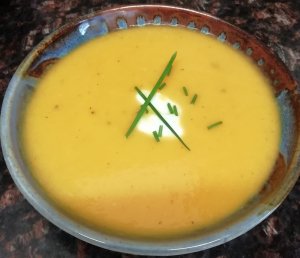 Chef's comments:
This soup is the type of soup that 'just hits the spot'.
Other soups on our blog:
Beetroot and Bramley Apple soup