The creaminess in this soup comes from a couple and handfuls of cashew nuts, thrown into the roasting tin with the tomatoes. Once pureed, the result is rich and sumptuous. The riper your tomatoes the better – but roasting will sweeten and intensify even less than perfect specimens. 
SERVES 4
Ingredients:
1.2 kg tomatoes
4-5 garlic cloves, chopped
3 tbsp sunflower oil
75g cashew nuts, plus a few extra for garnish (optional)
200 ml light vegetable stock or water
a pinch of sugar
salt and pepper to taste
Garnish:
extra virgin hempseed or rapeseed oil
a dusting of paprika (optional)
METHOD:
Preheat the oven to 180 degrees c/Gas 4.
Cut tomatoes in half and place in roasting tray, they should fit quite snugly. Scatter over chopped garlic, trickle over the oil and season generously with salt and pepper. Roast for 25 minutes, then scatter the cashews over the tomatoes. Return to the oven for a further 20 minutes until tomatoes are soft and pulpy and perhaps a little charred in places.
Scrape the tomatoes, cashews and all the garlicky pan juices into a blender, or into a pan and blitz with a hand blender. Add the stock or water and blitz to a puree. Pass through a sieve to remove pips or stubborn tomato skin (optional).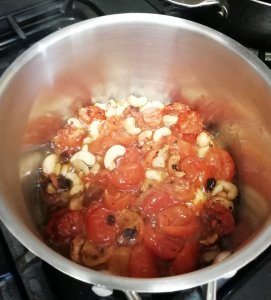 When you're ready to serve, heat gently. You can add more stock or water if the soup seems very thick or the flavour is too intense. Season with more salt and pepper if needed and add a pinch of sugar to help temper the tomatoes acidity if needed.
Ladle into warmed bowls and finish off with a swirl of extra virgin olive oil, plus a few chopped cashews and a dusting of paprika if you like, and a generous sprinkling of black pepper.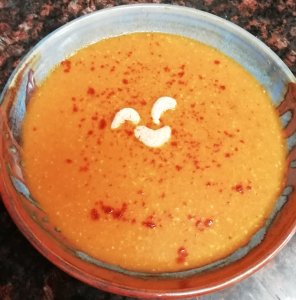 Variation:
Chilled version – this soup is also very good served cold. Chill in the fridge for a couple of hours, then finish it off with plenty of shredded fresh basil or mint leaves.
Related recipes:
Bramley apple and beetroot soup