Family adventure vacations: A truly wild & natural adventure
Family adventure vacations mean different things to different families. Our definition is possibly a wee bit on the wild side for some people – but some of our friends have adventures even more out on the wild side than ours. At least if some one else arranges your adventure for you, you have some peace of mind in knowing that they have checked out some of the potential hazards for you. They have probably minimised the risks so you can relax and enjoy the vacation.
Imagine living on the 69th floor of a skyscrapper – what do you think your ideal vacation would be?
A family from Hong Kong contacted us about our
Walking, Whisky and Wildlife
itinerary. They were looking for something authentic and unique. From there we developed a tailor-made itinerary for them to take account of their 6 year old son and the fact that in Hong Kong they have few if any opportunities to hike. They also wanted to see a wee bit of the Highlands, sample whisky, visit Loch Ness and dip under the surface of a typical touring itinerary.
We put together the following itinerary for them. How much would you have included in your tour? How much did you know about before reading on?
Family adventure vacations: in the Cairngorms
Day of arrival: 
Arrival was out of our control and we kept the possibility of activities as free as possible. As it turned out the train from Edinburgh was delayed and no one had lunch before 4pm. There was plenty of time to explore the village and keep an uneducated eye out for wildlife. The kids had a lovely time discovering the trampoline in out garden and the hides/shelters which seem to decorate the entire forest here.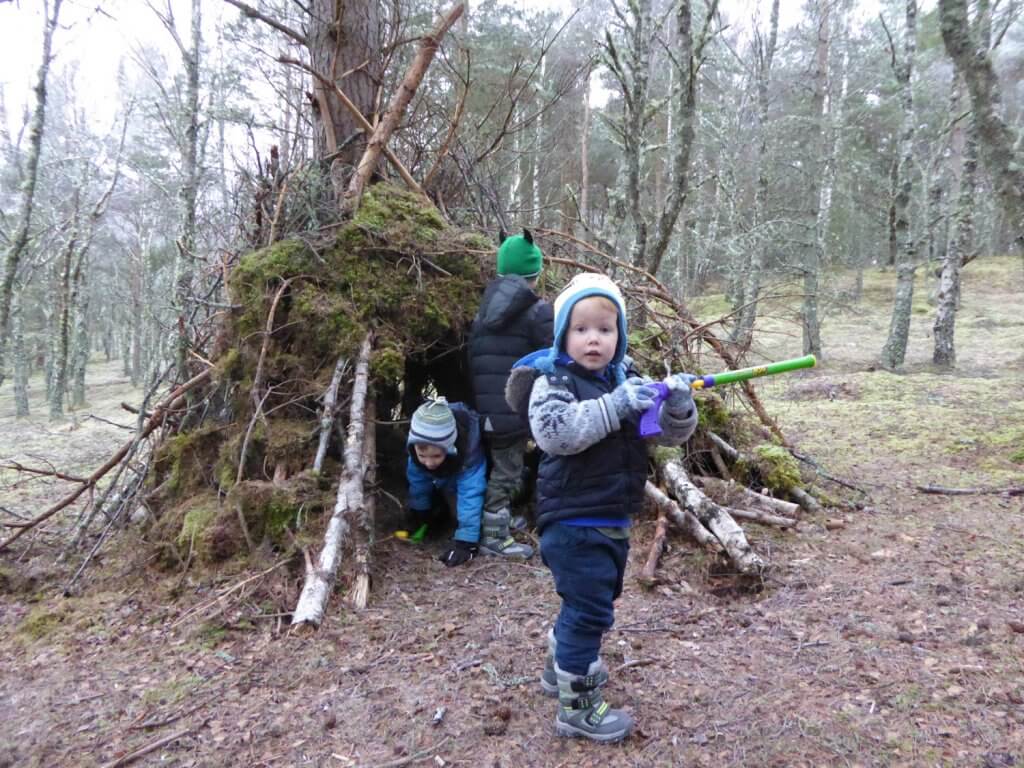 Photo caption: Taken on a different day with different children, but you get the idea. Dens in the wood had a universal appeal.
Family adventure vacations: Day 1  
Short walk at Loch an Eilean followed by a transfer to Ruthven Barracks and Highland Folk Museum. Tour of Folk Museum.
 Our definition of a short walk was a bit of a shock for the uninitiated city dwellers as we didn't just follow the dog walking, tourist route around the loch, but took everyone up to a wee viewpoint nearby and picked our first wild berries.
After the walk, we transferred the group over to the Highland Folk Museum where the kids had a great time going back in time to a strict classroom. The adults also remembered some of the games from their childhoods. It was a win/win situation all round.
Family adventure vacations Day 2: 
Visit to Highland Wildlife Park to see the polar bears and Amur tigers, & sheepdog demonstrations
There's a wildlife focus to our activities today. We'll take a landrover safari of the wildlife park and visit all the animals. All the animals are cold climate dwellers. Many live in the Highlands today. There are currently new wildlife kittens and a young polar bear among others.
The kids had a great time seeing all the cold climate animals. I'm not sure what their favourites were but they all loved the sheepdog demonstrations which followed and remembered an awful lot of the information the farmer told them. I think it was particularly because they got to handle the puppies at the end.
Family adventure vacations Day 3: 
Visit to Speyside Cooperage, Tomatin Distillery and the Whisky Castle
This was a day mainly for the adults as learning all about the making and drinking of whisky didn't exactly thrill the kids but their day was made by an ice cream stop an a visit to the adventure play park in Tomintoul. For a full whisky explanation read up on our blog about how to choose a special whisky which you won't find at home. We've also talked about all kinds of whisky related products.
Family adventure vacations Day 4: 
Bag a Munro – hike up Cairngorm
Climb your first mountain in the Highlands and enjoy stunning views across the whole valley.
This was a surprising highlight for the families. They loved hiking up to the summit of Cairngorm and reaching a snow patch. They played there to their hearts content and were perfectly content despite completely sodden footwear. The snow factor was a definite winner.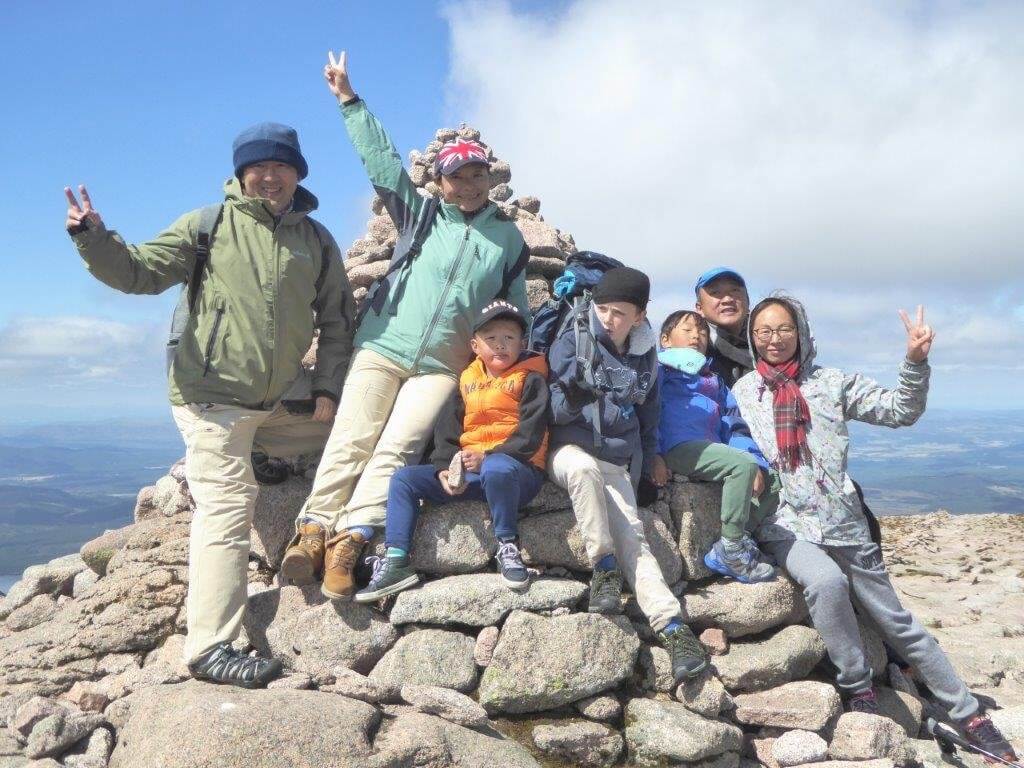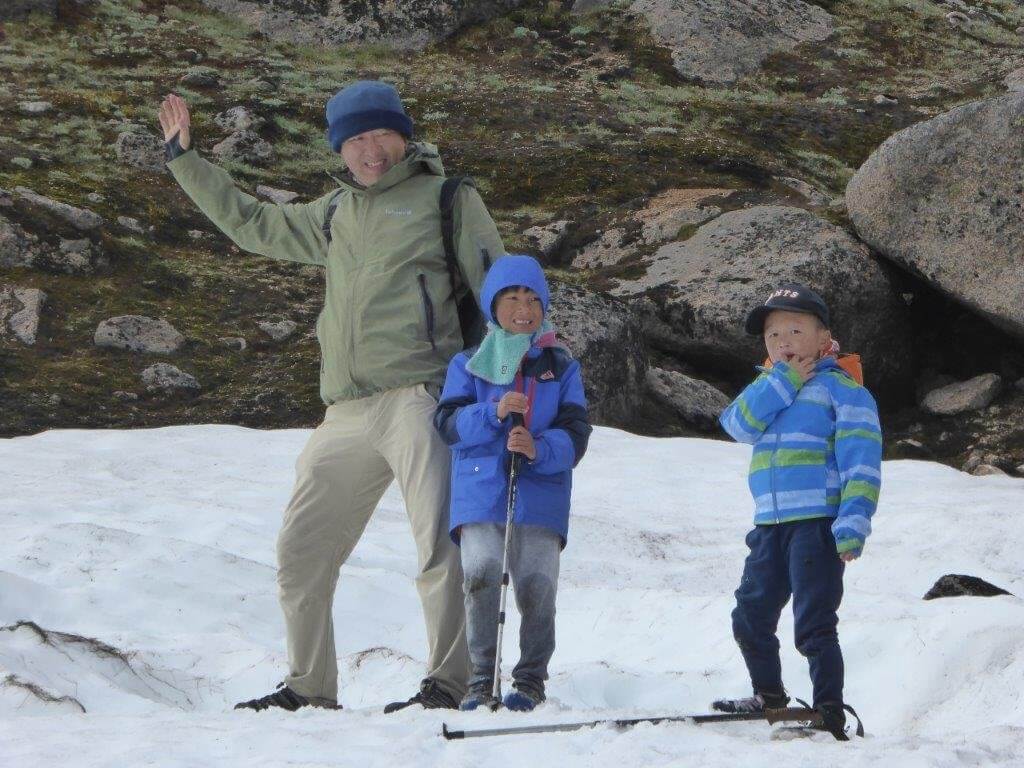 Family adventure vacations Day 5: 
Loch Ness
We'll visit Culloden battlefield, the Loch Ness exhibition and if we have time Urquhart castle for a full quota of history today. See if you can spot the world famous monster. We'll also fit in a small walk to stretch our legs and find a quiet picnic spot.
We made a wee bit of a different tour of Loch Ness this time and had lunch at the Dores Inn and did a wee bit of a walk. One of our families decided on alternative activities and rode the train on the Strathspey Steam Railway instead of a visit to Loch Ness. They were convinced that they wouldn't see the monster!
Another alternative option for a Loch Ness visit with an older party is to park at Invermoriston, take the bus to Fort Augustus and walk the high route of the Great Glen Way back to Invermoriston for great views over Loch Ness and few if any crowds.
We also highly recommend a visit to Loch Ness Clayworks which is on the Great Glen Way but also at the foot of a wee hillwalk right by the side of Loch Ness – a fantastic alternative way to explore the area as lochside can be so busy it will be extremely difficult to get parked, particularly at the castle:
TOP TIP: walk to Urquhart castle from Drumnadrochit.
Day of depature: 
After breakfast we'll run you through to Aviemore. We'll be sorry to see you go but hope you'll be back again before too long.
If you're interested in a tailor made adventure vacation here in the Highlands of Scotland please don't hesitate to
contact us
. We don't really have a lot of availability in 2018 but if you're thinking about coming over to Scotland in 2019, please get in touch as soon as you can as we'd hate to disappoint and holiday dates get booked up really quickly.