10 excellent natural mountain biking routes to explore in the Cairngorms
Mountain biking in the Cairngorms is one of the fastest growing sports in the area. Nowadays it is rare to go out anywhere and not see any cyclists. Perhaps we should try for a mountain bike/cycling friendly national park designation? What do you think? It is now possible to be a cyclist friendly cafe or cycle friendly accommodation or even a cycle friendly village. Why not a cycle friendly park? What would be the criteria?
Politics and campaigning aside – the Cairngorms are an amazing resource for mountain bikers of the widest kind. If you just like to get away from traffic and have an adventure, we've got routes for you. If you want an adrenaline downhill single track, there are also options. Should you want to take the family for a pootle round the forest – crack on there's plenty for you here.
We've hand picked some routes for you below. There are no hard core mountain routes as we would not be comfortable suggesting that you head off into the high Cairngorms without knowing that you are very experienced mountain bikers with excellent navigation skills and preferably some familiarity with the area.
If you are interested in exploring mountain routes (eg to Ben Macdui) we are happy to offer you the details of recommended mountain bike leaders in the area.
1. Glenfeshie –
Length: 16km: total ascent: 330m Time: 1.5 – 2.5h
Start point: Auchlean car park
This route is in "Scotland Mountain Biking: The Wild Trails by Phil McKane but please be aware that the bridge on the map (p113) at point no: 4 was washed away in 2009. You will need to ford the river or retreat back along the same route.
The ride can also be extended further along the valley to a bothy or if you are confident with your navigation (and fitness) you could ascend to Mullach Clach a Blair.
Also available as an extension to our Classic MTB routes in the Cairngorms (self-guided). This route is not included with the core routes as it requires a transfer to access the mountain biking in Glenfeshie. Please enquire directly for details.
2. Loch an Eilean
Time: 1hr – 2hr Distance: 7km
A superb family ride which could be started in Insriach/Coylumbridge (there is no parking charge there) or it is perfectly feasible to start the ride in Boat of Garten. The ride can be extending into ride no: 5 if you are looking for a longer day out on the bikes. Really only a short ride suitable for families even with young kids. Excellent cafe at the Rothiemurchus centre to refuel. Combine with a visit to the Highland Cattle, feed the reindeer or Treezone.
3. Ryvoan Pass
(see details in this blog – 11/04/18)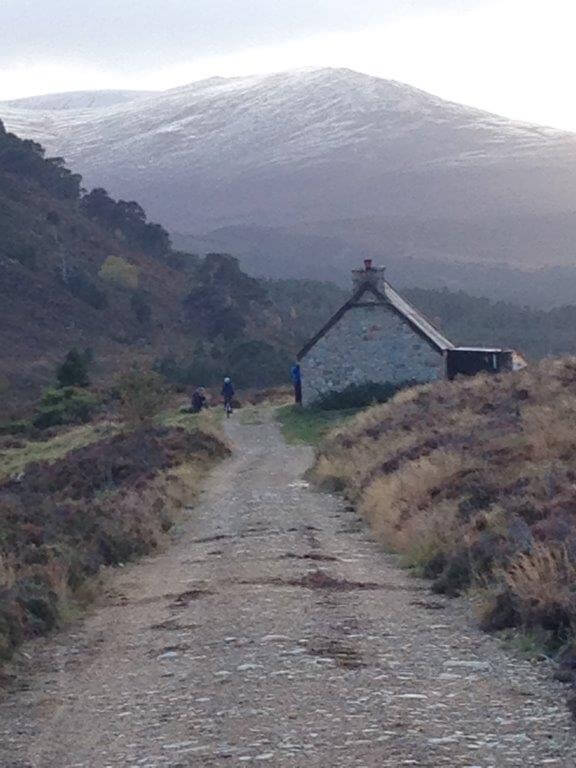 4. Burma Road
see details in this blog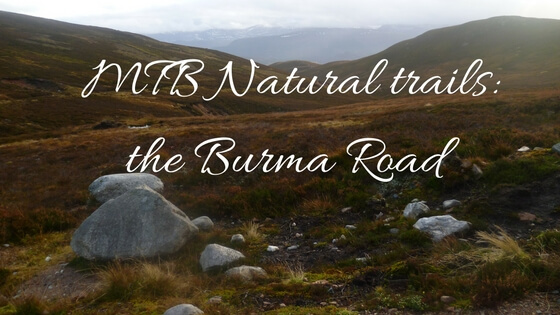 5. Loch Morlich and Loch an Eilean
Time: 3.30h Distance: 32km
Starting from Aviemore
Described in Bike Scotland (Book Two) by Fergal MacErlean
This has to be one of the most popular bike rides in the area. Rothiemurchus estate is a fantastic area to ride the trails. You do have to watch out for tree roots in places and occasionally the odd muddy patch. There are quite a few optional extensions (or accidental extensions). There's the possibility of extending on up to see into the Lairig Ghru (advanced riders only).
6. Reindeer centre to Inshriach
see details in this blog
7. Grantown viewpoint & Dava Way to Castle Grant circuit
Grantown has some great trails through Anagach woods and a wee skills section you can use to warm up before you start the route. You will need to be able to map read to link up the trails we are suggesting.
There are plenty of cafes to explore in Grantown including the High Street Merchants. The disadvantage is that they are all close by about 5pm.
8. Speyside Way
Transfers available as far as Craigellachie along the Speyside Way. Call us to include Speyside Way transfers in your package unless you are considering shorter sections which also combine with the Strathspey Steam Railway and are part of our Under Your Own Steam package
9. Glenlivet circuit
This is an off-road/road circuit including a transfer from Fraoch Lodge and a visit to Glenlivet distillery for the tour. It is not focused on the trail centre at Glenlivet
10. Badenoch Way
Distance: 17.5km, starting from Alvie/Dalraddy
This is a linear route from Newtonmore to Boat of Garten so is the Badenoch Way with the first section of the Speyside Way and the linking section from Kincraig to Aviemore – total route is probably twice the length of the route described above.
Don't forget the area is blessed with a huge number of cycle friendly cafes most of which are included on these routes.
Close to the area
Abriachan to Inverness (part of the Great Glen Way)
South Loch Ness Way
Trail centres in the area:
Learnie Red Rocks review – coming soon
Moray Monster trails review – coming soon
Best place to stay – Fraoch Lodge – though we are of course biased
Best place to hire bikes – Ride Cairngorms
Recommended reading
[amazon_link asins='0955082285,1906148104,190614852X,0955454808,1907025103,0948153733′ template='ProductCarousel' store='1603-8102-0783′ marketplace='UK' link_id='8569347f-328a-11e8-8fbc-f99ffca8b1e3′]
If you would prefer to investigate our hiking options both guided and self-guided, there are plenty of options across the highlands.