WWW - walking, whisky and wildlife in the Highlands
Walking in the Highlands of Scotland with an experienced local guide. Whisky, wildlife and walking galore. Join us of a unique local perspective
We pick up from Aviemore station or Inverness airport. Please confirm your travel arrangements about one week before you trip is due to start so that we can organise pick ups etc. If you are planning to travel up to us and back by public transport you may qualify for the Scot Mountain Holidays "Green Travel discount". Please check with us for details: 01479 831 331
HIGHLIGHTS
Guided hiking
Visit the Glenlivet Distillery
Learn how casks are made at the Speyside Cooperage
Wildlife watch for pine martens, red squirrels and red deer
Visit the Craigerlachie Hotel's famous whisky bar
Delicious home cooked meals making the most of local produce
Arrival:
Rendezvous at Fraoch Lodge before 8pm if possible.
Day 1:
Hike through the Cromdale hills along routes which smugglers must once have followed before takinga tour of the distillery and finally a tasting of one of their famous "expressions".
1980ft (600m) of ascent and 9.5 miles (15 km) on tracks and over open moorland with moderate and gentle gradients. Approx walking time excluding breaks: 5:45
Day 2:
We visit the Cooperage where the barrels which flavour the whisky are made, then take a hike up the magnificent viewpoint of Ben Rinnes, which overlooks most of Speyside. We'll also stop in at the Craigellachie Hotel to experience their amazing whisky bar.
2240ft (680m) of ascent and 8 miles (13 km) on mainly tracks and mountain footpaths with mainly moderate and gentle gradients but with 150m of steep ascent. Approx walking time excluding breaks: 5:15
Day 3:
Explore the Ladder hills before stopping in at the Whisky Castle in Tomintoul, arguably the best independent whisky shop in the Highlands.
1900ft (580m) of ascent and 8 miles (13 km) on tracks and over open moorland with mainly moderate and gentle gradients but with 150m of steep ascent. Approx walking time excluding breaks: 4:30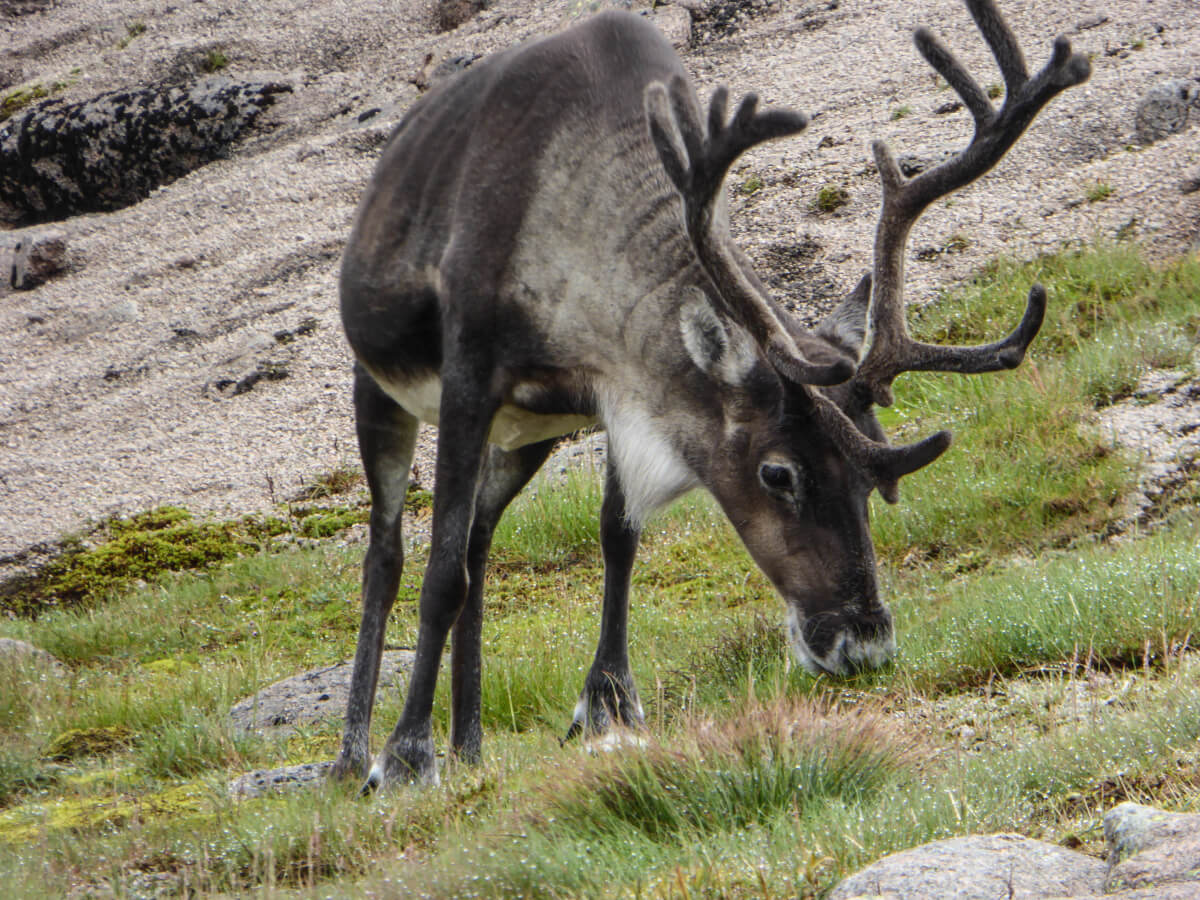 Day 4: is a day off and a chance to rest and relax and have some time to yourself if you so wish. You can take the opportunity to put your feet up or if you wish you can organise a more adventurous day out canoeing; on Aviemore's only zip wire; gorge walking, tubing down the river or just seek out one of the many cafes in the area and have a read. The choice is yours.
Day 5: Starts with a steady climb from native birch and pine woodland on the edge of the vast mountain moorland area of the Monadhliath.  After one of Rebecca's delicious home cooked meals and as dusk beckons we head to a local wildlife hide.
2360ft (720m) of ascent and 9.5 miles (15 km) on tracks and over open moorland with moderate and gentle gradients. Approx walking time excluding breaks, etc: 5:00
Day 6 : One of the great unsung gems of the Cairngorm's is the native pine woods. Home to over 4500 different species, the forest of the RSPB Abernethy Reserve feels as if little has changed in the last 10 000 years. On the way back we pop into the RSPB Osprey Centre for the latest comings and goings of the Loch Garten Ospreys. In the evening we're off to Anderson's, our fantastic local restaurant a few doors down the road.
1380ft (420m) of very gentle ascent and 10 miles (16 km) on mainly tracks with some over open moorland with very gentle gradients. Approx walking time excluding breaks, etc: 4:35
Day 7: From 2000ft (600m) up we ascend a further 500m amongst dramatic mountain and cliff scenery to the Cairngorm Plateau. After an early dinner it's off to a local hide to watch Otters and Ospreys fishing.
2660ft (810m) of ascent and 7.5 miles (12 km) on mountain paths and over moderately rough mountain terrain with gentle and moderate gradients with only 250m of steep ascent. Approx walking time excluding breaks, etc: 5:00
Most guests depart the following morning after walking finishes, after breakfast but should you have a plane or train to catch we will make sure you we get you there in good time. Feel free to stay on and enjoy more of the area if you want. Extra accommodation may be available, please enquire.
We asked our guests what sets Scot Mountain Holidays apart, why they return year after year:
"the social aspect"  –  "the camaraderie, food and conversation"   –
"the company of the hosts"  –  "so warm and welcoming"  –  
 "a profound sense of belonging"  –  "the welcome of Rebecca's home cooked meal"  –  "Andy's skills as a guide, naturalist and leader"  –  "stewardship, sustainability and a small footprint"  –  "in harmony with the land"  –  "a slice of rural Scottish life"
Scot Mountain Holidays is the ONLY adventure tour operator in Highlands of Scotland with a combined home and guest lodge. We strive to be more than just an tour. We aim to provide you with a 'home away from home' on your adventures. We thought of no better way of doing this than to welcome you into our own home.
We have owned and operated Fraoch Lodge as our home base and business since 1999. In that time, we have come to embrace our guests as members of our extended Highland family.
We source our meals from locally produced and home grown ingredients to provide you with the most delicious flavours and traditions the area has to offer (while minimising our impact on the environment, too). Our dining room and lounge are shared spaces where we gather with guests and friends to share in the holiday and offer you extensive knowledge of your tour.
No matter the season, the Cairngorms and Fraoch Lodge is a place to relax and explore all its beauty and comforts, and we hope to make you feel as at home as we are.
We have achieved Gold Star Awards from the world's most highly respected green accreditation scheme, Green Tourism, and were awarded Highly Commended in their Green Star Awards 2013 for both Scot Mountain Holidays and Fraoch Lodge. We offer a Green Travel Discount of £15 to any guests who travel to us by public transport. Our primary aim is to minimise the carbon footprint of our holidays, and to this end we donate 1% of the price of our tours to the RSPB's Abernethy Reforestation project.
It is a holistic approach we have to the care of the environment. Andy your adventure guide has a passion for the natural world – whether it's the flora, fauna or fungi. He has a background in geology and a lifelong interest in natural history, as well as being a keen gardener.  He knows a Golden Plover from a Dotterel, a Green Shank and a Dunlin. He also makes no apologies to being very excitable upon spying a Golden Eagle!
For further information, please don't hesitate to check out our Environmental Responsibility page, or contact us directly at .
Booking Procedure
Departure Guarantee
We are proud to continue to offer our unique departure guarantee*. If your booking is confirmed by Scot Mountain Holidays you can be assured that your holiday will run. We can offer this guarantee as we are unique amongst walking holiday operators in Scotland by providing all the parts of your holiday (guiding, accommodation and catering) in-house.
* Scot Mountain Holidays reserves the right to alter the venue and itinerary of holidays advertised as based away from Fraoch Lodge.
We work with Worldpay to process our online transactions now so you can rest assured that your payment will be processed securely. We accept the following cards:




Booking online is straightforward and enables us to confirm your reservation immediately. We also accept bookings by telephone, email, and post.
Attention! Don't forget to read our trip dossier and booking terms and conditions, BEFORE you complete the booking process!
A deposit of 50% is required at the time of booking unless you are booking less than 28 days before departure. In this case, full payment of the trip price is required
---
Your Financial Protection
In compliance with the UK Package Travel, Package Holidays and Package Tours Regulations 1992 a client deposit account has been arranged with the Royal Bank of Scotland to protect monies paid in respect of travel arrangements offered in the Brochure and to cater, where necessary (and subject to the terms of the insurance policy), for a refund of such monies in the unlikely event of our financial failure. The balance of payment is due 28 days prior to the commencement of the course. Credit/debit cards accepted are: Visa, Visa Electron, Mastercard, Switch, Non-refundable deposits will be debited on receipt of the booking form. Balance of payment reminder will automatically be sent out to you. Please be prompt in paying the balance. If you decide to pay by internet bank transfer please use your own name or booking number as a reference for the payment so it can be reconciled.
---
Insurance
It is a condition of booking that you are insured against medical and personal accident risks. This must include cover for the activities to be undertaken during the trip. We also recommend that you take out insurance which includes cancellation and baggage cover.