Burns in the Boat 2014
Boat of Garten is a vibrant village in the Highlands of Scotland on the north side of the #Cairngorms National Park. Who knows if #Rabbie #Burns came to the village during his lifetime? Probably not as the village essentially grew up with the establishment of the railway and became popular as a holiday destination then. However, on Saturday 25th January 2014 we gathered to celebrate Burns Night. This night celebrates the continuing influence the work of Rabbie Burns has on our lives worldwide. There's no other event which showcases the traditions of Scotland to such good effect.
We were fortunate this year to have some very energetic organisers in the village who put together an excellent and well-thought out Burns tribute. One of the stars of the village amateur dramatic society (Malky Taylor – retired policeman) was the master of ceremonies. He gave introduced all the rest of the top table and gave the "Address to the Haggis", as he did for the international delegates at the 2010 ATWS (Adventure Travel World Summit). If you've never seen an Address to the Haggis, it's definitely something to see.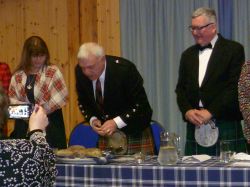 A very traditional Burns Night involves the following:
Kilts and full Highland regalia;
a piper,
a haggis,
a tribute to Rabbie Burns (Immortal Memory – in this case by Fergus Ewing MSP, who is often in Boat of Garten),
a Toast to the Lassies (by James Dunbar, a leading light in the community company),
the Reply from the Lassies (by Jo Blair – who was magnificent and sang a lot of her response to the tune of "Flower of Scotland");
plus many songs and readings from the work of Rabbie Burns.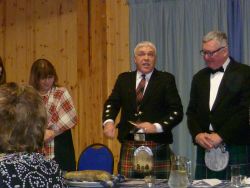 Address to the Haggis by Malky Taylor, skein dhu in hand ready to open the haggis
The evening ended with "Auld Lang Syne" of course.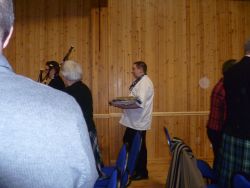 Piping in the haggis with Calum McPhee on the pipes
The meal was very well organised. We had smoked salmon pate and oatcakes to start, which was on the table when the guests arrived. This was followed of course by the most traditional of Scottish main courses – haggis, neeps and tatties (neeps = swede, tatties = potatoes). For dessert we had Cranachan ice cream and shortbread (both of which are very Scottish in their origins). Cranachan is a dessert made with cream, oatmeal and raspberries.
We were very lucky to attend such a well-organised event. All our guests on the Winter Munros guided walking holiday with Scot Mountain Holidays were very appreciative. The event was almost sold out and at £12 quite a bargain.
Burns Night was a bonus for the guests at Fraoch Lodge this year but could well be an annual event. Could be something for you next year!
2019 update
The format has changed a wee bit this year and we're now including the Showboaters in a Murder Mystery dinner extravaganza.
Related blogs: