In and around Boat of Garten
Our local facilities:
Shopping:
Dow's Stores stock most every day goods from food to light bulbs and toothpaste. The store used to be known as M&B stores. It is in front of the Holiday park. The new owners have extended the opening hours from 7am to 7pm in the summer and installed fridges all along one wall of the shop so you can now buy cold beer as well as a wider range of fresh produce. Dow's store also runs a cafe – the Osprey Cafe and do a lot of their own home baking.
The Post Office and Deli, opposite the Boat Hotel (less than 5 minutes walk) offers an exceptional selection of fresh produce mostly kept refrigerated as well as a wide selection of local meats and cheeses, artisan chocolates and hand-crafted local gifts. The Post Office shop is now open 7 days a week in the main summer season. If you are planning to visit the village outside the peak tourist season it might be worth checking the opening times. The shop and deli are usually open until 6pm.
Beth and David offer a tea/coffee service with proper filtered coffee, cakes, ice creams etc. Most drinks are provided as a take away service as there is no space inside the shop for a cafe facility but there are picnic tables outside. It is very popular to pop in for a hot drink as you pass or an ice cream on a sunny day.
Eating out in the village:
Boat of Garten is surprising well equipped for eating out options. Our facililites run from tea and cake at the Osprey Cafe to a full dinner service option at the Boat Hotel.
Anderson's – offer light lunch options, home-made ice creams (which they also sell from an ice cream bike at local events), excellent dinners highlighting local and seasonal produce (out of high season you have to book for the pie night specials mid-week)
The Boat Hotel – bar meals and a restaurant. The meals are priced mid-range but last time we ate at the hotel the menu was not particularly imaginative. They do offer early evening special priced menu options which appeal to some people looking for the best priced option for eating out.
The Fish van – only on Thursdays, mobile fish and chips in Boat of Garten. The van has regular days throughout the valley. It parks directly across the road from Fraoch Lodge and offers freshly prepared fish suppers from approx 4.30 to 7 or 8pm. They have sometimes been known to run out of fish and are definitely not a late evening option. Most of the locals are at the van by 6pm.
1896 Coffee Shop and Art Gallery – run by the Gordon family, long-term residents of Boat of Garten. The cafe is proud of its cakes and certainly caters for walkers and cyclists in their droves while also displaying very carefully chosen art and crafts from Scottish artisans, particularly those based in the Cairngorms. CAFE CLOSED IN 2018. DUE TO OPEN AGAIN AS A GALLERY IN SPRING 2019.
The Golf clubhouse – serve meals. We haven't eaten there ourselves but many of the locals recommend it.
The Osprey Cafe – attached to Dow's Stores. The cafe is far more down market than the gallery but still serves fresh produce and a wider menu plus they have the added draw of ice cream by the scoop.
Eating in at Fraoch Lodge:
Of course you if you're staying with us at Fraoch Lodge you have the additional choice of eating in with us (or cooking for yourselves). We offer freshly prepared meals, usually 2 courses making the most of our garden produce and if you eat meat, local produce from our butcher in Nethybridge (now Balliefurth Farm Shop).
or go to the blog for recipes and further group menus:
Also keep an eye out for our blog: Eating out in the Cairngorms 
Laundry:
The Holiday Park, behind Dow's Stores has a laundry which is available for guests to use.
Boat of Garten Golf course & Tennis courts
Most golfers have a healthy respect for our course which was designed by James Braid. It is an 18 hole course with spectacular views of the Cairngorms.
Strathspey Steam Railway
The Steam Railway runs from Aviemore to Broomhill stopping at Boat of Garten station half-way along the line. The station is sometimes not manned but you can buy tickets on the train. The railway have started to offer free bike transport which makes it quite easy to arrange a family bike ride along the Speyside Way as relatively young children, if they are riding a bike, can manage the route one way to/from Aviemore (5 miles) or Broomhill (4 miles)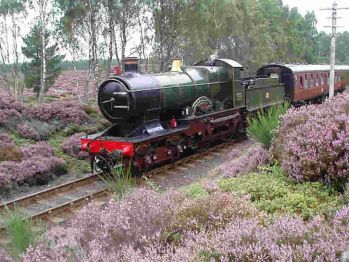 Fishing
Enquire at the Post Office for details of the licence for the Boat of Garten beat. Trout and Salmon fishing available on the Spey.
Walks
There is a leaflet about the walks in and around the village complete with a map. We have copies available at Fraoch Lodge. There is also a display of the map at the entrance to the woods, next to Granlea. Check the guest information folders in the rooms for the walk information which is also available at some point where the paths enter the woods.
Loch Garten & Ospreys
Loch Garten visitor centre is a massive attraction to the area. There is a small entrance fee, unless you are already a member of the RSPB. The hide is also available in April/May at the early opening time of 5.30am for the Capercaillie Watch. The Ospreys are here from April – August when they return toEast Africahaving reared their chicks.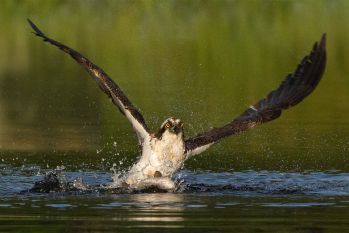 Wildlife Watching
There is a badger hide on the edge of the village managed by Allan Bantick. Enquire with us for details if you're interested. If you'd like to join a more organised, heated hide, you might want to consider the Wildlife Hide managed by Speyside Wildlife – approx. £20 per person.
Outdoor activities in the village:
Free of charge (some need you to have your own equipment)
Orienteering or Geocaching – sign up to geocaching.com and download the app. This will take you to a lot of areas you might not otherwise visit and provide a focus for the walks you consider doing. Some of the caches are suitable for "swag" (swapping small items of little value but providing more of a treasure hunt feel for any kids in your group) and others are too small so will just provide a sense of achievement in finding them.
Mountain biking – There are miles of trails in the woods and some on the mountains which are suitable for single-track bike riding. This is an amazing area to explore with a mountain bike, in direct contrast to many other areas of Scotland where it is very difficult to find off-road routes. What makes it even more interesting is that there are so many routes which can be explored by the kids, even those as young as 3 or 4 can find some trails to ride. We've taken our own son out and about around the village on 2 wheels since he was about 2 1/2. Then if you're heading further afield there are several mountain biking trail centres, including Glenlivet, Laggan, Moray Monster trails.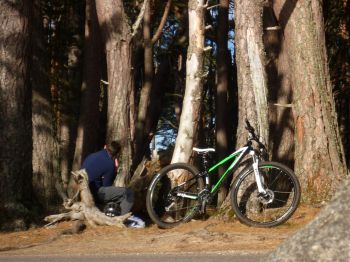 Indoor Activities
Swimming in Aviemore or Grantown – family sessions with large floats at Grantown on Sat and Sun mornings; slide and wave machine in Aviemore pool start about 10am.
Soft play – there are 2 main soft play areas. One is at Macdonald's Aviemore Highland Resort with a cafe area also looking on to the swimming pool; the other is at the Hilton Coylumbridge.
Pen's Pots – thrown a pot at Lochan Eilean pottery. This is an afternoon activity which will last at least 2 hours. Pots will then be dried and fired before being sent to you in the post about 3 weeks later. Cost about £15 plus postage.
Smarty Art – paint your own pot but bear in mind that you need to be in the area the next day in order to pick up your fired artwork. Cost varies depending on the ornament/bowl which you or your child chooses to decorate. Prices are in pencil on the objects. Refreshments are charged in addition.
Crafty workshop at Three Bags Wool, Aberlour including peg loom weaving to make cushion covers or a rug.
Castle visiting – Blair Castle, Corgarff Castle, Balmoral Castle, Ballindalloch Castle, Braemar Castle, Cawdor Castle, Inverness Castle are all within reach for a day trip.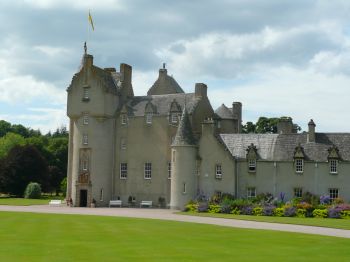 Plenty to do in the region of Boat of Garten. This is by no means a comprehensive list but gives you an idea of the facilities available in the village and close by to us. We have also produced blogs about things to do with the kids, day trips from Fraoch Lodge, hiking options, mountain biking possibilities etc. Keep an eye out at: www.scotmountainholidays.com/blog for more ideas.