What is Scotland famous for? … kilts and Nessie?
What is Scotland famous for? …  Tartan and the Kilt
 Sounds like a great name for a pub, don't you think?  Tartan was first recorded in Scotland circa 1540, a fabric production and design originating in the Highlands.  The fabric is made of twill woven sheep's wool.  The communities are known for their weaving; the fabric is made of a distinctive horizontal and vertical stripes and squares pattern known as a "sett".  The design of these stripes and background colour is also referred to as the tartan.  A Scottish fashion statement. In the modern world you can see it featured prominently in interior designs or on the catwalk of Burberry and Vivienne Westwood.
A short history
Originally, clans people would maximise their animal stock for warmth and food.  The crofters would shear the fleece, spin it into wool fibre and dye it.  The multiple colours came from local plants, mosses and berries.  Don't attribute special meaning to any of the original colours. This is all a modern-day myth.  One such tale is that red tartans were 'battle tartans' designed to mask the colour of bloodshed. 
 The Kilt is a mysterious piece of clothing. It has been around since the 16th century and is essentially a wraparound skirt for a man.  Scottish men have no problem wearing a skirt because, well, they're Scottish and this is one very important tradition.  The kilt is durable and long-lasting; an untailored 5 metre-long a piece of tartan, worn around the waist usually worn with a sporran – a small bag worn around the waist, over the kilt. Sporran is the Gaelic word for purse.  A Sgian dubh (pronounced skee-an doo), a small dagger, sits in the sock.
NB If you're expecting all the men in Scotland to be walking the streets in kilts, you're going to be disappointed. Kilts are expensive pieces of clothing. As such they are generally reserved for special occasions such as weddings (unless you work as a tourist guide!)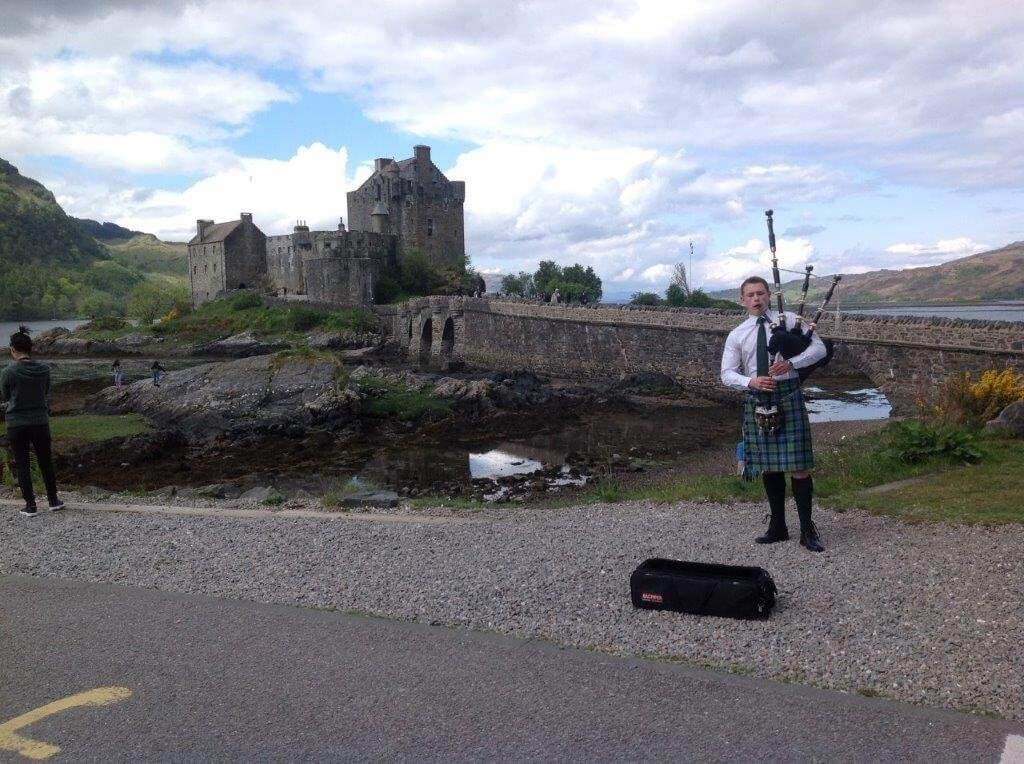 The development of the kilt
 In the past, the long length of fabric was deliberate to enable the wearer to fashion a 3rd of the fabric over the shoulder.  This upper section could be adjusted depending on the weather and temperature.   The kilt became much more popular in the 21st century after being chosen as uniform by Highland regiments of the British Army. 
 The naming and registering of clan tartans began in April 1815; the Highland Society of London resolved that all the clan chiefs "be respectfully solicited to furnish the Society with as much of the Tartan of his Lordship's Clan as will serve to Show the Pattern and to Authenticate the Same by Attaching Thereunto a Card bearing the Impression of his Lordship's Arms."  Many had no absolute idea of what their tartan might be but were keen to comply and to provide authentic signed and sealed samples.  
Tartan today
 Today tartan and "clan tartan" is an important part of a Scottish clan. Almost all Scottish clans have several tartans attributed to their name. Several clans have "official" tartans.  It is possible for anyone to create a tartan and name it as they wish however the only person with the authority to make a clan's tartan "official" is the chief.  If you've a design of your own, you can commission your own tartan.  You can even submit it to the Scottish Register of Tartans for approval.
If you're looking for a specific design of tartan, search through the thousands on the Scottish Register of Tartans' online collection to find your perfect combination and design.  Boat of Garten even has its own tartan. Try Kinloch Anderson, they also have a Heritage Room Museum to see the history of the family over 140 years.  Visit the Lochcarron Weavers Shop in Loch Carron in Wester Ross, Highlands. 
Would you like to see a kilt being made? There is an exhibition in Inverness. If you visit on a weekday, you will see the kiltmakers at work. If you're there at a weekend, you'll have to make do with a video presentation, but it is still quite fascinating to visit the exhibition.
 What is Scotland famous for? The 
Elusive Nessie?
 The very first recorded appearance of the Loch Ness Monster occurred in 565 AD, when a "water beast" attacked one of St. Columba's followers in the loch.  Note, it's not a lake.  Then the not-so-delightful monster went on a holiday.   
It is now one of the best modern-day tourist attractions that you're not actually guaranteed to see! 
 Our Loch Ness Monster returned and was nicknamed "Nessie"; she first popped up again in 1933 and has been much loved and only a couple of times capture on film.  Photographed with her infamous giraffe-like neck peering out of the water… or was it a stick?  Unfortunately, even though we've more cameras and smartphones visit Loch Ness than ever, we've no new photos for decades.  Come on, Nessie, we want to see you again.
 Other things Scotland is famous for:
salmon – whisky – castles – golf – textiles – shellfish – military Tattoo – Edinburgh Festival – music – bagpipes and many more