What's important about 50?
Fifty plus – a new place from which to analyse life.It's amazing how from one day to the next your perspective on life can change. All kinds of things can precipitate change:
could be a health scare,
a significant birthday,
an unexpected death in the family,
new births.
I don't know if we're being manipulated by outside influences but each new decade seems to be a cause to celebrate, but what's different about a new decade? Why do we see a need to celebrate? Is it related to the decimal system, or is that just a coincidence? Must have been much more difficult when we had an imperial measuring system – we wouldn't have known where to place the "yardstick"!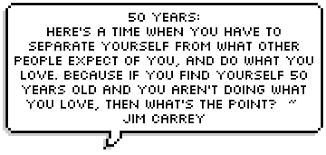 What's different about reaching a new decade?
A new decade seems like something we feel the need to celebrate, apart from when we turn 20 (this is dwarfed by our 18 and 21 celebrations). Starting double figures at 10 seems like a giant hurdle for the wee ones as they're no longer wee. At 30 and 40 dread fills us at the thought of responsibility – all the things we feel we should be doing "by now", but when 5o comes up, there's something different about that one. We all know that we're unlikely to live until 100. We could get close, but the grand old age of 100 is something most of us are unlikely to see. So when we reach 50, with it comes the realisation that actually your life could well be closer to the end than the beginning. Will 60 be even more scary?
For me, 20 was overshadowed by the looming prospect of being 21 and graduating from university. At 30 I had just finished training properly to be a history teacher. I was preparing to look for a UK based job. Then I changed directions and moved up to the Highlands. My 40th birthday was overshadowed by being 8 months pregnant with the far more alarming prospect of becoming a mother. I suppose then that 50 is the first time I've been able to focus on the actual number.
You only have to do a quick google search on turning 50, to find out that we're not unique in pondering the significance.
Why 50 is so different from any other decade.
Why we should celebrate being 50 – the quintastics
The good, the bad and the ugly of turning 50
Our "middlelife" solution – fifty plus …
This time around we're not planning to up sticks and more somewhere different. We're not planning to change career directions and we're definitely not planning to add to the human family. But we need something to focus on so: 50@50. A new challenge to fill up already full lives.
Somehow along with all our regular commitments and trips, we need to find the time to conquer 50 new Munros summits. (Andy will do all of them and Gregor and I will do as many as we can fit in outside of school commitments.)
Our Munro commitments already include: winter munros and Glencoe winter munros and 4000er trips.
By the time we're 51 we should be a lot fitter. We'll also have had a great deal of quality family time tramping the hills. What more could we wish for?