Salmon has been associated with Scotland for many a year, both for fishing and for eating. It is world renowned as a quality product, despite the problems which have occasionally been associated with the salmon farming industry. Farmed salmon is really the only option now. Gone are the days when apprentices had it written into their contracts that they weren't allowed to eat salmon more than 6 days a week!
"Salmon is now by far the biggest food export from Scotland. In 2014, it beat confectionery to become the UK's biggest food export. "
Scotland, famous for … salmon
Salmon has been part of the tourism and the catering industries in Scotland for many a year. It is far healthier than most of our other food products. It's always a popular option on our menus.
BTW – if you though it was expensive to buy salmon here in Scotland, try visiting New Zealand! We didn't buy any salmon when we were over there. It seemed really expensive in the supermarket.
Health benefits:
11 health benefits of eating salmon
Check out some of the great recipes we have used to make the most of our salmon options.
Smoked salmon recipes
Classic Smoked Salmon on oatcakes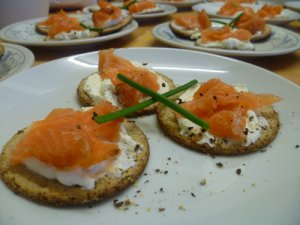 Fresh Salmon recipes
One pan salmon with roasted asparagus
This is one of our favourites when we're feeling generous – a very Scottish mix of salmon and whisky.
Salmon in whisky sauce
125g unsalted butter
1 carrot
1 stick of celery
4 salmon fillets
2 tbs olive oil
2 tbs whisky
4 tbs single cream
salt and pepper
spinach to serve
Melt 25g of butter in a small pan. Add carrot and celery and cook for 10 – 15 mins.
Dry salmon fillets then rub with oil & season on both sides.
Heat oil until hot then add salmon fillets (skin first, if they have the skin on). Cook for 6 – 8 mins each side. Longer if they are thick fillets.
Add the whisky to the vegetables and boil for 1 – 2 mins to reduce liquid by half.
Add cream and remaining butter until sauce is thick and rich looking.
NB We have also seen Salmon jerky for sale in limited stockists, but have yet to try for ourselves. For the moment, we'll reserve judgement but we'll let you know when we've managed to get hold of some to try.
Points of interest for salmon enthusiasts
Salmon leaps in or near the Cairngorms National Park – Pitlochry and Rogie Falls are the salmon leaps we know the most about. We have seen salmon leaping at Rogie Falls. We took photos, but it wan't easy to see on the camera.
Salmon leap blog from VisitScotland
Fishing – we're not experts on the fishing opportunities here in the Cairngorms but both the River Spey and the River Dee are world renowned for salmon fishing. However, don't expect to take your catch home with you, unless you catch a rogue farmed salmon.
Learn more about Scottish salmon
Atlantic Salmon facts from Scottish Natural Heritage
Further details about: How Scottish Salmon conquered the world
World's restaurants take wild salmon off the menu