Discover Deeside
Exploring the area between Aberdeen and the Cairngorms National Park is a much under-rated part of Scotland. Walkers neglect the area, as there are not so many Munros throughout the region but it is a fabulous area to explore. We have highlighted below more points of interest than you could possibly cover in a day travelling from Aberdeen over to Fraoch Lodge, but some will be of interest and some you may not want to visit. We have plans to take a trip over to the Stonehaven area ourselves soon so as to see the seabird cliff colonies at the RSPB reserve on the cliffs at their best. We'll also take in Dunnottar Castle, which has been on my hit list for some time and hopefully make time for Drum Castle too.
I hope you enjoy reading through the suggestions below. I haven't included much in the way of recommendations. I hope that I have made it a wee bit clearer how things are related and what is possible on your journey through Scotland.
Stonehaven detour
18 miles from Aberdeen, to the south; approx 30 minutes drive
2 of the top ranking attractions in the Stonehaven area, especially if you ignore the outdoor pool and the Fireball Festival which only takes place once a year at Hogmanay.
Dunnottar Castle
This castle is high on my list of places to visit, not just because of it's stunning setting, perched high above sea cliffs on a peninsula; but also because of its historical significance. The Scottish Crown Jewels would not reside safely in Edinburgh Castle these days if it were not for a small garrison holding out against Cromwell's army in the seventeenth century. The buildings are now roofless and access is along a steep path unsuitable for wheelchair access. Most people will still take about 2 hours to explore the buildings, wildlife and scenery.
Essential preservation works are being carried out at Dunnottar Castle this season (April – October 2014) which will necessitate the erection of scaffolding on some areas of the site. Scaffolding will be visible.
Entry fee
Dunnottar Castle
Photo by: JelleS
RSPB Fowlsheugh
What better way to appreciate the wildlife which teems around our coastal cliffs, than to visit a seabird colony. Every Spring around 130,000 birds – fulmars (one of the albatross family), guillemots, razorbills and puffins – return to the Aberdeenshire coast to breed. The area also attracts grey seals, dolphins and minke whales so don't forget your binoculars.
Free entry
Aberdeen to Ballater
Drum Castle,
managed by the National Trust for Scotland
There is a thirteenth century tower atDrumCastle, which is the oldest intact tower in Scotland. Unfortunately, there is conservation work going on at Drum Castle this year on the tower and the library, which might impact on your visit. However, the good news is that entry to the castle is reduced while the work is continuing.
There are still extensive grounds to explore and plenty of paintings, furniture etc on display in the castle buildings.
There is a playground for children too as well as the inevitable café and shop.
Entry fee
Drum Castle
Photo by: Stu Smith
Crathes Castle
managed by the National Trust for Scotland
Turrets and towers, winding staircases, ornate ceilings and ancient sculpted yew trees, combine to make a visit to Crathes Castle, Garden and Estate a great day out for the whole family. The gardens are said to be exceptional and not to be missed.
An enchanting 16th-century tower house, Crathes is surrounded by 240 hectares of formal gardens, woodland walks and rolling Scottish countryside.
There is a cafe, gift shop, adventure playground for children, the north-east's only Go Ape tree top adventure, and the Arting Around studio.
Entry fee
Crathes Castle, Aberdeenshire
Photo by: Christine Jewell
Finzean Estate
The estate has been home to the Farquharson family for sixteen generations. The estate offers a range of activities ranging from fishing to walking, but for those travelling onwards, the most interesting aspect of the estate is probably the farm shop and associated café, where you can get home made cakes and light lunches. At the same time you can also see the paintings of Deeside's famous Victorian artist, Joseph Farquharson, laird of the Finzean Estate. Much of Joseph's work featured the landscape of the estate, typically Scottish, with sheep in the foreground.
Queen's View, Tarland
(on the B9119)
There are at least 2 places inScotland, now tourist sites, known as Queen's View (another is in Perthshire). The view here takes in Lochnagar, Morven and Mount Keen among the surrounding hills. There's also the best example of a recumbent stone circle at nearby Tomnaverie. The whole are is rich in historic and prehistoric sites. The history of settlement and farming here reaches back over 4000 years.
Lonach Gathering, Lonach
The Lonach Gathering always takes place on the 4thSaturday of August and has grown in reputation due to the fact that a lot of people hope to spot Billy Connelly or his famous Hollywood friends there. This year will be the 173rdGathering.

The Lost Gallery, Strathdon
The gallery is housed in a 19th century farmhouse set on a hillside in the Cairngorms. It is the perfect setting for the contemporary art displayed at the gallery.
At the Lost Gallery the owners show works by Scottish contemporary artists who most excite the owners, artist Peter Goodfellow and his wife Jean. The works chosen range from paintings to sculpture and photography.
If you're running short of time to travel to Fraoch Lodge, the following sections of the journey also make great day trips.
Ballater to Braemar
(Braemar is approximately 90 minutes drive from Fraoch Lodge.)
Cambus O'May
Choose from trails that cross a lochan on a picturesque bridge, or wind through Scots pine trees where squirrels chatter. If you really want to take it easy, there's a grand view of Deeside's mountains just from the car park.
A walking suggestion for those with a wee bit more time – this route takes 3 to 4 hours to explore:
http://www.walkhighlands.co.uk/cairngorms/cambus-o-may.shtml
You could also choose to visit the Cambus O'May Cheese creamery where traditional cheeses are made from unpasterised milk and hand crafted using traditional methods. There is a viewing platform at the dairy where you can observe part of the cheese making process.
Balmoral Castle
The castle has been home to the British Royal Family for over 150 years, since it was purchased by Queen Victoria. The castle is not as ornate as many Victorian follies and a large amount is not open to the public. You need to be careful when you time your visit. If the family is in residence, the castle is not open to the public. Avoid August.
Braemar Castle
Braemar Castle is now operated by the community. It enjoys a 400year history filled with intrigue, royal connections, ghosts and bold deeds. There are 12 rooms, through which you are guided. If you choose to visit the castle, you'll see the room dedicated to Robert Louis Stevenson, who wrote Treasure Island while on holiday in Braemar. Definitely a castle to put near the top of your list if you have to choose between the 2, entry to Braemar Castle is probably better value for money. It is also home to the largest Cairngorm stone on record.
Linn of Dee and Mar Lodge Estate
A place frequented by walkers and cyclists to access the southern end of the Cairngorms and the beginning of the Lairig Ghru. You'll pass by Mar Lodge and it's hall of antlers on the way. The river thunders through a narrow gorge to spectacular effect here making it a great spot to stop and stretch the legs.
Braemar to Grantown on Spey
The castle has a gruesome and eventful history. It was home to a garrison when the soldiers were billeted there to try and prevent whisky smuggling.
The Lecht Ski Area
Set at the highest point on the road, in the winter there is a ski area here which is perfect for kids learning with their "magic carpet". There are other activities here, including mountain biking in the summer months.
Tomintoul – The Whisky Castle, connoisseur's whisky shop plus cafe and gift shop
Mike Drury is probably Scotland's most knowledgeable whisky merchant. He specialises in unique whiskies and often buys special barrels from distilleries, particularly Tomintoul, and has them bottled for the shop. If you or any special friends of yours, are at all interested in whisky, a stop at Mike's shop is a must. He is the source for most of Andy's knowledgeable blog about choosing whisky.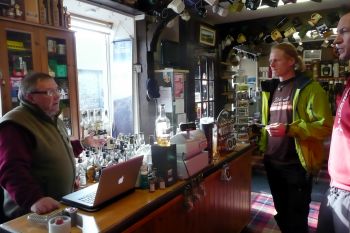 World's largest bottle of whisky
In 2009, Mike Drury (Whisky Castle– specialist whisky store) and Dru McPherson (Clockhouse Restaurant) headed up a project to create the world's largest bottle of Scotch whisky. The bottle is certified by the Guinness book of records and is usually found in the Clockhouse Restaurant.
Glenlivet distillery, 10 miles north of Tomintoul
The distillery here can legitimately claim to be the home of Scotch. It was first licensed in 1824. The advantage of visiting this distillery as opposed to one of the smaller ones is that the tours depart regularly and you are therefore not tied to a particular time.
Glenlivet mountain bike trails
This is currently Scotland's newest mountain bike trail centre and will be home to the first Roadand Road cycling festival on 9th– 11thMay 2014.
Grantown on Spey to Boat of Garten
Anagach Woods
The woods have numerous walking routes and are also home to a bike skills area which is a great place to take the kids to wear off a wee bit of energy.
http://www.walkhighlands.co.uk/cairngorms/anagach-woods.shtml
Ewe and Me
Recommended gift shop on the high street in Grantown on Spey
BaseCampMTB and café
For all mountain biking enthusiasts – shop, repairs and coffee/cake
Smarty Art
A rainy day alternative for the kids, painting pottery but it helps if you are in the area the following day as well to pick up your children's creations.
A variation on a garden centre with a Highland theme. Loads of heather for sale for anyone who doesn't have to travel abroad. Good stop for lunch or a tea break.
Broomhill station and Strathspey Steam Railway
The station will be instantly recognisable to anyone who followed the BBC TV series, Monarch of the Glen as Glenbogle Station. The railway runs steam engines along the line throughout the summer season. If you time it right you'll be able to take a very evocative picture of the train billowing smoke as it sets off from the station.
Boat of Garten Golf Course (and tennis)
When it comes to golf in the Scottish Highlands, Boat of Garten should be first on every visitor's itinerary.  It was designed by James Braid (1870-1950), a famous course designer. The course is not only renowned as a demanding test of sporting skill but also as a magnificent setting for the game. Braid's design maximises the natural landscape and producing a beautiful and challenging course. It is an 18-hole course.
Boat of Garten Post Office and Deli
The post office has limited space but is a treasure trove of culinary delights and also wee gifts from Scotland.
Related blogs
Choosing a unique whisky – https://scotmountainholidays.com/blog/how-choose-special-whisky/
How to get the most out of your trip to Scotland – https://scotmountainholidays.com/blog/how-get-most-out-your-trip-scotland/
Explaining Burns – https://scotmountainholidays.com/blog/review-burns-boat/
Why is it called Hogmanay? – https://scotmountainholidays.com/blog/why-it-called-hogmanay/
Related products from Scot Mountain Holidays
Private Guiding  Under Your Own Steam  Highland Family Adventure  Complete Cairngorms  Spirit of the Cairngorms Mountains and Malts
Helpful links
Whisky Month  Victorian Heritage Trail – Deeside  Top 12 things to do in Scotland