Visit Scotland: Speyside Explorer
Overview map
Last week we put up some suggestions of sites to visit on a route from Aberdeen to Boat of Garten, travelling from the coast into the Cairngorms National Park. We're following up with a route through Speyside which can easily be managed in a day.
Boat of Garten – Aberlour – Tomintoul & Glenlivet
Active Activities (including for families):
Speyside Way– hiking: The Speyside Wayis one of Scotland's now numerous long-distance walking paths. The path stretches from Aviemore to SpeyBay (where you can also visit the Spey Bay Dolphin centre, following the route taken by the famous salmon fishing river, the Spey: which is also the source of many good whisky distilleries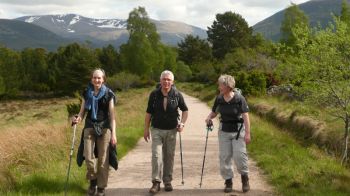 Mountain Biking: Fochabers (Moray Monster Trails)
There's something for everyone here at the single track trails. There are over 20km of trails ranging from blue routes to black. There are no public toilets or other facilities on site, but plenty of opportunity to eat out, buy supplies and  visit the public toilets in Fochabers. The trails are on Forestry Commission land. For full details:http://scotland.forestry.gov.uk/visit/moray-monster-trails
There's also Scotland's newest mountain biking centre on the Glenlivet estate: http://www.glenlivetestate.co.uk/things-to-see-do/activities/biking/glenlivet-mountain-bike-trails/ The trail centre will be home to some of the events making up the Rock and RoadFestival this weekend 9th & 10th May 2014. This year is the first year the festival is taking place. Hopefully it will become an annual event to follow on from the Speyside Whisky Festival.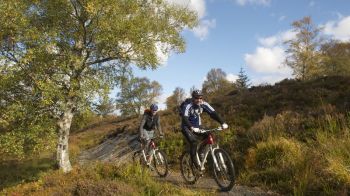 Spey Descent: by canoe or kayak
Sections of the Spey can be travelled by many a water vehicle, the most popular method is using an open canoes. Canoes can be hired in the Aviemore area. The easiest way to organise a Spey Descent is to book a guide through one of the many outdoor companies in Aviemore, or alternatively ask Scot Mountain Holidays to set this up as part of your holiday at Fraoch Lodge. We are frequently in contact with the other adventure activity providers in the area and we're happy to help you organise this. The cost of guiding services will add to the expense of the day but the experience will be enhanced; outweighing the monetary cost.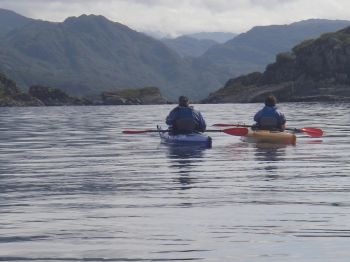 Top tourist sites: Speyside, Scotland
Ballindalloch Castle: The castle is home to the Macpherson-Grants and has been continuously in their ownership since 1546. It is still their family home and is decorated with some family memorabilia. The castle also has the inevitable gift shop and tea room along with a lovely outdoor play area which the kids will love. There are a great number of go-karts and toy diggers/tractors that you wee ones will have a whale of a time using, leaving at least one of your party free to explore the castle at leisure. The castle also has exensive gardens and grounds as well as a golf course. For further details about the castle: http://www.ballindallochcastle.co.uk/
Whisky/Distillery tours: Speyside is famous for its proliferation ofdistilleries including the world renowned brands of Glenlivetand Glenfiddich. A lot of the distilleries offer tours. Some charge; some don't. Some run virtually on demand; some have set times. Where you goes, depends on a lot of parameters some of which may be beyond your control. Aberlour distillery tour has been recommended to us, but is one of those which only runs twice a day: 10am and 2pm.
Hidden Secrets:
Knockando Wool Mill: For over 225 years, Knockando woolmillhas been at the heart of the community. Its historic machinery has allowed generations of families to spin and weave in time honoured tradition. It is one of the very few district mills to have survived. Wool has been manufactures here continuously since 1784. There is a working water wheel at the mill and the machinery is fascinating. There is fleece on all the machines which undertake all the processes necessary to take a sheep's fleece from it's raw state to spun yarn and woven cloth. There is also a gift shop & a café on site producing  a limited selection of light lunch options.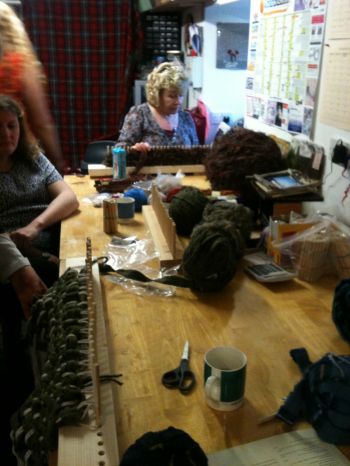 Speyside Pottery: The potteryis right on the A95 betweeen Boat of Garten and Aberlour. It is hard to miss as it is well signposted. The pots are hand thrown, wood fired and oven/dishwasher/microwave proof. There are some lovely wee pottery whisky cups, which make a lovely alternative to glass, and are probably the best value items there. The wood kiln is one of only about 4 or so in Scotland and fires the pots to over 1300oC. The wood gives the pots an amazing patina which is one of their features. The glazes Thomas uses are all in the blue/green range. We have one lovely display plate in our dining room which will give a hint of the kind of décor used at Speyside Pottery.
Three Bags Wool, Aberlour:If you are at all interested in crafts, where you like to make or purchase hand-made unique products, then Three Bags Woolis a must-visit spot on your tour. Sarah Nairn-Anderson and her team, who run the shop are a very talented group of ladies and extremely knowledgeable on all wool related crafts from knitting, to felting to weaving. The shop also runs a number of workshops teaching the skills, including the unique "Thrum" workshops where you can make your own rug in a day on a peg loom. The workshop is tremendous fun. If you're interested, Rebecca has done a couple of Sarah's workshops (needlefelting and Thrug making) and can show you the examples of her work. Sarah also sells needle felting kits if you just want to get started.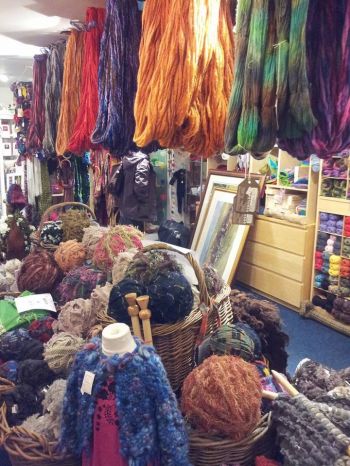 A taste of Scotlandand souvenir shopping, Aberlour:
Aberlour has a great deli offering a wide selection of Scottish cheeses plus it's also home to Walkers Shortbread and has a small outlet there. For souvenirs you can stop in at Ewe and Me or A Gift from Scotland, which also stocks clan related memorabilia and a wide range of tweed handbags.
Aberlour is also on the Speyside Way as well as offering a number of smaller local walks to sites of interest.
The Speyside Cooperage, near Craigellachie
The work of the cooper forming and conditioning the oak casks which will hold the whisky for years while it matures is an essential part of the whisky story. A visit to the Speyside Cooperageis a must if you are interested in the whole whisky process. The Cooperage is the only one in the UK to have a visitor centre. You can watch the cooper's work from a high gallery and even have a go yourself and putting together the display cask (which is on a smaller scale to the ones the coopers work with).
Getting the most out of your visit
The planning which goes into a self-guided trip – researching online and in the guidebooks can be all consuming in the lead up to your vacation. It is fun, but it takes time to find all the information you need and even then you might be looking at information which is now out of date. Some tourist attractions close down or change their opening times, or have to undergo essential maintenance. However, if you use a local company to help plan at least part of your trip, you know that they'll have the most up-to-date information about their area and be able to maximise your time, meaning that you don't have to wait around for transport or miss out on one of the activities or sites you wanted to include.
Scot Mountain Holidays offer a couple of short breaks (Cairngorm Discovery– suitable for families with children aged 8 and over orMountains & Malts– Munros and whisky, a true Scottish partnership) which include an exploration of different aspects of Speyside. We have also linked up with Three Bags Wool to offer accommodation for their workshops.
Related blogs
Scotland Tour: Deeside Explorer: https://scotmountainholidays.com/blog/deeside-explorer/
Choosing a unique whisky – https://scotmountainholidays.com/blog/how-choose-special-whisky/
How to get the most out of your trip to Scotland – https://scotmountainholidays.com/blog/how-get-most-out-your-trip-scotland/
Explaining Burns – https://scotmountainholidays.com/blog/review-burns-boat/
Why is it called Hogmanay? – https://scotmountainholidays.com/blog/why-it-called-hogmanay/
Related products from Scot Mountain Holidays
Private Guiding  Cairngorm Discovery Highland Family Adventure  Complete Cairngorms  Spirit of the Cairngorms  Mountains and Malts
Helpful links
Whisky Month   Top 12 things to do in Scotland   VisitScotland WalkHighlands