10 Wet Day options for a young family visiting the Cairngorms
We've found many more than 10 wet day options when in Aviemore but we're sharing some of the best here with you. There's no getting away from the fact that in order for Scotland to look so green and lush, we have to have the occasional wet day. However, this is not a disaster and doesn't have to spell the end of your holiday. Just check out some of the wet day options below. Of course, a lot of the wee ones care less about the weather than we as adults do. Puddles are sublime for them, so let go of your concerns about the wet and make it a day for them.
Britain's only reindeer centre is here in the Cairngorms, less than 30 minutes drive from Fraoch Lodge. The reindeer are free ranging on the Cairngorm Mountains but the reindeer herd staff do lead walks out to visit the herd, when guests can feed the reindeer and pet them under supervision. It is also possible to see the reindeer sometimes if you go out for a walk into the centre of the park. The reindeer centre itself has a couple of paddocks where they can be observed at close quarters and an exhibition about reindeer and how people have worked with them, plus the opportunity to stroke reindeer fur and purchase reindeer related products or adopt a reindeer.
The HighlandWildlifePark is a fabulous day out for all the family. It has improved so much in the time that it has been associated with Edinburgh Zoo and is now the only place in the UK to see polar bears. They also have Amur Tigers, formerly known as Siberian Tigers and a wolf pack plus plenty of wildlife which always has been native to the Highlands – wild cats, red deer, capercaillie …
If you get the chance during your stay, definitely take one of their landrover tours of the park because you'll gain fascinating insights into how the park works and the relationship the rangers have with the animals.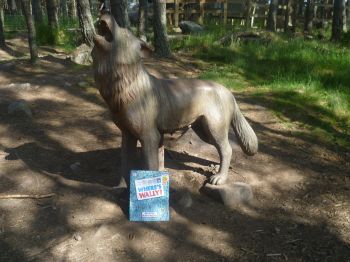 This is another fabulous day out for all the family. The museum has a great play area and picnic site for when the kids need a chance to run around and use up some extra energy. There's also an old school room where they have some slates, feather pens and ink wells and old fashioned hoops etc which the children used to play with. The schoolmaster runs a tight ship, but most kids/adults enjoy the experience.
The old township full of turf covered and thatched blackhouse style dwellings is a really interesting step back in time. The ladies who work there are all dressed in suitable costumes and weave, cook porridge and answer questions about what it must have been like to live in the houses which don't have chimneys or windows.
Ballindalloch is less than 30 mins drive from Boat of Garten. It is not the only accessible castle from our home base but it has the edge over some of the others for a family just because of the play area next to the car park – plus for those of us who appreciate such things the flower displays in the garden and especially those directly in front of the castle are stunning.
The play area has loads of kiddie ride on tractors and diggers which are free to use plus some gokarts on a go-kart track, along with the usual swings etc.
5. Soft play
Both the Aviemore Macdonald Resort and the Fun House at the Coylumbridge Hilton Hotel have soft play areas the kids will love until they're about 8 years old or so
6. Swimming pool
Always a good option for a wet day. You can either fit it in with a visit to Inverness; hit family time at the Grantown pool (Sat and Sun mornings) or head over to the 25m pool with wave machine and slide at the Macdonald Aviemore Resort; but be aware that though locals can use their Highland Highlife memberships to use the pool effectively free of charge, it is expensive for a family at around £24 for a family of 4 for the day – but there's a playground next door, eating and shopping opportunities in the main centre and you have access to the wet area all day for that price.
7. Puddle jumping
Not much explanation needed here and the only equipment you need is good waterproofs (so you can stay out as long as possible) and a pair of wellies. Immense joy to be had from the simplest of activities. Plenty of woods at the back to find puddles and a playpark in easy walking distance as well.
8. Pottery painting
In both Grantown and Aviemore there's an excellent pottery outlet called Smarty Art. Kids can choose virtually any kind of pot to paint from a dog to a penguin to a bowl or vase. Prices are on the items and the staff are very well trained. Kids can be occupied for quite a while but bear in mind that the refreshments are not free of charge.
Alternatively, if your kids are over 5, Loch an Eilean offers a throw your own pot session on a Thursday which we can book for you if you wish.
9. Duck feeding & bird spotting/Local playgroup
Boat of Garten hosts it's own very active playgroup called the Wee Boogies, which takes place on a Friday morning. There's also a duck pond known as Milton Lochan where if you feel like it you can also try a little Geo Caching (outdoor treasure hunting for a GPS or GPS enabled smart phone) to add a little grown up interest to your walk. There are several other Geo Caching sights around the village too which the wee ones might also enjoy helping you with.
10. Findhorn beach and Kimberley Inn
Findhorn beach and Nairn beach are along with a lot of the Moray coast line are less than an hour's drive from Fraoch Lodge. You might need to watch the tide a wee bit to make sure that you have the most extensive stretch of sand possible and remember to take a spare set of clothes because there's no getting away from it, the kids will get sandy and wet no matter how hard you try to avoid it. Of course, you could stay closer at hand and visit Loch Morlich beach but then you wouldn't get to sample the seafood choices at the Kimberley Inn.
Not everything on this list can be visited in a day as the sights are in diverse areas. For ideas of day trips in the area incorporating one or more of the ideas above, do keep an eye on our blog as we post the day trip ideas from Fraoch Lodge.
Related blog posts
Things to do when you can't ski at Cairngorm Mountain
The Cairngorms with the kids – on foot
Your natural adventure in the Cairngorms10-wet-day-alternatives-tiny-tots-aviemore-and-cairngorms