Are you planning to visit Scotland for self guided walking holidays? There are some important factors which should influence your planning.
Treat the hills with respect
Just because you don't consider the hills in Scotland to be mountains by the standards of your country, doesn't mean that you shouldn't treat the routes with respect. Remember when you do your planning that a lot of routes are not way marked. Our experience of hiking in Europe is that most of the routes are signposted and marked with paint on the rocks and/or trees. Don't expect this to be the case in Scotland, unless you are following an official long distance path like the West Highland Way.
2. Listen to the advice of the locals –
The locals are the ones who will know if bridges have been washed away; if the streams are running high and you need to be careful with the river crossings; when there is tree felling going on; if the paths have been diverted; or in winter, particular avalanche hazards
3. Make sure your map reading skills are good
– if not, then be sure to take a refresher before you head into the higher level terrain.
Our maps are very good but you will need a proper map for hill/mountain hiking. Look for either Ordnance survey or Harvey's maps. You can use Viewranger to plan your routes but do not expect to navigate by digital maps in the hills. Your battery could die and the screen is not big enough. Don't worry though – if you're based at Fraoch Lodge and haven't had time to pick up a local map, we do stock them. We also have mountain bike specialised maps for select routes around the Cairngorms.
If you're not sure of your navigational skills
4. Pay attention to the weather forecast
There is a reason why Scottish people talk about the weather so much and if you hear someone talk about 3 or 4 seasons in one day – that means that the weather will be changeable on a daily/minute-by-minute basis.
When we say you should have a water/wind proof jacket, we don't mean a cape. In our windy conditions you need a jacket which fits your body and won't catch in the wind. If you're looking for a new jacket or waterproof pants/trousers, we highly recommend the following Scottish companies: Cioch direct – for made to measure nikwax analog outer layers or Findra – for quality, eco-friendly outdoor clothing
Advice from our in-house guide
– which is also shared with our guests on the organised self-guided walks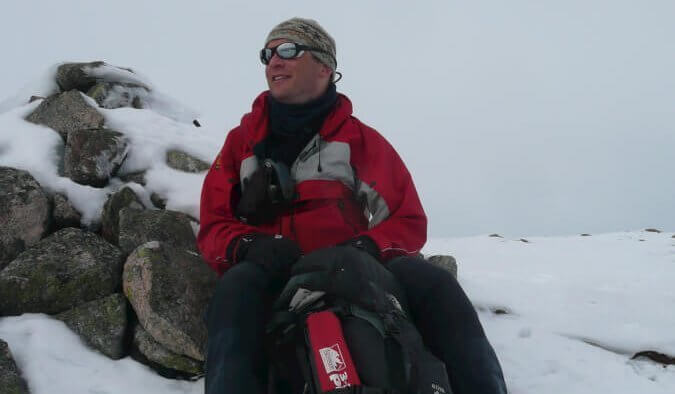 Take care of your feet
It is really important to make sure that your feet are comfortable. The smallest blister or hotspot can ruin your hiking plans. You've probably brought over your normal comfortable hiking shoes/boots but haven't made allowances for the rough terrain you could be walking through. Just make sure you keep an eye on your feet. Pamper them if necessary. There are now plenty of excellent artisan soaps and hand/body creams available throughout Scotland. We highly recommend Highland Soaps, Arran aromatics or the Soap Bothy. Highland Soaps do a bog mrytle scented lotion/soap which has the added bonus of being repellent to midges!
2. Take regular breaks and use them to refuel and drink
This is particularly important if you are attempting a long hike like the Lairig Ghru
If you take long, undisciplined breaks then the end of the day is just going to keep disappearing into the distance. If you don't take enough breaks, then you'll become more tired than you should be and might find the walk very disheartening.
Our recommendation is to walk for about 80 minutes before taking a 10 minute break when you make sure to eat some of your picnic/snacks and take a healthy drink. Be disciplined with your breaks on longer hikes. At the end of the day it will make for a much more enjoyable experience.
3. Many thin layers are better than one thick one
This relates to the 4 seasons in one day weather we have here in the Highlands. You never quite know what you're going to encounter during the day, even if you have religiously checked the forecast. Andy recommends: in summer, dress cool (relatively – light trousers/pants rather than shorts) on the legs), and warmer on top, as it is easier to regulate your temperature by putting on or taking off a fleece/jacket than removing long johns when you get too hot. In winter, dress warm on the legs.