This tour has expired
Under Your Own Steam
Duration:
2 days, 2 nights
Tour Type:
Self-guided cycling
£192.00
BESPOKE ITINERARY – PRIVATE BOOKINGS ONLY – MIN 2: MAX 8 PEOPLE
This is a great little easy mountain biking trip where you don't need a car! Based in the beautiful Cairngorm National Park, both routes set off from the front door of Fraoch Lodge and take in some of the most stunning scenary the Highlands have to offer. Using the local Steam Railway at the start or the end of the day, these 2 easy days explore our wonderful native Caledonian pine woods, beautiful lochs and open heather clad heath-land, all with the backdrop of the high Cairngorms.
With transfers from your point of arrival to your accommodation in the pretty Highland village of Boat of Garten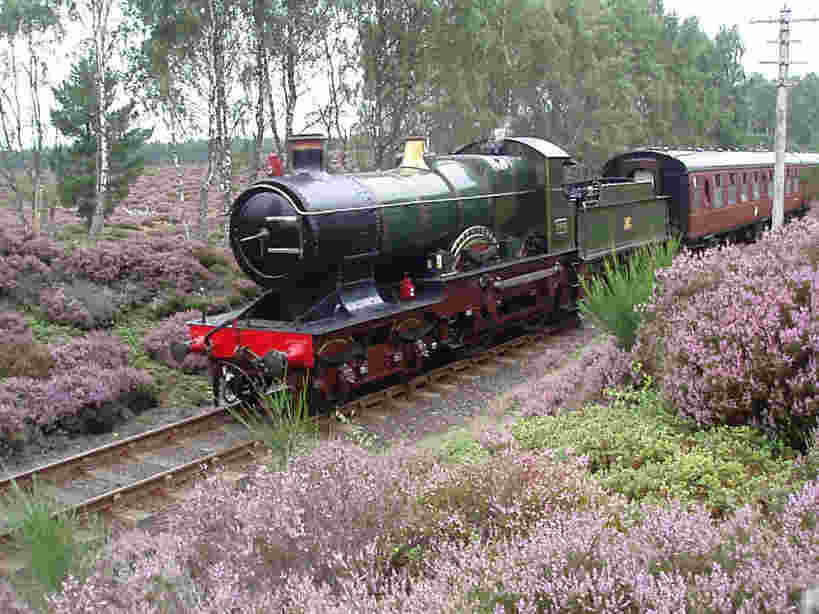 HIGHLIGHTS
leisurely mountain biking trip
fully inclusive
suitable for families
transfers from and to Aviemore Station or Inverness Airport
bike hire (discount available if bringing own bikes)
Steam Train journeys
stunning views of local area
2 nights accommodation at Fraoch Lodge
THE ADVANTAGES
Extend your outdoor season by taking up mountain biking with your young family.
If you choose to join our trip, you don't need to worry about getting lost. We will take care of all the logistics for you.
We will provide maps.
You will be picked up from Aviemore station.
We will provide your meals.
A pub meal at the Old Bridge Inn is included as part of the activities during the trip (price not included)
RELATED BLOGS
10 best natural mountain biking routes in the Cairngorms
Mountain biking trail centre review: Laggan Wolftrax
How to entertain your kids in the outdoors
Enquire about this tour

Evening of Arrival: At whatever your arrival point in Scotland (Inverness Airport or Aviemore Stn) we will be there to meet you. We then head back to Fraoch Lodge to a welcoming cup of tea and a roaring fire. If you would like one of Rebecca's delicious evening meals on your arrival (normally served around 8pm) please ask us to quote.
Day 1: After a bit of a lie-in, breakfast is served at 8:30am before you have a chance to get ready and the bikes are adjusted accordingly. It's just a sort cycle to the other end of the village to the station to catch the Steam Train to the beginning of the route. With panoramic views across beautiful Strathspey to the High Cairngorms you arrive at "Glenbogle Station" (of BBC series "Monach of the Glen" fame) for the start of the days route. You drop down on a quiet lane to cross the River Spey on an old wooden trestle bridge before following the River Nethy to Nethybridge and a chance to have a break on it's banks. Passing quaint houses you then enter the RSPB's National Nature Reserve of Abernethy on the Speyside Way. Meandering on good forestry tracks and paths, the route brings you to the shores of stunning Loch Garten for a picnic lunch and views to the hills. It's then just a short ride to the Osprey hide to get the latest on the coming and goings at the nest. From here it is then back to Froach Lodge for Cake O'clock in front of the open fire.
Day 2: After breakfast it's back on the bikes to head in the other direction along the Speyside Way to a Real Ale and gastro-Pub on the banks of the River Spey for Sunday Lunch. The route is a lovely one, initially running adjacent to the Steam Railway before meandering though open birch woods and over heather moor with expansive views to the Cairngorms beyond. After a delicious lunch you have some free time in Aviemore. There is loads to do for the younger generation there is the opportunity to go swimming or to soft play, you could visit the fish farm and go fishing or just feed the fish as well as watching the local Ospreys diving for fish. A little further on there is a high ropes course. If you still have the energy you could continue onto the glorious Rothiemurchus Estate and Loch an Eilean with its 800 year old castle or you could just relax on the banks of the river. There are numerous possibilities. At around mid afternoon it's then time to take the last Steam train back to Boat of Garten for a shower and Cake O'clock back at Fraoch Lodge before departing.
This trip is ideally suited to a young family or those just getting into mountain biking and not looking for anything too strenuous. If you would like an evening meal on arrival or dinner, bed and breakfast at the end of the trip please contact us for a quote.
2019 prices:
Adult: £179 Child £164
2019 prices, excluding bike hire:
Adult: £143 Child: £135
We asked our guests what sets Scot Mountain Holidays apart, why they return year after year:
"the social aspect"  –  "the camaraderie, food and conversation"   –
"the company of the hosts"  –  "so warm and welcoming"  –  
 "a profound sense of belonging"  –  "the welcome of Rebecca's home cooked meal"  –  "Andy's skills as a guide, naturalist and leader"  –  "stewardship, sustainability and a small footprint"  –  "in harmony with the land"  –  "a slice of rural Scottish life"
Scot Mountain Holidays is the ONLY adventure tour operator in Highlands of Scotland with a combined home and guest lodge. We strive to be more than just an tour. We aim to provide you with a 'home away from home' on your adventures. We thought of no better way of doing this than to welcome you into our own home.
We have owned and operated Fraoch Lodge as our home base and business since 1999. In that time, we have come to embrace our guests as members of our extended Highland family.
We source our meals from locally produced and home grown ingredients to provide you with the most delicious flavours and traditions the area has to offer (while minimising our impact on the environment, too). Our dining room and lounge are shared spaces where we gather with guests and friends to share in the holiday and offer you extensive knowledge of your tour.
No matter the season, the Cairngorms and Fraoch Lodge is a place to relax and explore all its beauty and comforts, and we hope to make you feel as at home as we are.
We have achieved Gold Star Awards from the world's most highly respected green accreditation scheme, Green Tourism, and were awarded Highly Commended in their Green Star Awards 2013 for both Scot Mountain Holidays and Fraoch Lodge. We offer a Green Travel Discount of £15 to any guests who travel to us by public transport. Our primary aim is to minimise the carbon footprint of our holidays, and to this end we donate 1% of the price of our tours to the RSPB's Abernethy Reforestation project.
It is a holistic approach we have to the care of the environment. Andy your adventure guide has a passion for the natural world – whether it's the flora, fauna or fungi. He has a background in geology and a lifelong interest in natural history, as well as being a keen gardener.  He knows a Golden Plover from a Dotterel, a Green Shank and a Dunlin. He also makes no apologies to being very excitable upon spying a Golden Eagle!
For further information, please don't hesitate to check out our Environmental Responsibility page, or contact us directly at info@scotmountainholidays.com.