Winter's coming – rejoice!
There's a lot to love about winter in Scotland – especially if you love the outdoors. The approach of winter just means that you can switch your "toys" (I mean gear) around and get some old friends out of the garage/cupboard. It's nearly time to dust off the crampons and get the jumpers out so we thought it was time to remind you of the joys of winter.
Snow
Who doesn't love a fresh coating of snow? It makes everything look clean and sparkly. Many of us (not just the kids) see snow and want to rush outside and make footprints. The arrival of snow brings out the inner child in all of us.
Fire/stove
You can now legitimately light the fire and enjoy the warmth as well as the aesthetics.
Top tip though: make sure you have lodes your plenty of fuel inside before you begin, because the last thing you want to do is to leave the cosy warmth indoors to head outside for more fuel.
Snowballs
Need I say more – snowball fights are fun with the right kind of snow and can really be multi-generational.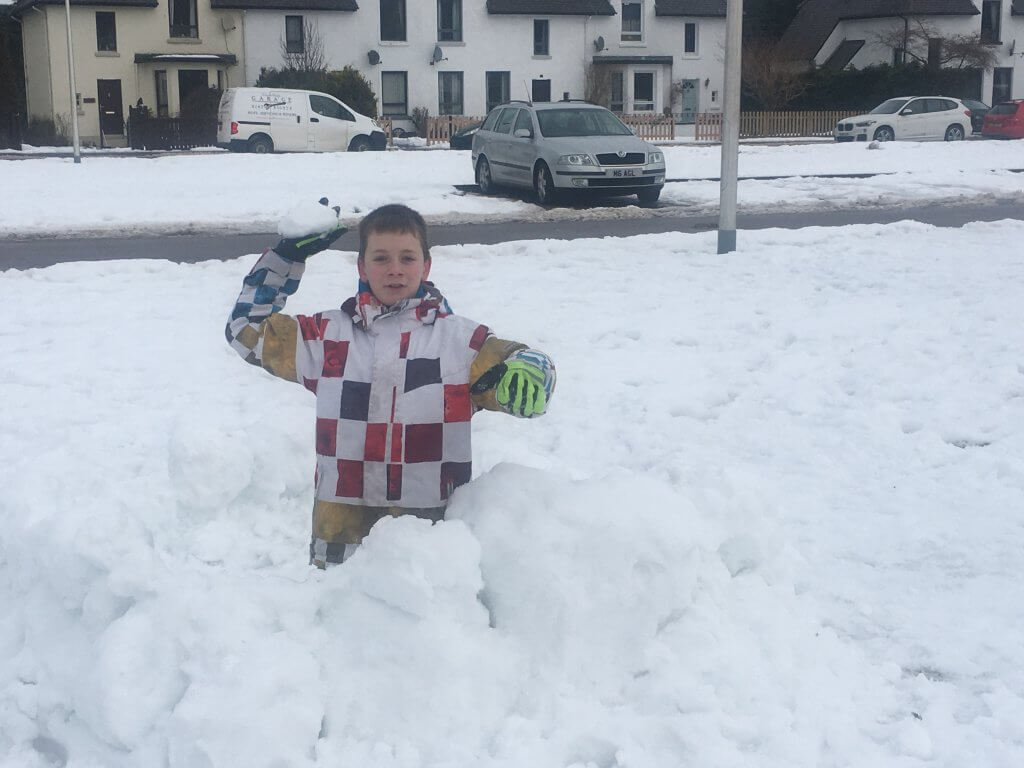 Snowmen
Bring out your creative streak but if you're going to go large you'll find it quite a workout. What's your preference to make his/her features. We've had to sacrifice several carrots.
Snow falling
It's much more mesmerising than watching the rain and far less wet so it can even be enjoyable to watch the snow fall when you're out in it so long as it's not a blizzard and you're not attempting to drive.
Ice climbing
Not something everyone will be looking forward to but those who are in root will be looking forward to taking their sharp, pointy toys out of the cupboard and checking them over ready for the forthcoming season.
Snow in the landscape
Why does snow make the landscape so much more attractive? I think it's because the white of the snow brings out more contrasts and also makes everything look clean and neat. It's also because the light is magical for taking pictures.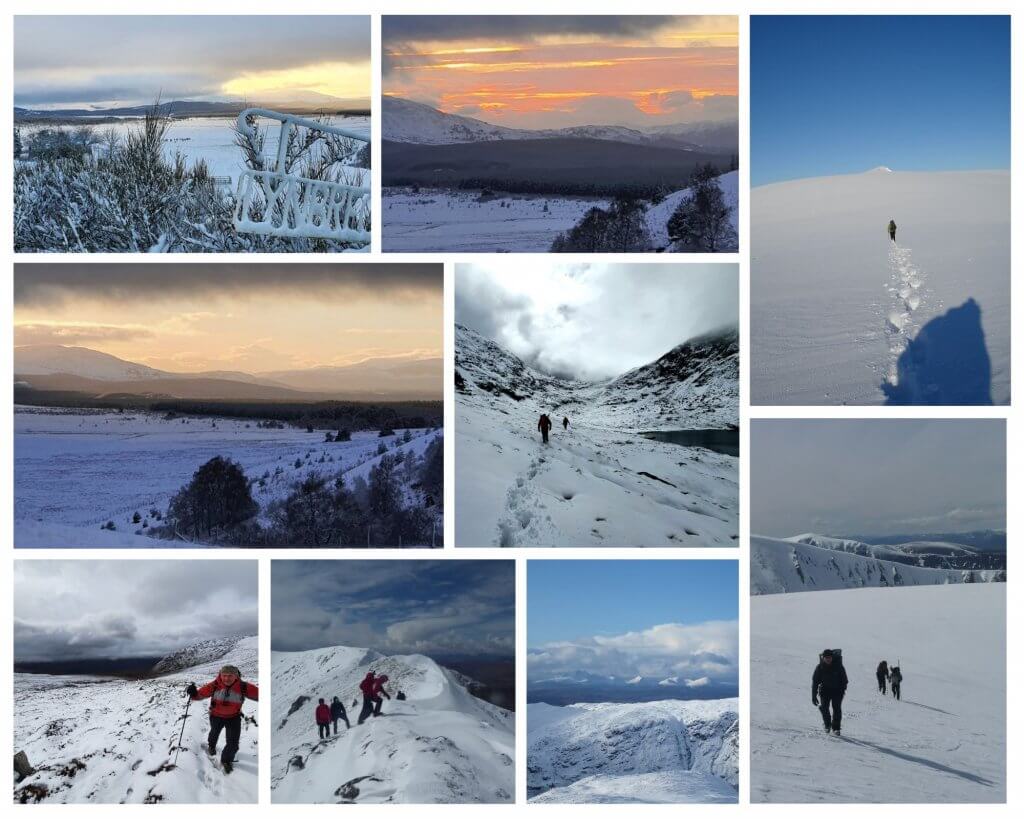 Jumpers
Time to break out all those lovely woolly jumpers.
No flies or midges
One of the best things about winter is the lack of bugs, flies and midges.
Frost on grass and hoar frost
Frost crystals are quite stunning when you look at them closely.
Look at the image below. Can you believe that all of this is accumulated frost built into the wind from the original structure? This is what the weather station on the top of Cairngorm.
Skiing
We are so lucky to be living on the edge of ski country. It still surprises us how many people, even those within the UK, who don't know there is skiing available in Scotland. Yes, we might be suffering from the effects of global warming, but when the weather's right – a ski day in Scotland is just about paradise.
Winter Skills –
Ice axe & crampons legitimate adult playing in the snow with sharp, shiny things during winter in Scotland.
When you're not a kid any more, people tend to frown if you play in the snow. When you're on a winter skills course, it's encouraged learn about the snow and ice. You'll have to slide down a slope with an ice axe, as you'll need to learn how to stop a sliding fall.
You'll have to cut holes in the snow, as you'll need to know how to make emergency shelters – and so much more besides.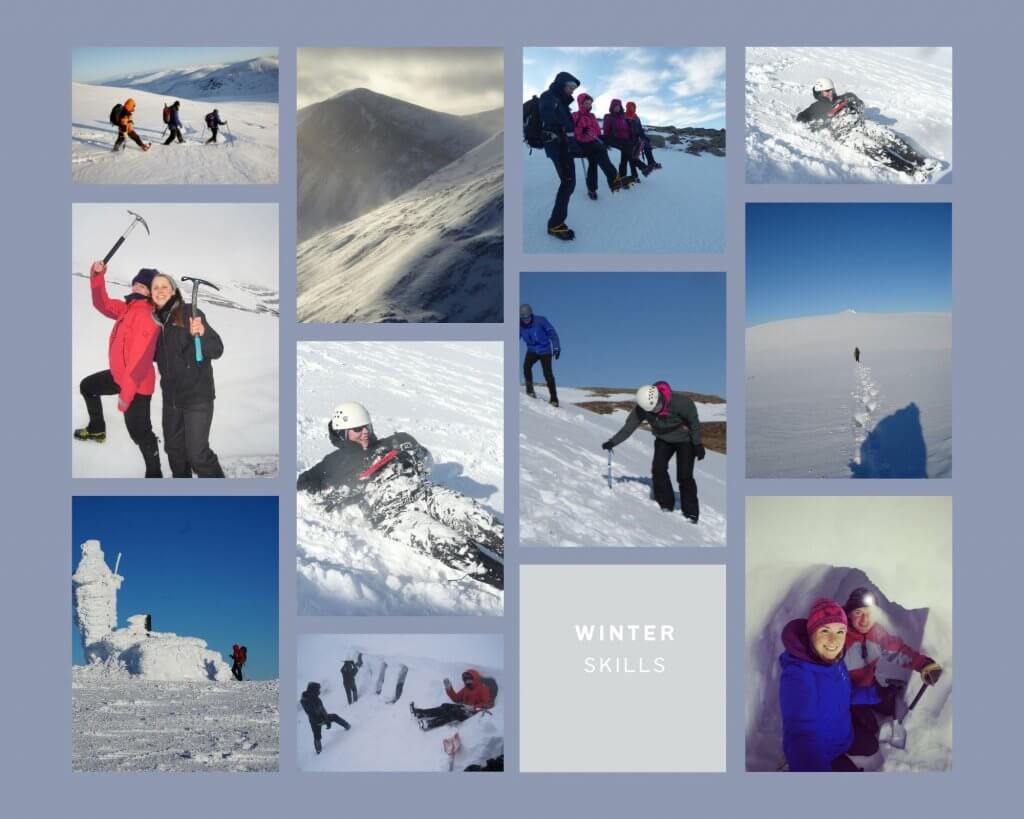 Crisp, clear air & views for miles
Views which stretch for miles are really a thing of winter. The air in summer is warmer and therefore hazier than winter.
Andy has had the privilege of being able to see from Cairngorm to Ben Nevis (55 miles) and has even picked up mountains well to the north all because the cold air is much clearer.
In short:
Winter is one of our favourite times of year. We try to keep it to ourselves. It's not all that hard as so many people seem to be afraid of being cold.
The thing about being out in the winter in Scotland is all it takes is the right level of exercise and the right clothing and you're sorted.
If you're worried about it, why not let us be your guides.