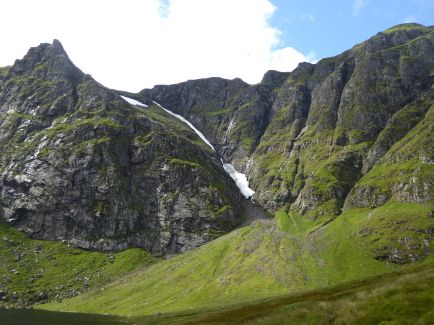 Get off the Beaten Track in the Highlands of Scotland
This is a minimum 2 day, 3 night stay with Scot Mountain Holidays. It works best for 2 or more people. You join us later in the day before your activities for dinner. We'll all sit down for dinner together and discuss travels, politics, families or whatever else comes up in conversation. Andy will browse the weather and then come up with some suggestions for the guided walk for the following day. If necessary he'll also run some checks of your hiking stuff to make sure that you won't be at all uncomfortable when out hiking. (Unlike a lot of European hikes, once you are out on a hiking route in Scotland, especially if you head out on a mountain route, there are few if any chances to change your clothes, pick up extra food or any such shopping opportunities.)
The first day's hike is aimed at familiarising you with the area and giving you the opportunity to get away from the beaten track. Andy has been guiding in the Cairngorms for about 15 years, he knows the area like the back of his hand and is constantly learning new interpretations of the landscape and its history. You'll learn so much by spending the day with him, which will stand you in good stead for the following day.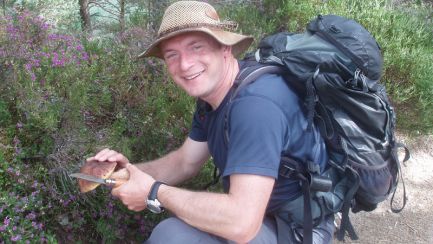 When you return from the hike we'll have tea and cake ready for you, and a fire burning if the weather justifies it.
Before dinner we'll check the weather and come up with a plan for the following day. Scot Mountain Holidays will provide the guidance and map for a route designed according to your requirements. If required we'll also provide transportation, particularly if it's a linear route we choose, which will allow you to see more of the area as you won't have to return to the spot where you started. (Another plus point as if you were tied to your own transport or public transport, walking a route in one direction, would be so much more difficult to co-ordinate – one reason why support packages are so popular for the long distance paths.)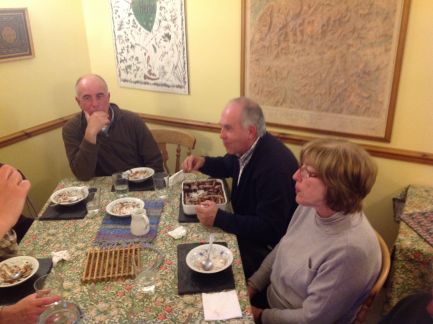 After dinner prepared from local produce, much of it hopefully from our garden (so long as you're not visiting in the depths of winter), you'll be able to relax by the fire or retire to you room. We keep a plentiful supply of books and quite a few board games or cards in the lounge if you want to disconnect from electronic forms of entertainment; but for those who feel the need to keep in touch with the wider world there is WiFi throughout.
In the morning, after breakfast of your choice, and having prepared your packed lunch from the fresh bread, home made cake and other options we'll have laid out for you; we'll take you out to the start of your route and set you on your way with your map and route description. You should by now have a better idea of the area from your day out with Andy.
One of the joys of hiking in the Cairngorms is the wildlife which makes its home here. The area is regularly visited by wildlife photographers and BBC wildlife production companies looking for footage of capercaillie, crested tit, reindeer, pine marten, wild cats and many others. You never know what you might see on your hike.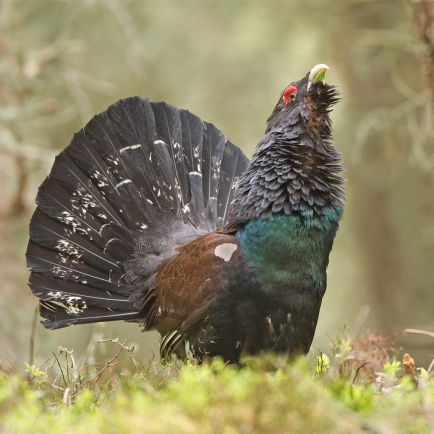 We'll pick you up at the end of your hike and bring you back to the fire and cake so you'll follow the same simple formula which underlies all our trips: eat – sleep – hike.
At the end of your stay, despite the fact that you might be physically tired, you should be mentally refreshed for your return home.
Pricing scheme:
Get off the Beaten Track is a tailor-made hiking trip designed for people who want to explore a wee bit more and understand the area through the eyes of an experienced, qualified guide.
You can book from a minimum of 2 days: one guided, one self-guided.
The guided day with Andy will introduce you to the area and help to orientate you. You'll get an idea of how far things are, how long it takes to hike on different routes, what plants and animals are around, how our countryside is formed and managed etc. Andy is very much an environmentalist and amateur geologist/meteorologist with a keen interest in wildlife. He has his summer, winter and international mountain leader qualifications.
For the second day, Andy will put together a personalised route with a map for you to follow on your own. It will be tailored to your ambitions and the prevailing weather. Where necessary we will also provide you with transport to the beginning of the hike and a pick up at the end of the route.
Your accommodation and all your meals are included at Fraoch Lodge.
Basic price: £236 per person
included all meals at Fraoch Lodge, 3 nights accommodation at Fraoch Lodge, 1 guided hike, 1 self-guided hike with map, route information and logistics
Optional alternatives:
3 days, 4 nights
including all accommodation, transport and meals
1 guided day, 2 self-guided days: £300 per person
2 guided days, 1 self-guided day: £362 per person
3 guided days: £424 per person
All prices are based on a minimum of 2 people.
Vacations organised by Scot Mountain Holidays
Self-guided Mountain Biking breaks
Useful links for planning your trip to Scotland
Email us if you think we can help plan your vacation in Scotland – we can hit all the Highland hotspots and include some off the beaten track surprises you might not know about.
For inspiration check out our Pinterest board and our Flickr account.