July and August are the height of our season and this year we've been busier than ever, which does of course have its plus points; the down side being that we have had very little time together and time to get our heads together to plan for the autumn etc. Still we are well stocked with mushrooms (see below) and will be adding some top chanterelle mushroom recipes to the blog, just in case anyone else has been equally blessed.
Slightly less well-blessed on the weather front this year which has also meant that the fruit bushes have suffered. For the first time ever, our worcesterberries have not overwhelmed us in quantity and we probably won't be able to restock with wine this year and will have to conserve all the fruit for jam making.
Our jam and marmelade skills have been in constant use since May as the downside to making your own jam is that people seem to eat enormous quantities of it with their breakfast.
Below if a selection of the activities and scenery we've been lucky enough to experience this month. We've saved all the wildlife and flora pictures for a seperate post. Look out for some very impressive reindeer antlers and some amazing wild flower shots to come shortly.
Always happy to hear any comments.
Photo caption: Mushrooming in the Cairngorms – August 2015 is the month of the chanterelle; obviously a cool, wet summer does them a lot of good. So glad there are some benefits to this summer's weather. (The photo above proved a popular Facebook post.)
Photo caption: what a lot of snow for August. Looks like it will be one of those years in which the snow will survive until the next winter season. Many more of them and we'll see glaciers back here.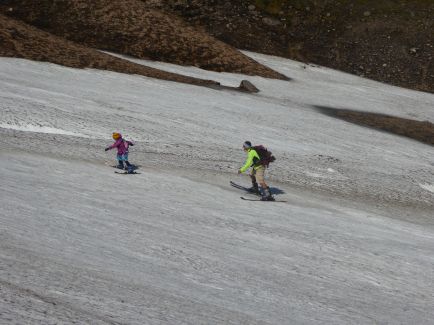 Photo caption: this might not be resort skiing but if you're keen …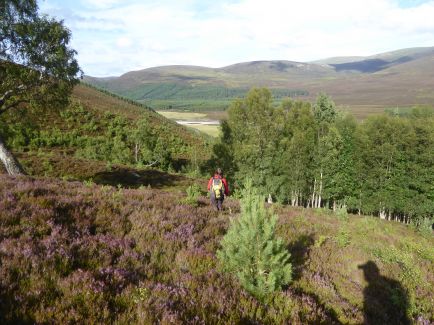 Photo caption: Hiking through the heather with Andrew Bateman of Scot Mountain Holidays to experience the hidden delights of the Cairngorms National Park. This route is part of the Complete Cairngorms itinerary.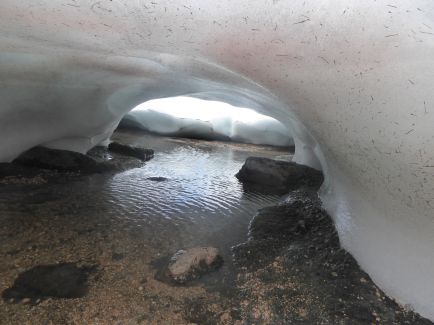 Photo caption: Snow bridge which has developped in the Cairngorms. It makes for quite a dramatic photo.
Photo caption: dinner by candlelit is not a problem in August as we still have a fair bit a light streaming in from outside. This is our Mountains and Malts group sitting down to a revised dinner menu. Impromptu revision forced on us as we had a power cut just as our dinner was due to go in the oven. Fortunately the courgette rolls didn't need any cooking preparation.
The Cairngorms is an amazing destination for biking. Be it road biking or mountain biking, there really is something for everyone. Not only are we surrounded by purpose built trail centres, but we also have miles of natural tracks throughout the forests and up on to the hills. There is more than enough to do for repeated visits or at least a week.
Related holidays by Scot Mountain Holidays
Hiking vacations:across Scotland
Mountain biking breaks: self-guided biking adventures
Family Adventures: a taste of everything for groups or families
Useful links:
Developing Mountain Biking in Scotland
Visit Scotland: about cycling
Visit Cairngorms: about cycling
Glenlivet Bike Trails
Laggan Bike Trails
Monster Moray bike trails
Grantown bike park
Inverness bike park