UPDATED: Eating out in the Cairngorms – our top 5 personal recommendations
We are lucky in the northern Cairngorms, with the quality of our eating out options. We are pretty much spoiled for choice.
Here at Fraoch Lodge we pride ourselves on the quality of the food we produce and the quantity of ingredients we can source from our garden or on our doorstep. We like to experiment with different recipes using quality Scottish ingredients and tend to cook seasonally according to what we have available. Strawberries and raspberries appear profusely in the menu during July and August but in September we're far more likely to offer pumpkin or brocolli or apples in some form. As we produce so much good quality food ourselves including baking all our own bread and cake, we tend to be a wee bit picky about where we choose to eat out. Unfortunately there have been some closures recently of our favourite places to go, so we've updated and reviewed our listings.
1. On the doorstep – Anderson's Restaurant – hugely recommended and almost on the doorstep. Anderson's is owned and run by Steve Anderson who was head chef at the Hilton Coylumbridge before setting up his own restaurant here in Boat of Garten. Steve is very innovative with his menu and has a passion for using local produce and creating new and unusual ice cream flavours.
Outside the main summer season, Anderson's offer Pie Night on a Wednesday night. This is a choice of 2 or 3 pies with mash or chips & veg plus a pint of local beer or glass of wine for £12. Very popular with the locals – bookings essential.
Anderson's also make their own unique ice cream, including a very special bonfire night flavour with fiery chilli in it to warm the taste buds. The restaurant cater at our village bonfire night providing stovies and ice cream to complement the soup and hot dogs offered by the local PTA. The firework display is recommended if you're in the area.
Further information from their website.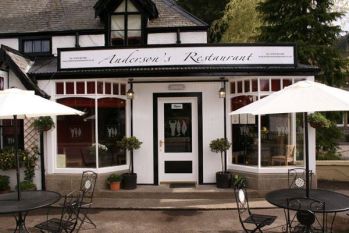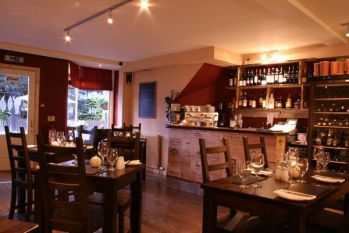 2. The Rowan Tree (Alvie) –
the place to go for a truly exceptional meal. Definitely the venue for an anniversary or birthday treat. Not too expensive but the chef produces food which is out of this world and will go to great lengths in order to cater for special diets, if requested.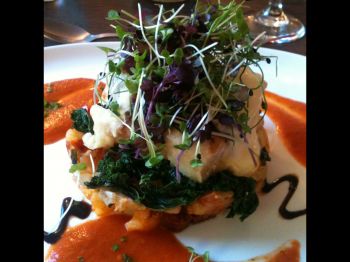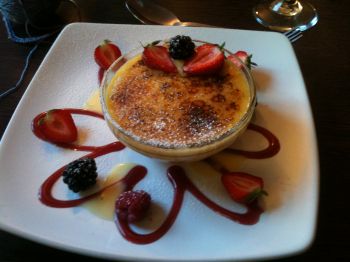 Photo caption: I'm not normally a fan of creme brulee, but this one at the Rowan Tree was amazing. Really the biggest creme brulee I've ever been presented with and it featured white chocolate. So good I couldn't share.
3. The Old Bridge Inn (Aviemore) –
very posh sandwiches on the lunchtime menu. Huge and extremely tasty. I had the pulled pork which I thoroughly enjoyed. Dinner menu is more extensive and usually comes with some excellent live music. The Old Bridge also plays host to the Insider Festival in May. Check out the VisitCairngorms website for full details.
4. La Taverna (Aviemore) –
all you can eat pizza and pasta in a genuine Italian family restaurant. Very good value and excellent food. Popular with all families. The pizza on the buffet is very thin crust and has some imaginative toppings; there are also a large number of fresh salads including mixed olives and bean based salads as well as green salads; some of the desserts are to die for, especially what was described to me as Toblerone cake.
Further details: http://www.highrange.co.uk/taverna
5. The Boat Hotel –
offers discounts for early diners. Bar meals and restaurant fare. Mixed reviews from our guests but more positive than negative recently.
Other options in Boat of Garten:
Fish and Chips – mobile van on a Thursday evening in Boat of Garten
Osprey Cafe – The Dow family have invested heavily in the local shop here in Boat of Garten. They have now installed fridges to provide a great deal more fresh food and even have a beer fridge. The cafe provides a selection of fresh baked cakes etc but best enjoyed when the weather is great and you can sit at the outside tables.
Check out the reviews here: http://www.tripadvisor.co.uk/Restaurant_Review-g776449-d6548460-Reviews-The_Osprey_Cafe-Boat_of_Garten_Aviemore_Aviemore_and_the_Cairngorms_Scottish_High.html
Boat of Garten Post Office and Deli – specialises in fresh fruit and vegetables and always have a very appetising display. The shop has won awards for the quality of their food and service. David and Beth are the heart of the shop and always offer the best of food supplies from local cheeses to organic chocolates. They also do a takeaway coffee service and have a table outside where you can sit and enjoy your coffee and cake. The croissants are also top f the range.
The best of the rest in Aviemore
The Cairngorm Hotel – serves local beer on tap and has a good bar menu to choose from
The Ski N Do – up for a change of ownership but popular, though not terribly imaginative menu
In Inverness:
The Mustard Seed – excellent value for money, popular enough to make reservations necessary, service is great and the atmosphere very relaxing as long as you don't have a table under the speakers. further information from their website
Tea and Cake
The Mountain Cafe – always a highlight for visitors to the area. If you're going for a coffee or tea outside the main lunch time hour you'll probably get a seat without a problem, but lunchtime can mean there are queues down the stairs. http://mountaincafe-aviemore.co.uk/
The High Street Merchant – Grantown on Spey
Mostly offering a fabulous array of baking but has the added bonus of being licensed. They offer Two Thirsty Men beers, brewed next door! Open over the weekend for evening meals, especially pizza.
Just delicious
Eat in or take away – lovely brownies. Never been able to get a seat to eat in, but the takeaway option is good too.
There are plenty of other cafe options some of which we have listed and reviewed in our best cafes for cyclists blog.
For a beer:
Cairngorm Brewery – http://www.cairngormbrewery.com/index.php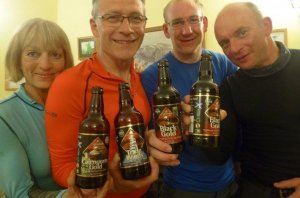 The brewery offers tours and they are apparently generous with their tasting so make sure you have a nominated driver. Recommended by all our guests who have made the time to go.