Loch Ness Explorer (part 1): hiking, cycling, canoeing/kayaking, horseback riding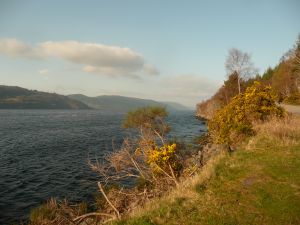 Photo Caption: View of Loch Ness from the quiet side on the south edge of the loch – plenty of opportunities to stop for photos
Photo credit: Scot Mountain Holidays (Spring 2013)
Loch Ness is blessed with a legend which gets it high up on the list of must-see places inScotland. It is an exceptionally large body of water which is linked to other lochs and the sea. The legend of Nessie could have held water at some time, but these days the scientists claim that there is no Nessie. There are still believers though and the idea refuses to disappear. There are of course plenty of souvenirs to keep the legend alive and Nessie has even featured in Scooby Doo.
A visit to Loch Ness is not all about the monster though. Loch Ness is set in the Highlands of Scotland amongst some mountainous scenery which makes it an attractive place to visit. It is only a short drive south of Inverness and on the main tourist route to Fort William.
If you're blessed with a wee bit more time to explore Scotland during your vacation then the following ideas may be for you if you have a day to spend near Loch Ness. It is also within easy reach of the Cairngorms National Park if you are staying at Fraoch Lodgeor near Aviemore.
Long distance routes for hikers, bikers, canoeists and horseback riders:
Great Glen Way: 79 mile hiking route fromFortWilliam toInverness which links to the end of the West Highland Way, Scotland's most popular long distance hike. For further details: http://www.outdoorhighlands.co.uk/long-distance-trails/great-glen-way-2/
South Loch Ness Trail: is a hiking route of 28 miles which runs along the more scenic and quieter side of Loch Ness from Fort Augustus to Torbreck on the outskirts o fInverness.
There are numerous lochs & forest paths along the way and a wee bit of an effort to climb up the hillside is rewarded with panoramic views of Loch Ness. Full details of the whole route of the South Loch Ness Trail are available here: http://www.visitlochness.com/south-loch-ness-trail/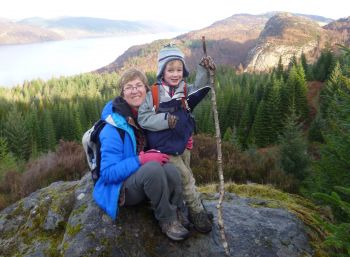 Photo Caption: Hiking in the Loch Ness area is rewarded by spectacular views
Photo Credit: Scot Mountain Holidays
It is not necessary to hike the whole length of these ways. They do split down into easier sections; however, you will always be faced (without the help of a local company or friends) with the difficulty of a linear walk i.e. how do you return to the beginning unless you want to retrace your footsteps?
Scot Mountain Holidays offers some explorer days in the region of Loch Ness as part of their Family Adventure packages, if you'd like to make the most of your time in the area and are inclined to enjoy the outdoors check into the options available at:
https://scotmountainholidays.com/activities/family-adventure-holidays/
Most packages can be adjusted to accommodate the interests of the group/family making the booking.
Canoe Trail: The canoe trail allows you to paddle from coast to coast through the natural lochs – Loch Lochy, Loch Oich, Loch Ness and Loch Dochfour all connected by the 22 miles of man-made Caledonian Canal, linking each of the lochs. The trail takes between 3 and 5 days to complete from beginning to end. For a map:
http://greatglencanoetrail.info/uploads/documents/GGCT%20Trail%20Map_updated%20AW.pdf
The canoe trail can also be managed in sections. It is possible to include a day of the trail in a highland family adventure of 2 or more days, where we would organise the logistics and the guide if necessary. Please enquire for details.
Day trips & shorter walks in the area: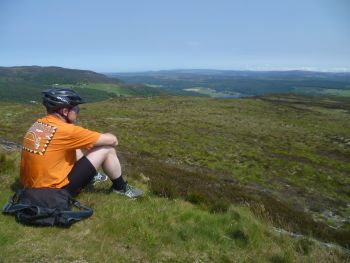 Photo Caption: Biking trails in the Loch Ness area. For full details and options, especially how to link the whole trip together and how to get the most out of your time in Scotland please contact us in the office
Photo credit: Scot Mountain Holidays
Abriachan: (for biking and hiking) This is a lovely area up a steep hill at the north end of Loch Ness. Abriachan Gardens on the edge of Loch Ness are a must for anyone with very limited time to explore around Loch Ness, but if you're feeling a wee bit more adventurous take the steep road up to Abriachan Forest Trails above Loch Ness which offer routes of varied lengths suitable for all levels of ability to explore from pushchair/wheelchair up to distance athletes. There are fabulous views to be had over theLoch as one of the highest points above Loch Ness is set back on the trails here. To get some idea of the walks available check out the details on WalkHighlands: http://www.walkhighlands.co.uk/lochness/Abriachan.shtml We have a detailed map of the area showing the hiking and cycling routes and can advise you of further options.
Foyers: very short walks to waterfalls cascading in to Loch Ness as an opportunity to stretch your legs when touring round the Loch. Details of the route are available here: http://www.walkhighlands.co.uk/lochness/Fallsoffoyers.shtml
Inverfarigaig: (for biking and hiking) part of the South Loch Ness Trail and other paths in the area, offer fabulous views across theLoch and over toUrquhartCastle. Some routes can be managed by children of 5 years old. Routes can be extended if you're on a mountain bike to head over to Dores and drop down to the Dores Inn for a pint or 2. TheInn is set on the edge of Loch Ness and is a great dining opportunity for either lunch or dinner. If you're there at the right time of year, it could make a spectacular setting for sunset dining – mid-summer might not work due to late sunsets (9 to10pm or later). One option is listed herebut Andy has some fabulous routes laid out exploring in depth for guests joining us on guided trips or family adventures.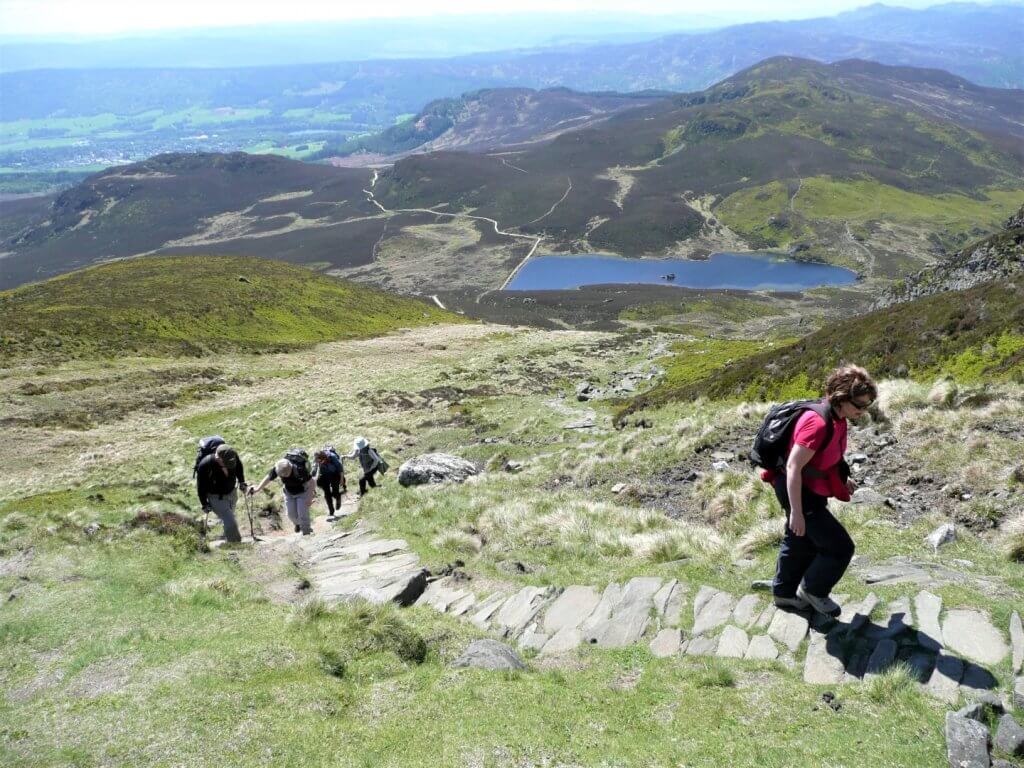 Meall Fuar-Monaidh A wee hill on the side of Loch Ness, technically classed as a Graham as it is less than 2000ft high. This is an outstanding view point which is just above theGreat Glen Way and an excellent detour to include on your route if you have the weather for it. The route starts and ends by Loch Ness pottery which offers outstanding work and has also started to offer a tea/coffee service using their own teapots. When we visited, the only thing which prevented us from taking away more stuff was the price. While the pots themselves are not too expensive when you consider that they're hand made and each is unique, they are breakable and due to the labour involved not cheap. For example, a mug could set you back between £12 and £20. Definitely a worthwhile souvenir if something catches your eye and you have the space in your baggage as no one else you know will have anything the same and it will come with memories and a story to tell your friends about where you got it and why.
For a full list of walking opportunities, maps and route descriptions check this page: http://walkhighlands.co.uk/lochness/lochness.shtml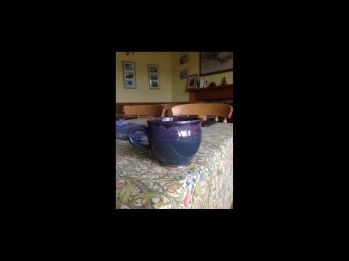 Photo credit: Scot Mountain Holidays
Mountain biking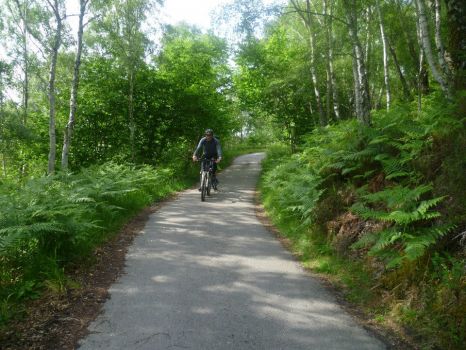 The trails at Abriachan and sections of the south Loch Ness trail are ideal for Mountain bikers though watch out for the linear effect if you're not on a supported trip. Of course on bikes you can cover more ground than hikers but always remember to carry the bare essentials for maintenance of the bike, the last thing you need is a puncture at the furthest point of your route when you've no means to fix it.
Horseback riding
There are 2 riding centres near Loch Ness:
Borlum Riding Holidays– which is a more sensible choice if you have beginners or children in your group as they organise suitable activities. Check their website for full details: http://www.borlum.co.uk
Loch Ness Riding takes experienced riders on their horses for both hacks and lessons, either privately or in small groups. They do not take beginners. You should be competent and comfortable at walk, trot and canter, in balance with your horse. Jumping is not required. Full details here: http://www.lochnessriding.co.uk/
Summary:
Loch Ness is not only a tick on the main tourist driving route through the Highlands of Scotland; it also offers multiple opportunities to get off the beaten track only some of which we have explored above.
Please feel free to contact us on: info at Scotmountainholidays.com if you have any comments to make. This is intended to be an example only of the numerous things you could explore if you can make the time available. Any one of the above would give you a chance to relax away from the concerns of your daily life. The engaging nature of outdoor activities makes it easy to discard the worries of everyday life.
Related blogs
Scotland Tour: Speyside Explorer: https://scotmountainholidays.com/blog/scottish-explorer-deeside/
Scotland Tour: Deeside Explorer: https://scotmountainholidays.com/blog/deeside-explorer/
Choosing a unique whisky – https://scotmountainholidays.com/blog/how-choose-special-whisky/
How to get the most out of your trip to Scotland – https://scotmountainholidays.com/blog/how-get-most-out-your-trip-scotland/
Explaining Burns – https://scotmountainholidays.com/blog/review-burns-boat/
Why is it called Hogmanay? – https://scotmountainholidays.com/blog/why-it-called-hogmanay/
Related products from Scot Mountain Holidays
Private Guiding  Cairngorm Discovery Highland Family Adventure  Complete Cairngorms  Spirit of the Cairngorms  Mountains and Malts