The Whisky Story
A self-guided day out from Fraoch Lodge
Start the day: breakfast at Fraoch Lodge
Relax over breakfast with Andy and Rebecca. Choose from a selection of cereals or book the porridge option. Check if there is any fruit available (summer only unless we have a fruit compote available at other times of the year). Slather your toast in home made jam or whisky marmelade to get your taste buds in tune for the rest of the day.
After breakfast head out in the direction of Aberlour and Craigellachie. Aberlour is only 30 to 40 minutes drive from Boat of Garten on the A95. You bypass Grantown on Spey and cross the Spey to follow the road on to Cromdale. As you turn over the Spey you'll shortly pass the Spey Valley Smokehouse on your right hand side. A stop here is recommended as they have a visitor viewing area in the middle of the work space where the smoked salmon is being prepared often using the shavings from whisky barrels to give added flavour to the smoked salmon and a further stage to the whisky story. If you have space in a cool box you could pick up some smoked salmon on your way past as who knows if you'll have time on the way back.
There are plenty of other diversions on your way in to whisky country including Ballindalloch Castle and Knockando Wool Mill but best to go on through to Speyside to make sure you have time to bag the ultimate prize – a whisky tour.
Just before Aberlour, you'll see a sign on your left for the Speyside Pottery. If you're interested in a wee souvenir, particularly if you like hand crafted items, do stop in here. The pottery does a fine line in pottery whisky cups at about £5 each. They are each unique as they are hand made and make an interesting alternative to glass.
Here's a photo of our prize display plate from Speyside pottery to give you an idea of the glaze colours and patterns used at the pottery which uses a wood fired kiln, one of only a couple in Scotland.
Photo caption: Our display plates at Fraoch Lodge – top (left-hand) plate is from Speyside Pottery
The distillery in Aberlour does offer tours which are said to be among the best of the paid distillery tours – the disadvantage is that tours are only available at 10am and 2pm. Fortunately both of the big 2 – Glenlivet and Glenfiddich – offer free tours virtually on demand.
From Aberlour continue on a wee bit further for Craigellachie and follow signs for the Cooperage. The Speyside Cooperage is a must-see if you're interested in the complete whisky story. A lot of the flavour of the whisky is due to quality of the cask it is stored in. It is the cooper's job to make the cask. It is a fabulous place to visit but you must remember that it is a "factory", even if an artisan one. You can only visit the Cooperage on a working day. Coopers work exceptionally hard at a very physical job. They work from 7am to 5pm 5 days a week and are paid on a piecework basis – so they only get paid for the casks they complete which reach the right standard. It is fast, furious and strenuous work. At the Cooperage there is a wee video and a small entrance fee to watch the coopers at work and have a go at assembling a cask yourself, on a smaller scale. The guides at the Cooperage are usually ex-Coopers themselves and can offer invaluable insight into the whole process.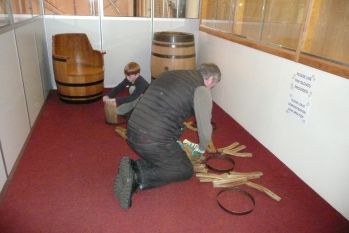 Photo Caption: Try to make your own smaller barrel at Speyside Cooperage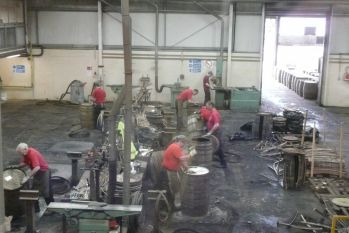 Photo Caption: Coopers at work
After the Cooperage you can choose whether to take a tour at Glenfiddich or Glenlivet distilleries before travelling on to Tomintoul for the other side of the whisky analysis from Mike Drury at the Whisky Castle. At the distillery they'll give you the whole story about how special the distilling process is to produce whisky and how the master "nose" works to produce a consistent product by "marrying casks" together. A malt whisky is therefore one which is produced from one distillery but not necessarily from one cask. They do say that every cask in Scotland produces a slightly different whisky (for further details on this read Andy's whisky blog). The Whisky Castle specialises in pure whisky bottled straight from specially selected casks which are not married together. If you're looking for a really special whisky that you won't be able to purchase at home, stop in at the whisky castle and enjoy!
If you have kids with you, whose interest in whisky is probably extremely limited, stop in at the Highland Market next door where you'll be able to stock up on a few souvenirs, or purchase an ice cream. There's also an adventure playground in Tomintoul at the top of the High Street next to the Glenlivet Estate visitor information centre. The adventure playground is free to use. There is a wee zip wire and plenty of obstacles and a maze for the kids to explore.
From here it's a relatively short drive back to Boat of Garten, approx 30 mins. You can short cut through Nethybridge rather than going via Grantown on Spey which cuts a corner and about 10 minutes off your journey.
*** Tomintoul also has an excellent gallery showcasing paintings and other craft work made in the Cairngorms.
*** If you're looking for something to eat in Tomintoul, the Clock House is a good choice.
USEFUL LINKS
Speyside Cooperage – http://www.speysidecooperage.co.uk/
The Whisky Castle – http://www.whiskycastle.com/
Glenlivet Distillery – http://www.maltwhiskydistilleries.com/Distilleries/Welcome/TheGlenlivet/VisitorCentre/tabid/70/Default.aspx
Tomintoul – http://visitcairngorms.com/tomintoul
Aberlour – http://www.calcol.net/visitaberlour/
RELATED TOURS AND VACATIONS WITH SCOT MOUNTAIN HOLIDAYS
Mountains and Malts – https://scotmountainholidays.com/tours/19/4871/mountains-and-malts
Highland (Family) Adventure – https://scotmountainholidays.com/tours/51/4871/visit-scotland-highland-family-adventure
Cairngorm Discovery – https://scotmountainholidays.com/tours/54/4871/cairngorm-discovery
Complete Cairngorms – https://www.scotmountainholidays.com/tours/42/4871/visit-cairngorms-complete-cairngorms