How to make a family walk an adventure to remember
How to keep you kids interested in a family walk is often a problem faced by parents of young children. We've put together a range of activities we've introduced to "walks" which have successfully encouraged our son and our friends children. We hope you will also find them useful to encourage your kids to enjoy the outdoors.
Photo Caption: There are plenty of sticks around which serve the same purpose, but in this instant Santa delivered popguns which proved very popular for keeping the interest of all the wee ones up on the walk.
The majority of the activities described below are suitable for walks anywhere in the country and have probably been used by parents all over the world to prevent the eternal cries of:
"How much further?"
"Are we nearly there yet?"
"I don't want to go for a walk."
I don't guarantee that any of these will work on stubborn teenagers though!
1. Hide and Seek
Always a popular way of livening up a walk, especially if you're in the woods where the hiding places are almost limitless but probably worth setting some boundaries as you won't want to lose the kids permanently.
2. Foraging
Photo caption: a wee exercise in foraging – for some reason if we do hunting for mushrooms there's much more enthusiasm for an expedition than there is if we suggest a "walk".
Once Spring starts, opportunities to enliven the "walk" with wild snacking just increase. Wild fruit are obvious targets but you can also forage for wild garlic and mushrooms but please respect the rights of the landowner. If you do intend to forage, make sure you only take enough for yourself. The landowners take a poor view of anyone who picks commercially and have been known to prosecute.
3. Geocaching
Geocaching is now a worldwide phenomenon. You can download an app and use it to find all the local caches. It combines orienteering with treasure hunting. Etiquette is though that if you take anything from the cache you should replace it with something of equal value. (Most stuff which is in caches is worth no more than 10p. They vary from pens, to wee toy cars, to erasers …) You also sign in to the book and can register your find in the app.
4. Sword/gun fights
Sticks seem to have an endless fascination for children. So much so that whole books have been written on the multiple uses of sticks when out for a walk. I've even seen a perfectly ordinary stick for sale on Ebay for loads of money for no obvious reason except that it originated inLondon.
Our son at 7 will still pick up virtually any stick along the path to be used as a sword, a gun or to help with the walk.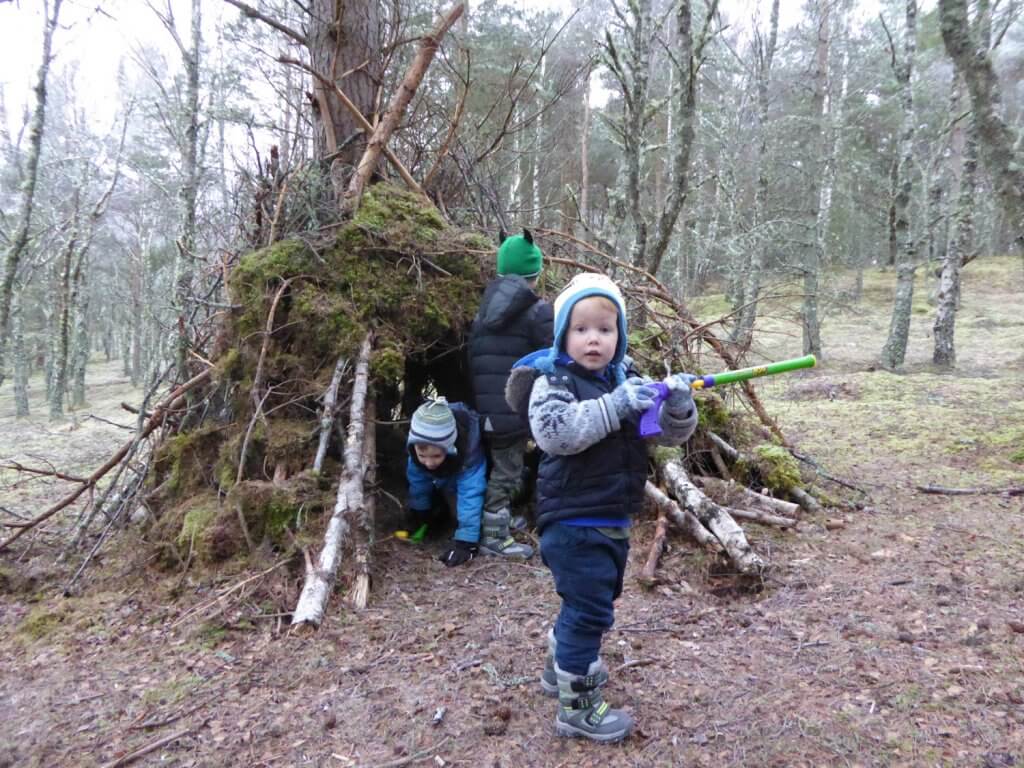 Photo Caption: Exploring a pre-built shelter in Deshar Woods (Boat of Garten) always a highlight when walking out in the woods.
5. Pooh sticks or stone skimming
A walk which includes any body of water or river/stream is always popular with kids and can extend the time it takes to complete the walk considerably. Always be wary though (having been frequently caught out myself) and take care to pack a towel if you're going to encounter walking. Despite numerous warnings, your child is bound to get damp, if not soaked.
6. Hide sweets
A big bag of "bribes" is always a good thing to have with you. If you go on ahead of your family, just a short distance and hide wrapped sweets along the way, you'll turn the walk into a treasure hunt.
7. Build a shelter
The activity of building a reasonable shelter could take over the original aim of completely a decent walk, so be wary if you start this and make sure you have allowed plenty of extra time.
8. Climb a tree/bouldering or weasling
Of course not every walk presents as spectacular a tree climbing opportunity as this one, but it always makes a "walk" more exciting if there are opportunities to explore along the way – a cave, a tree, a cliff – for kids they are all places filled with adventure. Weasling is just the technical term for climbing in and around rocks and through tunnels.
Photo caption: The high winds during the winter storms have felled a few trees in the woods. There have to be some pluses to that weather. These particular trees are proving a popular site to explore even for grown up kids.
9. Take a camera
You'd be amazed how much more of an adventure it will seem if you have a project of photos to take – how many different leaves can you record and take pictures to identify at home; who can get the best bird picture? Can you find a yellow flower? How many flowers can you find? Record them all and compare at home.
10. Shiny eyes walk
Take a torch on a night time walk. You'll be amazed how many eyes you see in the woods. What animals do you think they belong to?
More formal ways of turning a walk into an adventure:
Trek with a donkey – if you have previously enjoyed hiking, all day or overnight adventures used to be your thing but now the kids have arrived on the scene and you've had to curtail your adventures or do them without your partner. We discovered a way you can "have your cake and eat it" – trek with a donkey in France. The donkey will transport your baggage and your children when they get bored or alternatively the donkey will serve as entertainment as your child leads it or feeds it. The presence of the donkey, really lifts the whole hiking experience and makes it an adventure for everyone – plus the food is amazing and the scenery glorious. How could you refuse? More details.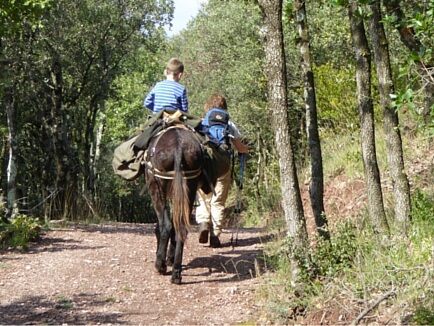 Photo caption: Leading the donkey in the Cevennes
Also read:
A trekking adventure in France
Mission Adventure: New app in development to turn a walk into an adventure by creating your own treasure hunt/story.
Treasure trails: these trails are set up all over the country. You can stay at Fraoch Lodge and follow any one of the local trails. We plan to stock the trails which you can then follow when you're staying here.