It's that time of year again. Stress galore because you can't think what to get for the hiker in your family. They have socks overflowing from their drawers. Their hiking clothes are overflowing. They have every hiking related gadget and bag you can think of. What next? Here are some present ideas for hikers who seem to have everything they could possibly need; after all, in theory we don't require much to go for a walk/hike.
Possible options
ticket to mountain film festival – the number of mountain film festivals in the UK has multiplied exponentially in recent years
2. entry to a walking festival
There are walking festivals across the country of course. You may well be spoiled for choice. Plan the whole weekend/week as part of your surprise and don't forget to book accommodation. If you're not into the walking, you might want to book somewhere which has options for you too. We've just mentioned a few festivals, which are closer at hand for us though during our research we have noticed that cycling sportives and running events seem to have taken over from walking festivals here in the Cairngorms.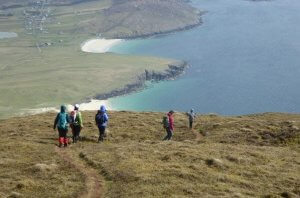 3. holiday voucher
You might not want to book a trip which is longer than 3 or 4 days if the gift is to be a surprise. Popular trips (for vouchers) with Scot Mountain Holidays include the following:
4. A coffee table book or a mountaineering biography or Mountain reflections/stories
Some possibilities include:
[amazon_link asins='0857861832,1903385563,1903385334′ template='ProductCarousel' store='1603-8102-0783′ marketplace='UK' link_id='3bc16c70-e56c-11e7-9da1-9d79f875a056′]
[amazon_link asins='1910021652,0715389009′ template='ProductCarousel' store='1603-8102-0783′ marketplace='UK' link_id='590fdd2f-e56c-11e7-a818-9f0fa321aec0′]
[amazon_link asins='0995724008,0094715602,1841193151,1849013853′ template='ProductCarousel' store='1603-8102-0783′ marketplace='UK' link_id='6b4a9d6c-e56c-11e7-b72a-edccc49b48a8′]
5. digital maps for latest destination at the top of the bucket list for a hiking adventure
Ordnance Survey, Viewranger or Anquet Maps might hit the mark.
6. magazine subscription for TGO or Trail or Country Walking or Adventure Travel
TGO,
Trail or Country Walking – inevitable free gift included which at the moment is one year's free access to OSmaps and a mountain pod, so effectively more than one gift
7. membership of Ramblers or Open Spaces Society or even RSPB
Gadgets
which might not yet have made their way into the walking kit, or could be considered replaceable.
[amazon_link asins='B000YF3DUA,B0754JJMDF' template='ProductCarousel' store='1603-8102-0783′ marketplace='UK' link_id='5e7f210e-e4db-11e7-86ec-c1b902562b7b']
[amazon_link asins='B00UFYHTPA,B00P26QDEO,B00KPSE7LK,B004GLA9U0′ template='ProductCarousel' store='1603-8102-0783′ marketplace='UK' link_id='7d8247a8-e4db-11e7-ad66-9374e134d325′]
[amazon_link asins='B075LB2ZLG,B0762LVCS4,B077VSKFVC' template='ProductCarousel' store='1603-8102-0783′ marketplace='UK' link_id='9bf784d4-e4db-11e7-8751-ad6678e37fb9′]
[amazon_link asins='B00XVTJKCQ,B00MWU1GGI,B007TSRDCO' template='ProductCarousel' store='1603-8102-0783′ marketplace='UK' link_id='c3fc4518-e4db-11e7-aabc-73cd0d534171′]