6 questions to ask yourself when planning a hiking vacation in the Highlands of Scotland
The trouble with planning a hiking vacation in Scotland is that you are almost spoiled for choice. There's no way you will be able to fit everything in to one vacation.
1. Do you cherry pick? Head for Skye, Ben Nevis and Glen Coe? You'll have to gamble on the weather?
The scenery on Skye and around the west coast of Scotland is remarkable from the road. It has inspired movies such as "Brave". The draw is understandable but the disadvantage is that for Scotland it can be "touristy". It will be unusually busy with other visitors. If you're looking for a quiet experience of Skye when you have a chance to enjoy the scenery without the crowds, you'll need to consider taking the time to explore there out of the main tourist season. April, May and September are the best times to head over there. You have a high chance of good weather and a low to non-existent chance of encountering the dreaded midges.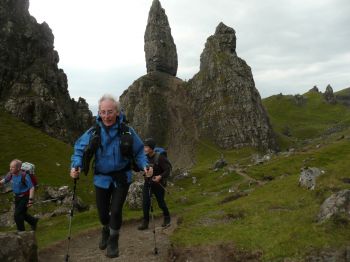 2. Can you afford the time to explore one of the waymarked long distance routes?
In recent years, particularly since the Land Reform Act (2003), there has been public money available to develop paths across Scotland. This has resulted in a proliferation of way marked long distance routes. The Land Reform Act (2003) formalised the right of access to all land in Scotland, whether privately or publicly owned. Access rights are for outdoor recreation, for crossing land and water, and for some educational and commercial purposes. Exercising access rights, and managing access land, must be done responsibly.
The most well-known of the long distance routes is the the West Highland Way, but there are many others like the Speyside Way (the one to do if you're in to whisky). Another recently mapped route which is less formally organised is the Cape Wrath Trail. This trail is described by Cameron McNeish as: "It's the sort of long distance route that most keen walkers dream of. A long tough trek through some of the most majestic, remote and stunningly beautiful landscape you could dare imagine." You can research more details here: http://www.capewrathtrail.co.uk/foreward.htm There is also a recently published map by Harvey maps covering the area involved.
A full list of long distance paths across Scotland is available here:http://walkhighlands.co.uk/long-distance-routes.shtml They range in length from 338km to 38km. Some can be linked together to make a longer route.
The disadvantage, depending on your point of view, of most long distance paths in Scotland is though they go through mountainous areas most if not all of these routes do not go up the mountains so if you stick to the waymarked route you'll only be admiring the peaks from afar.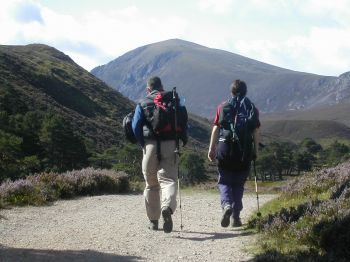 Photo Caption: Long distance path walking in Scotland
3. Do you want to dabble in short walks along a driving tour through the Highlands?
There has been quite a lot of investment in path construction and signage in Scotland since the development of the Outdoor Access Code in 2002. There are opportunities virtually everywhere to get out of the car and explore a wee bit to a viewpoint or through spectacular woodlands or around a loch etc. The difficulty is in knowing which option to choose.
WalkHighlands can help with this in that all the walks they list are graded and have an estimated length in distance and time. However, possibly the best way of choosing is to ask your hosts at your accommodation for their recommendation of the best walk to choose and if you have a wee bit more time available take advantage of a guided walk as you will gain so much more insight into the area from the guide's knowledge. There are ranger guided walks in most areas, particularly in the National Parks like the Cairngorms and the Trossachs which will reduce the cost. Some of these walks are even free. Boat of Garten has it's own ranger service offering guided walks around the woods behind the village. The RSPB also offer guided walks on the Abernethy reserve.
4. Would you like a guide?
The advantage of booking a walk with a guide is that you'll be able to get off the beaten track with confidence. You might even be able to do a longer walk or go higher than you would be confident doing on your own.
A guide will also have extensive knowledge of the local folklore, the environment, the flora and fauna as well as the terrain through which you are hiking. There really is nothing better for bringing the area alive to you. As a student or cash strapped tourist you may consider the cost relatively high. However when you look at the cost of eating in a restaurant or your accommodation for the night, you'll realise that on an hourly rate your guide is not charging a lot of money. A qualified mountain leader will have invested years of training into his qualification not to mention the cost of the training course itself.
A qualified mountain leader (or accompagnateur) will charge from £150 – £200 for a day out. This fee will be split across the clients in the group. The larger your group of family the less the cost per individual. The rewards of going out with a guide for the day are however beyond price as you will learn so much more about the area which you won't find in the guidebooks.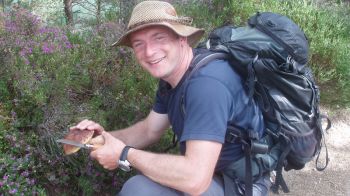 5. Do you want to stick to one part of the Highlands and really get to know that area well?
Most organised hiking tours will explore only one area in depth. While this approach is not for everyone (many people visit a country with a tick list of sights they want to visit – which are inevitably the same spots 90% of visitors also want to see, resulting in overcrowding), if you go on an organised vacation you are often more likely to have a more genuine and authentic experience of the country you are visiting.
It is worth checking that the company you book with has a philosophy which appeals to you. Also that the structure of the trip suits your priorities. For example, if you are thinking of booking with Scot Mountain Holidays but it is important to you to have 5 star hotel style accommodation, rather than a home away from home, you will probably look elsewhere for your trip. The philosophy behind our vacations is that our guests stay within our home. They immerse themselves in the atmosphere and feel comfortable discussing all aspects of life in Scotland.
Of course, if you have enough time you could consider a shorter, organised trip as part of your vacation and tour the rest of the country by car/bus.
6. How will you get to your area of choice and how long will it take?
Think about access – a major consideration as part of the planning. Some areas of the Highlands are more difficult to reach than others. For our organised vacations we have tried to make it as easy as possible for our guest to access them. We offer pick ups from Aviemore station and Inverness airport. In the Cairngorms, we are lucky enough to be near the major route north from Edinburgh – the A9, which makes it very efficient to get here.
It may look like it isn't far to reach some areas of the Highlands but travelling on narrow, sometimes single track roads, will take longer than anticipated.
When planning your trip bear in mind that reaching some areas by public transport can be time-consuming. Many of the routes used have to go around rather than through the mountains.