10 excellent natural mountain biking routes to explore in the Cairngorms
Mountain biking in the Cairngorms is one of the fastest growing sports in the area. Nowadays it is rare to go out anywhere and not see any cyclists. Perhaps we should try for a mountain bike/cycling friendly national park designation? What do you think? It is now possible to be a cyclist friendly cafe or cycle friendly accommodation or even a cycle friendly village. Why not a cycle friendly park? What would be the criteria?
Politics and campaigning aside – the Cairngorms are an amazing resource for mountain bikers of the widest kind. If you just like to get away from traffic and have an adventure, we've got routes for you. If you want an adrenaline downhill single track, there are also options. Should you want to take the family for a pootle round the forest – crack on there's plenty for you here.
We've hand picked some routes for you below. There are no hard core mountain routes as we would not be comfortable suggesting that you head off into the high Cairngorms without knowing that you are very experienced mountain bikers with excellent navigation skills and preferably some familiarity with the area.
If you are interested in exploring mountain routes (eg to Ben Macdui) we are happy to offer you the details of recommended mountain bike leaders in the area.
1. Glenfeshie –
Length: 16km: total ascent: 330m Time: 1.5 – 2.5h
Start point: Auchlean car park
This route is in "Scotland Mountain Biking: The Wild Trails by Phil McKane but please be aware that the bridge on the map (p113) at point no: 4 was washed away in 2009. You will need to ford the river or retreat back along the same route.
The ride can also be extended further along the valley to a bothy or if you are confident with your navigation (and fitness) you could ascend to Mullach Clach a Blair.
Also available as an extension to our Classic MTB routes in the Cairngorms (self-guided). This route is not included with the core routes as it requires a transfer to access the mountain biking in Glenfeshie. Please enquire directly for details.
2. Loch an Eilean
Time: 1hr – 2hr Distance: 7km
A superb family ride which could be started in Insriach/Coylumbridge (there is no parking charge there) or it is perfectly feasible to start the ride in Boat of Garten. The ride can be extending into ride no: 5 if you are looking for a longer day out on the bikes. Really only a short ride suitable for families even with young kids. Excellent cafe at the Rothiemurchus centre to refuel. Combine with a visit to the Highland Cattle, feed the reindeer or Treezone.
3. Ryvoan Pass
(see details in this blog – 11/04/18)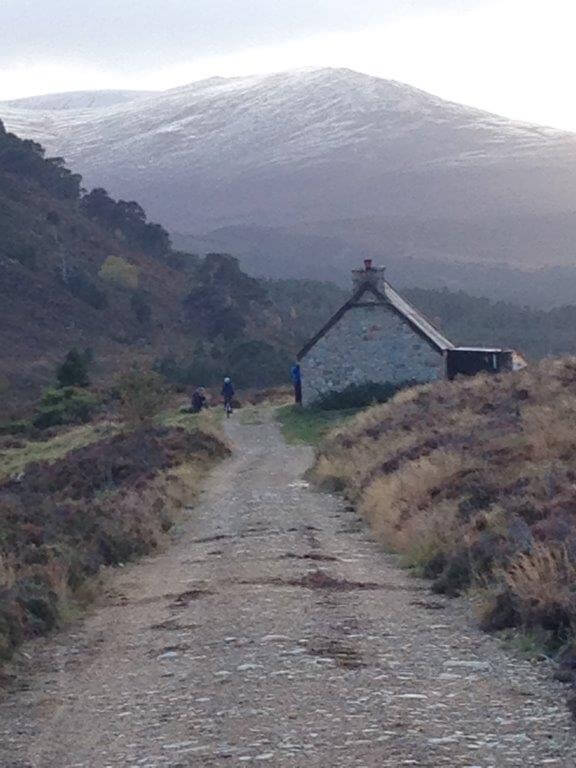 4. Burma Road
see details in this blog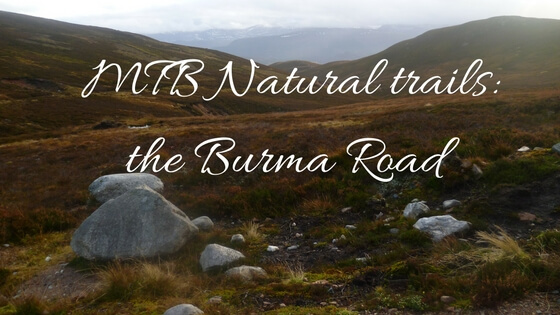 5. Loch Morlich and Loch an Eilean
Time: 3.30h Distance: 32km
Starting from Aviemore
Described in Bike Scotland (Book Two) by Fergal MacErlean
This has to be one of the most popular bike rides in the area. Rothiemurchus estate is a fantastic area to ride the trails. You do have to watch out for tree roots in places and occasionally the odd muddy patch. There are quite a few optional extensions (or accidental extensions). There's the possibility of extending on up to see into the Lairig Ghru (advanced riders only).
6. Reindeer centre to Inshriach
see details in this blog
7. Grantown viewpoint & Dava Way to Castle Grant circuit
Grantown has some great trails through Anagach woods and a wee skills section you can use to warm up before you start the route. You will need to be able to map read to link up the trails we are suggesting.
There are plenty of cafes to explore in Grantown including the High Street Merchants. The disadvantage is that they are all close by about 5pm.
8. Speyside Way
Transfers available as far as Craigellachie along the Speyside Way. Call us to include Speyside Way transfers in your package unless you are considering shorter sections which also combine with the Strathspey Steam Railway and are part of our Under Your Own Steam package
9. Glenlivet circuit
This is an off-road/road circuit including a transfer from Fraoch Lodge and a visit to Glenlivet distillery for the tour. It is not focused on the trail centre at Glenlivet
10. Badenoch Way
Distance: 17.5km, starting from Alvie/Dalraddy
This is a linear route from Newtonmore to Boat of Garten so is the Badenoch Way with the first section of the Speyside Way and the linking section from Kincraig to Aviemore – total route is probably twice the length of the route described above.
Don't forget the area is blessed with a huge number of cycle friendly cafes most of which are included on these routes.
Close to the area
Abriachan to Inverness (part of the Great Glen Way)
South Loch Ness Way
Trail centres in the area:
Learnie Red Rocks review – coming soon
Moray Monster trails review – coming soon
Best place to stay – Fraoch Lodge – though we are of course biased
Best place to hire bikes –
Recommended reading
[amazon_link asins='0955082285,1906148104,190614852X,0955454808,1907025103,0948153733′ template='ProductCarousel' store='1603-8102-0783′ marketplace='UK' link_id='8569347f-328a-11e8-8fbc-f99ffca8b1e3′]
If you would prefer to investigate our hiking options both guided and self-guided, there are plenty of options across the highlands.
A natural adventure in the Cairngorms National park
family adventures in the Cairngorms aimed at kids aged 5 – 12
Family adventures in the Cairngorms might not have the sea and golden beaches (we've only the one at Loch Morlich), but there is such a lot you can do with your kids here in the Cairngorms National Park, that some families return year after year.
Have a look at the various options we suggest below. We've picked a variety at a range of price points.
Guided family adventures in the Cairngorms
Taking a guided family adventure with Scot Mountain Holidays
Cairngorm Discovery – explore Britain's largest National Park with our guidance. Enjoy some fabulous activities including some biking, some hiking and some more gentle creative pursuits like "throwing a pot" and creating your own wool at a small traditional mill.
Highland Family Adventure – for a full on introduction to the great outdoors. Enjoy some family time on hikes and wee bike rides throughout the Highlands. Visit Loch Ness. Enjoy the remote but spectacular scenery in Torridon. A mix of guided and self-guided activities for all the family to enjoy. Itinerary adaptable – call for personal quote.
Under Your Own Steam – best suited for the younger end of the age group, but routes can be adapted and lengthened to provide more of a challenge if your kids are keen cyclists.
Tailor-made Active Highland Tour – this area, the Cairngorms National Park, is the UK's greatest outdoor playground. There is a lifetime of outdoor enjoyment here – on foot, by bike, gliding or canoeing. There should be something to suit everyone except the least active. It's a great opportunity to get the kids outside enjoying nature. We can select from a massive range of activities and experiences to put together a tour to appeal to all the family from flying through the trees on a zip wire to outdoor treasure hunting or indoor pottery – there should be something for all – especially nature and wildlife lovers.
Free family adventures in the Cairngorms – use Fraoch Lodge as your base for a magnificent family adventure, just exploring the great outdoors
Low cost family adventures in the Cairngorms
Other Outdoor adventures in the area
Zip wire – Treezone – River tubing – Gorge walking – Pony trekking – Landmark Forest Adventure Park – feed the deer – feed the reindeer ……
Contact us for full details or to include on your tour.
Why come to the Cairngorms with your family?
A family adventure holiday in Scotland
It's very easy to be complacent about your surroundings when you live permanently in a beautiful place. The scenery becomes mundane and the choice of things to do "boring" because they are options open to you every day. When visitors arrive, it's different. They don't have the option of postponing their activities to next week; next month or next year. They want to enjoy themselves now and see and do as much as they possibly can. Here in the Cairngorms you're almost spoilt for choice no matter what age you/your kids are. The beauty of our natural environment here in the Cairngorms is perfect for a family adventure holiday.
The myths
"It's always wet."
"It's so cold."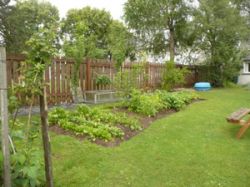 It is a wee bit cooler here than in the balmy climate of London and the South Coast. If it wasn't we wouldn't have the snow in winter, the reindeer living here year round; nor the polar bears in the Highland Wildlife Park as well as the Amur Tigers. (Both the polar bears and the Amur Tigers are cold climate dwellers.) However, we also have a drier climate than the west coast of Scotland and Glasgow and also can be a lot drier than in the Midlands.
If Wimbledon had been played in our local tennis club this year, we wouldn't have had the same rain delays as at the All England Club. In fact this year, despite the moans of gardeners in England, it looks as if our own garden is going to be the most productive it has been for a long time. Plums, apples, strawberries, red currants and raspberries are all coming along nicely ready for the prime summer holiday season. (Rhubarb has been a bumper crop and is already transformed into and .)
Part one: A Pre-School Family
There's many a parent gets stuck after the birth of their child. The challenge of just surviving the day is too much to allow for anything else in their lives. The baby is the central focus of their lives and all previously enjoyed pass-times take a back seat. Unfortunately this can then give rise to a lot of resentment as time passes on and the new mother takes on the identity of "Mum" but feels that she is losing her own identity.
Everyone needs something to look forward to and as the old saying goes "a change is as good as a rest". Perhaps a wee break from routine would re-energise the whole family.
Fortunately young children (pre-school and early primary school age) are for the most part a lot more adaptable than their parents give them credit for. The majority of them will still sleep when they are tired (even in the most unlikely of places). They'll still eat when hungry and a new environment will be stimulating enough to entertain them. That's them sorted. The trick then is to pick somewhere to take them which appeals to you as a parent but will not introduce more hassle to your life. So somewhere which is family friendly but not just in name.
Child friendly facilities at Fraoch Lodge
There are self-catering cottages which pride themselves on being family friendly because they offer the use of cots, high chairs etc. To my mind this is not enough to be a family friendly facility. At Fraoch Lodge we have a variety of books and toys for wee ones along with a large garden for them to explore complete with a sandpit, garden tools, a digging area, a toddler trampoline and a slide; complete with personal guide (if desired) in the shape of the resident child, Gregor.
We can also offer the whole family or just the parents a chance to eat "out" while in. In other words, we can cater for you while the kids sleep upstairs, so you won't need a babysitter, but equally can relax with a glass of wine and not have to cook yourselves. Or alternatively we can cook for the kids first and yourselves later or cook for the whole family together.
Things to do with the wee ones in Boat of Garten
When you come to you don't even need to go far to entertain the kids:
Options in the area for a family adventure holiday
There are in fact almost more choices than you'll have time to explore. We're happy to help you plan your stay so you get the most out of your time here and don't forget if you'd like to book a guide, we can help. Sometimes the way to get the most our of your trip is to book a day with a guide and then explore the rest of your visit on your own. That way you'll be able to take advantage of the guide's local knowledge to open your eyes about what you're seeing – it's not just a flower, but a particular kind of flower which may be unique to the area; it's not just a rock, but a certain kind of rock transported by a glacier perhaps ….
A family adventure holiday or 2 to consider with a younger family:
Look out for Part 2 – a family adventure holiday with kids in primary school