Another delightful and very attractive spring arrival to our high mountains is the Dotterel. Like the first snows, my first sighting each spring is always a "marker" in the mountain year. Both sexes sport a distinctive pastel chestnut/orange breast and above the eyes a crown of dark feathers bordered by a broad white strip. Up close they are a very striking bird.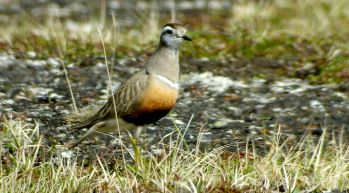 Photo Caption: A dotterel – often seen in the Spring in the high Cairngorms when out hiking with Scot Mountain Holidays
Photo Credit: Åsa Berndtsson
Like the Ring Ouzel and the Wheatear, it winters in Morocco. They migrate in groups known as 'trips' and then move into their territories as the snow thaws and with nesting beginning in mid May. They nest is a shallow scrape in the ground lined with moss and lichens. With the Dotterel the roles are reversed, they are one of only 22 species worldwide where the male does all the incubation of the eggs. He often does all the rearing of the young as well whilst the female may well move onto another territory, sometime as far as Norway, and mate again.  In Scotland it nests above 700m in the Cairngorms and quite often well above 1000m and down to 550m in NW Sutherland which corresponds with the descent of the alpine vegetation zone.
Early in the season when the birds have just arrived they will often allow you to get remarkably close – to within 4 feet on one occasion! This having been said they are susceptible to disturbance and despite there striking plumage are often well camouflaged against the pink granite and gravel of the Cairngorm Plateau. To the unaware hillwalker with his/her head down you may only be aware of them once it's too late. Be alert to the possible presence of this bird when you're on the high tops and if you do spot any movement ahead, immediately stop and check it out. If it is a Dotterel retreat back a little as the movement you spotted may have been as a result of the bird feeling threatened. If the bird is giving you the "broken wing" treatment i.e. flashing a droopy wing, again it's a sure sign it feels threatened. Hopefully you have some binoculars to get a proper look at the wonderful mountain plover bird. If you have a dog with you it is best kept on a lead despite the expanse of the plateau appearing to be an ideal place to let "meg" have a run around.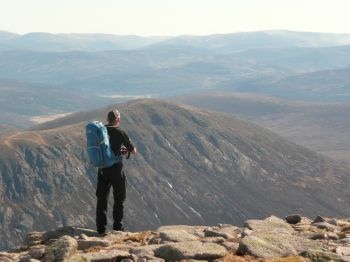 Photo Caption: David Dickerson taking in the vista before him when hiking across the Cairngorm 4000ft peaks with Scot Mountain Holidays
Photo Credit: Scot Mountain Holidays
The broken wing treatment is most likely to be exhibited when the adults are with their young. The adult uses the impression of being injured and hence the prospect of an easy meal for any predator as a decoy to lead any threat away from the chicks.
We quite often spot this bird on a number of out walking trips which take in the higher peaks of the Cairngorms: Cairngorm 4000ers   Gentle Giants.    Complete Cairngorms   Wild Cairngorms