Which Scottish Islands should you visit?
With over 900 offshore islands, the Scottish Islands have something to offer everyone. From stunning white sandy beaches, to historic castles and standing stones, watersports to wild-life watching, you won't be short of something to do. Whilst some islands are mountainous and offer spectacular views, others are low-lying, fertile lands that attract an array of wildlife. Whether you choose to go on a guided tour or have a self-guided adventure, you're guaranteed an experience you won't forget. Here are the top 7 Scottish Islands you won't want to miss.
Harris & Lewis
Once believed to be two separate islands, Harris and Lewis are in fact one landmass. To the north, you'll find Lewis, with its stunning sparkling white beaches, whilst in the south, Harris offers a more mountainous and rugged landscape.
As well as the beautiful scenery, you'll also find numerous historical sites, including many churches and castles. One of the most well-known sites are the Callanish Stones. Additionally, the island is also a great destination if you enjoy hiking, with plenty of lochs to explore, as well as offering plenty of opportunities for watersports.
Scot Mountain Holidays is heading back over to Harris and Lewis in September 2021. We'll be doing a lot of hiking but we'll also visit the Callanish Stones amongst other famous sites and we'll get a chance to explore some of the arts, crafts and architecture on our free day.
Tiree
With sparkling beaches and plenty of sunshine, Tiree is often referred to as the 'Hawaii of the North'. With an abundance of fertile land, Tiree is a scenic and popular destination. As well as its many coves and stunning bays, its position on the Atlantic makes it a prime location for many water sports. It's particularly popular with windsurfers, as well as surfers and kayakers.
Mingulay
Mingulay was inhabited until the 1930s, when its small population was evacuated to mainland Scotland. However, the houses have remained untouched and it's possible for visitors to now stand within them. 
"Mingulay is an ideal destination if you're looking for sandy, picturesque beaches or are interested in hiking and exploring the island and its beautiful cliffs. There's also plenty of wildlife to look out for, including puffins," says Johnny Craig, a travel writer at 1Day2Write and Britstudent.
Jura
Known for its whisky and gin, Jura is a mountainous island, home to a population of only 200 residents. Despite the fast tides, there are many stunning, sheltered beaches to be found on the island. Dominated by the Paps of Jura, its three conical mountains, the island has many fantastic trails to explore, leading you to the very summit of its peaks. The whirlpool at Corryvrecken is one of its most spectacular and memorable sights.
Islay and Jura are high on the list of new destinations Scot Mountain Holidays is planning to add to the itinerary in 2022 or 2023. The wildlife and coastal walking opportunities are phenomenal.
Shetland
The Shetland archipelago is comprised of almost one hundred islands, of which only sixteen are inhabited, with most of the population living on the 'Mainland'. The Shetland Islands are the ideal destination for those looking to hike and explore the craggy coasts, stunning beaches and breathtaking sea cliffs. The coastline, with its many coves, is fantastic for sea kayakers.
"Shetland is also a popular destination for wildlife-watchers," says Monique Corbett, a lifestyle blogger at Originwritings and Write My X. "It attracts a whole array of wildlife, from otters and puffins, to seals and dolphins. You might even be able to spot an orca."
A new self-guided walking itinerary for Shetland will appear on the Scot Mountain Holidays website by the end of 2021.
Easdale
Easdale is one of the smallest inhabited islands in Scotland and can be walked around in its entirety in under half an hour. Made of slate, for which it has been quarried over many generations, Easdale now has several quarry pools which exist in its interior. With a friendly and vibrant community, this island is a great destination for those looking to relax and see some wildlife, or visit neighboring islands.
Isle Of Skye
Possibly one of Scotland's most well-known islands, the Isle of Skye is filled with breathtaking and majestic scenery at every turn. Often shrouded in mist, its dramatic peaks and rock formations often appear almost mystical. The Cuillin mountain range is a popular destination for hikers, along with the Old Man of Storr and Quiraing peaks. History fans can also explore the Armadale and Dunvegan castles, whilst the Fairy Pools are perhaps one of the most popular tourist spots.
Scot Mountain Holidays visit Skye on several of our itineraries: Skye Munros, Superlative Skye and Skye and the Cairngorms National park. Remember the main focus is being outdoors and exploring the scenery so we minimise the amount of time spent inside a vehicle. There are no Skye trips planned until 2022 due to a lack of accommodation.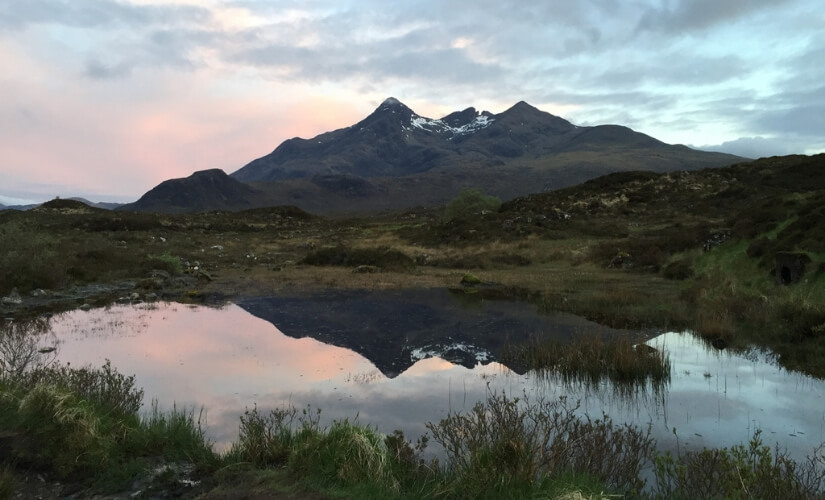 Conclusion
Whether you're looking for a hiking adventure, stunning locations for watersports and coves to explore, or simply wishing to observe the beautiful scenery and wildlife, the Scottish Islands have it all. The only question left is which one will you choose for your next adventure?
Kendra Beckley is a successful business development manager and editor at Academicbrits.com and Phdkingdom.com. She specializes in supporting companies as they seek to enter new business markets and is especially successful at building long-term relationships with partners. Kendra also enjoys writing articles on a variety of topics for Nextcoursework.com. A passionate traveler and hiker herself, Kendra can often be found exploring new trails in her spare time.