Skye Black Cuillin Munros
Duration:
6 days, 7 nights
Tour Type:
Guided Walking holiday
Cuillins Skye – where the Munros are
2023 DATES CURRENTLY SOLD OUT. PLEASE ENQUIRE IF YOU WOULD LIKE TO BE ADDED TO THE WAITING LIST.
The Cuillins on Skye are home to all the Munros on the island. This holiday ventures into Scotland's most sensational Mountain Range, Black Cuillins of Skye. In terms of their extent there is nowhere else comparable in the British Isles. With the exception of altitude, they are on a par with the Alps; rocky and rugged with sharp ridges and precipitous flanks. Often seen as the realm of the climber, it does though offer the hill-walker some tremendous days out.
The Skye Black Cuillin Munros are a challenge for any hillwalker or hiker. An element of climbing is required if you want to reach the technical summit of every Munro. Have you heard of the Inaccessible Pinnacle? It is a spectacular sight, but there is no way getting to the top unless you are roped up.
There are walking guides on Skye who take groups along the Cuillin Ridge. Most of these guides offer the guiding service but expect you to sort out everything else on your own. Scot Mountain Holidays are running a fully inclusive trip.
May is a particularly good time to visit the Skye Black Cuillin Munros. Usually the weather is pretty good during May. We can expect blue sky days and no midges as we're running this trip right at the beginning of May.
HIGHLIGHTS
7 nights accommodation in Portree
6 days guided walks (12 Munros)
all meals included
one dinner out at a local restaurant in Portree
transport to the walks
pick up/drop off at Aviemore or Fort William train stations
PROPOSED ROUTES
Bla Bheinn (Blaven)
Sgurr nan Eag
Sgurr na Banachdaich
Sgurr Mhic Coinnich
Sgurr Alastair
Inaccessible Pinnacle
Bruach na Frithe, Am Basteir & Sgurr nan Gillean
Sgurr a' Mhadaidh & Sgurr a' Ghreadaidh
RELATED BLOGS
How to bag 12 Munros in a week.
Check out our 2017 memories of Skye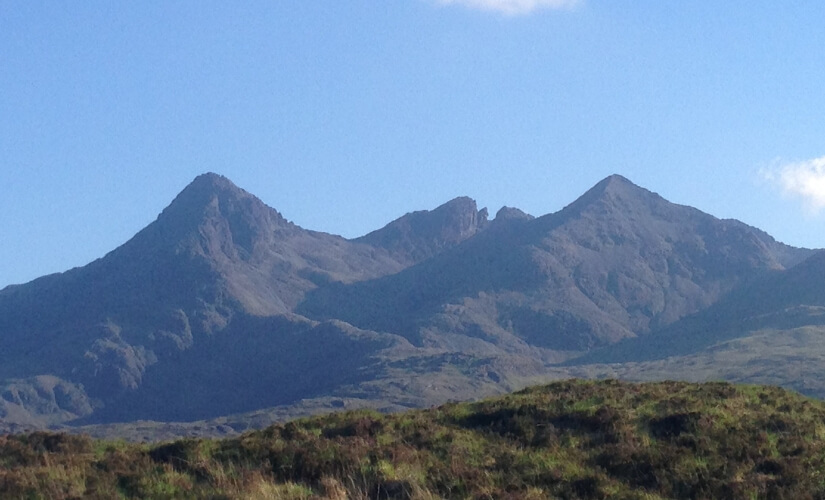 Skye Black Cuillin Munros
This holiday ventures into Scotland's most sensational Mountain Range, the Isle of Skye's Black Cuillin. In terms of their extent there is nowhere else comparable in the British Isles. With the exception of altitude, they are on a par with the Alps; rocky and rugged with sharp ridges and precipitous flanks. Often seen as the realm of the climber, it does though offer the hill-walker some tremendous days out.
The majority of the itinerary involves no more than grade 2 scrambling but 2 of the days (days 4 & 5) involve graded moderate rock climbs and in the case of the Inaccessible Pinnacle a good deal of exposure. If you are thinking of signing to this itinerary, a good head for heights as well as knowing how to tie on to the end of a climbing rope are essential, as is some rock climbing and abseiling experience. In rock climbing terms, the moderate grade involves easy rock climbing and with the proviso of some basic rock climbing experience and a good head for heights, most individuals shouldn't have a problem. 
This trip is scheduled during a period that's historically known for its fine weather. Based on the last 52 years of weather data, there is an 88% probability of settled weather occurring during this trip. Due to the challenging nature of the terrain compared with other mountain areas, the timings quoted below are relative and somewhat arbitrary as they will very much depend on the overall ability of the group. 
Arrive:
For this trip we pick up at Aviemore and Inverness rail stations and Inverness Airport. Meeting times are tbc but are generally timed to fit in with train and flight arrivals. 
Day 1: Bla Bheinn (Blaven) 
'And over all broods the mighty mass of Blaaven, gleaming with rich purple, its clefts white with dazzling snow-wreaths, and wisps of cloud stealing around its secret top. It is a mountain among mountains, a king among them all, whose magic influence fills the heart …'
J.A. MacCulloch
The Misty Isle of Skye, 1905.
A number of poets have been moved by it to put pen to paper and Sheriff Alexander Nicolson, after whom the highest peak in the Black Cuillin is named (Sgurr Alastair) was equally admiring describing Bla Bheinn as 'the finest mountain on Skye'. Rising direct from the sea and girt by precipitous slopes and cliffs it gives an impression of a mountain far higher than it actually is. Seen from across Loch Slapin, it presents one of the most compelling mountain sights in Britain and offers a superb view of the main Cuillin ridge. 
It is though, by Skye standards, a fairly straight forward mountain to climb and a fitting start to this fantastic week. We make a traverse of the mountain by climbing into the delightful grassy alp of Coire Uaigneich before ascending the upper mountain via its eastern flank before an entertaining descent down the south ridge and coastal walk to the picturesque village of Elgol, a much photographed viewpoint of the Black Cuillin
Passing pools and waterfalls we follow a good path first to the lip of Coire a' Caise and then to the wonderful hanging Coire Uaigneich with its unusually rich alpine flora owing to an outcrop of limestone surrounded by the volcanic gabbro. From hear we steeply climb on grassy then stony ground to the sky-line and the incredible cliff scenery over looking the Great Prow and the NE face. We soon reach the main summit trig point. After admiring the breathtaking views across to the main ridge and back to the Red Cuillin we head across a small dip with a brief grade 2 scramble up to the South summit. It's then an exhilarating and entertaining walk down the long south ridge before picking up the glorious coastal path back to Elgol. 
1227m of ascent on gentle, moderate and steep gradients. 8 miles (13km) of mountain and coastal walking on footpaths but also on rough rocky terrain. Approx walking time excluding breaks: 6:15
Day 2: 
Sgurr nan Eag is the most southerly of the Cuillin Munros on the main ridge and by Cuillin standards provides an easy but wonderfully airy walk along the summit ridge. 
We start the day by rising from Glen Brittle to skirt around the bastion that is Sron na Ciche and then up to the hidden yet one of the wildest and most beautiful of the Cuillin corries; Coir' a' Ghrunnda. Its entrance is guarded by massive glaciated boiler plate slabs of Gabbro. From behind the idyllic lochain our route climbs up through broken ground to gain the main ridge higher up before a gentle rise sees us on the level summit ridge with superb views. Cliffs and precipitous slopes sweep down to Loch Coruisk slopes on the left and on the right the views pan out across the little Isle of Soay towards the Small Isles of Rhum, Canna and Eigg. We continue along the ridge to then skirt back under the north face towards our next peak, the sharp topped Sgurr Dubh Mor.
On regaining the ridge we then easily bypass the "Castle" composed of extremely rough peridotite! Our quarry lies off the main ridge and after rising to a stunning viewpoint we make an easy scramble down passing pinnacles before scrambling up a series short pitches (grade 2) separated by ledges (approx 40m in all). We then quickly arrive at the summit via a chisel like crest before continuing along the ridge to gain a superb viewpoint back from the ridge. Virtually the whole ridge sweeps away in one huge arch as you pear down onto the black cauldron that once was the magma chamber of this ancient volcano.  We return back to the ridge to then skirt around the headwall of Coir' a' Ghrunnda to then make a short sharp climb to the summit of Sron na Ciche. A tentative look over its north face reveals incredible rock architecture of The Cioch, site of the swordfight scene between Christopher Lambert and Sean Connery in the 1986 movie Highlander. With dramatic views back into Coire Lagan we descend back to Glen Brittle. 
1490m of ascent involving moderate and steep gradients, and both grade 1 and a short section of grade 2 scrambling.  8 miles (13km) of walking on footpaths across moderately and very rough terrain (block fields). Approx walking time excluding breaks: 7 hrs
Day 3: 
We start the ascent of Sgurr na Banachdaich by rising above the dramatic wee gorge of Eas Mor before gaining the lip of Coire na Banachdich. Climbing much more steeply to the beautiful spur of Sgurr na Gobhar we eventually reach this superb vantage point set forward of the main ridge. From this little top we traverse a delightful ridge before joining the broader western shoulder of the mountain for an easy climb to this fine summit. All together an easier day after the height gain of the previous 2 days.
970m (2860ft) of ascent involving moderate and steep gradients over scree and rough rocky terrain, and with a short section of easy grade 1/2 scrambling – the Sgurr nan Gobhar ridge is mainly a walk albeit narrow at times.  5.5 miles (8.5km) of walking. Approx walking time excluding breaks: 4:30 hrs
Day 4:
Sgurr Alastair has a beautifully airy pointed summit, fittingly for the highest point in the range. From the beach at the end of Glen Brittle we make a steady ascent to Coire Lagan. Initially it's wide and open but as we rise up into the upper coire we become encircled by huge rock walls. With it's diminutive lochan nestling on it's floor, scree slopes quickly rear up to skirt the base of these vertical, albeit intimidating walls. It's a magnificent setting with views back and out across the sea to the Small Isles.
Beyond the lochan a huge fan of scree leads up into the Great Stone Shoot, itself curving up to the right and narrowing with height. Rock walls tower above.  After some effort we eventually exit the depths of this steep defile and a magnificent view of the ridge winding its way to Gars-bheinn suddenly opens up. The final summit ridge, although a little intimidating looking is in fact fairly straightforward. As you might expect in such a range of mountains the views are exceptional. 
Our attention is now turned to Sgurr Mhic Coinnich as we return to the Great Stone Shoot. Cutting off right we gain another gulley to access a very handy geological feature known as Hart's or Collie's Ledge. As the surface rocks fractured with the pressure of a rising magma body, lava was injected along these fracture lines to produce cone sheet structures. Its along one of these that we traverse across the peaks west face to gain the summit ridge. 
Continuing along the narrow and exposed north ridge, An Stac presents an intimidating buttress directly ahead. We turn it on the left for an enjoyable grade 2 scramble up Sgurr Dearg to the base of the Inaccessible Pinnacle, the hardest mountain summit to attain in all the British Isles and the most challenging climb (56m of moderate grade rock climbing) of the week. The climb up its east ridge is a sensational one with good holds but plenty of exposure. To escape its a 20m abseil down the west ridge and a very short steep walk to the summit of Sgurr Dearg (8m lower) to sit and relax on the summit and watch the other members of the party do what you have just done on this incredible fin of rock. 
We turn our backs on the dramatic sight of the In Pinn and head for an easy scramble (grade 1/2) along a ridge where the difficulties are easy avoided before overlooking dramatic cliff scenary and heading down screes and welcoming level ground for the more gentle descent back to Glenbrittle.
1300m (4270ft) of ascent involving moderate and steep gradients over scree and rough rocky terrain, with a number of grade 2 scrambles with some exposure and an exposed moderate rock climb (Inaccessible Pinnacle).  7 miles (11km) of walking. Approx walking time excluding breaks: 6:30 hrs
Day 5, Bruach na Frithe, Am Basteir & Sgurr nan Gillean: 
We start the route from the front door and take the time honour route that links Sligachan with Glenbrittle. At the pass between the two we turn and strike uphill on a steady gradient before this long ridge becomes very well defined and the scrambling begins. Although graded as a grade 2 scramble all the difficulties are easily avoided to the right. In fact you of have to make a conscious effort to stay on the crest as ledges tend to guide you onto easier ground. Height is gained quickly and you soon arrive at the summit Triangulation point. This peak marks a change in direction of the ridge making it one of the ranges finest view points. 
Continuing along the ridge we then drop into the upper reaches of Coire a'Bhasteir to skirt underneath the very distinctive Am Basteir (The Executioner) with its tooth before re-ascending to gain the Bealach. The view from here for some is a little daunting but the scrambling (grade 2) is surprisingly straightforward though this route does require a good head for heights. The summit is a spectacular place with vertical drops on the west and north sides.  We return the same way back to the bealach with our attention now focussed on one of the most majestic Cuillin peaks, Sgurr nan Gillean and our route via it's compelling West Ridge. Guarding its base though is an unavoidable steep section of rock involving a moderate grade rock climb (approx 20m) and some exposed moves. 
The ridge now continues as a long but fairly straightforward scramble before more challenging moves (grade 2/3) over volcanic vent rock followed by a tower and an entertaining route through a window and arrival at the small summit platform of this classic pyramidal peak. As you would expect from such a peak the views are exceptional, the whole range sweeping around in one huge indented and jagged arc. To the south-west the splendid skyline of Bla Bheinn & Clach Glas contrast with the more rounded form of the Red Cuillin.
The route off is no less daunting involving some grade 3 scrambling and an exposed move before the ridge then broadens and the easier well cairned descent towards Coire Riabhach begins and ultimately the prospect of some well deserved liquid refreshment at the Sligachan Hotel!
1275m (4180ft) of ascent involving moderate and steep gradients over scree and rough rocky terrain, and with a grade 2 scramble. The West Ridge of Sgor nan Gillean initially involves a moderate rock climb with some exposed moves. 9 miles (15km) of walking. Approx walking time excluding breaks: 7:30 hrs
Day 6, Sgurr a' Mhadaidh & Sgurr a' Ghreadaidh; 
We ascend via the coire burn (stream) to gain the beautiful Coire a' Ghreadaidh with its wonderful pools and water slides. Bound by three munro's with their various buttresses it's an impressive and complex coire. Our route ascends steeply the left hand spur to gain a gentle ridge leading to the airy outlier of Sgurr Thuilm. From this fine summit we descend a delightful ridge (grade 1 scramble) before dropping into the head of the Coire an Dorus to make our ascent of Sgurr a' Mhadaidh. The mountain presents an elegant outline of 4 peaks with the munro summit being on the right. We pick our way up the west face zig- zaging between easier ground (grade 1/2 scramble) before joining the top of the NW ridge and gaining the summit. The eye is now drawn down the tremendous U of the glacial valley that holds Loch Coruisk. Again it's another exceptional viewpoint especially south along the ridge. 
Avoiding difficult terrain we retrace our steps back down to Coire an Dorus to then traverse further around to ascend via the aptly named Black Cleft. With its huge steep walls it's a sombre place. Climbing up scree and over a few minor rock steps we ascend to the gap (grade 2 scramble)  before then easily outflanking 'The Wart' and reaching the main summit of Sgurr a' Ghreadaidh – the highest of the central Cuillin summits and again a wonderful view point. Again avoiding technical ground we return to the coire floor and the descent back down to Glenbrittle to round off a wonderful week. 
1382m (4530ft) of ascent involving moderate and steep gradients over scree and rough rocky terrain, and with a 2 grade 2 scrambles.  7 miles (11km) of walking. Approx walking time excluding breaks: 6:00 hrs
Depart: 
After a light breakfast we depart our accommodation and head for the various drop off points (times t.b.c). Should you have a plane or train to catch we will make sure you we get you there in good time. Feel free to stay on and enjoy more of the Scottish Highlands if you want at our own lodge in the Cairngorms National Park. 
We take the whole ethos with us when we run trips away from our home base of Fraoch Lodge. The whole family team journeys out with you and provides for you no matter where our base is.
Accommodation on Skye
For this week our home base is at the Seafield House in Portree. The house is an historic Georgian building right on Portree Bay. There are 5 bedrooms and excellent views from the garden.
There is one single room at the house which will be available on a first come, first served basis.
See more details here.
We have achieved Gold Star Awards from the world's most highly respected green accreditation scheme, Green Tourism, and were awarded Highly Commended in their Green Star Awards 2013 for both Scot Mountain Holidays and Fraoch Lodge. We offer a Green Travel Discount of £15 to any guests who travel to us by public transport. Our primary aim is to minimise the carbon footprint of our holidays, and to this end we donate 1% of the price of our tours to the RSPB's Abernethy Reforestation project.
It is a holistic approach we have to the care of the environment. Andy your adventure guide has a passion for the natural world – whether it's the flora, fauna or fungi. He has a background in geology and a lifelong interest in natural history, as well as being a keen gardener.  He knows a Golden Plover from a Dotterel, a Green Shank and a Dunlin. He also makes no apologies to being very excitable upon spying a Golden Eagle!
For further information, please don't hesitate to check out our Environmental Responsibility page, or contact us directly at info@scotmountainholidays.com.