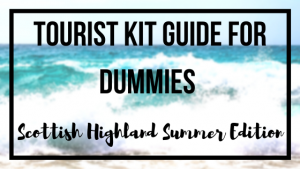 Perhaps you've seen the winter edition of this post, and so I give you the summer edition because it's actually one of the busiest seasons we have up here. Many who travel to the highlands are usually well versed in what it has to offer, but if you're wanting to visit in the summer and you've never been before, here are some summer tips that I hope you can find useful.
No heels, ever.
Unless you're here for a wedding or some other occasion, then yes, wear whatever you like. However, if you were going to go out and have an adventure, wearing heels is not the way forward around here. There's just nowhere you can warrant wearing it, so just don't bother. The terrains aren't particularly forgiving and even though it is summertime, bogs, rain and mud are still a big aspect of the Highland way of life, whatever the season. I learnt this the hard way folks, don't be like me. Flip flops you can probably get away with, as it probably has less risks of breaking your ankle.
The Highland sun is a deceiver
You start your holiday after a good night's rest, you pull at your curtains and see the sunshine and blue skies and you cannot wait to get your adventure started. From one look you assume that it's going to be a warm day but hold your horses. Anyone who's lived in the UK or in Scotland, in particular, knows that the weather can change in a smidgen of time, one minute it's warm, then it's freezing the next. It takes only one puff of wind to get your shivering again and it's not nice at all when you aren't prepared.
When up here in the summer, do enjoy the sun if you happen to catch it, but also, don't be a fool and come prepared. The weather laughs at those who don't give it the respect it deserves.
Don't underestimate the sun
Yes, yes, you managed to catch the sun whilst it blessed us with its presence, but you felt as though it's not really that warm because of the wind. That's when it can catch you out I'm afraid. Because the wind is cold and you can't directly feel the heat of the sun on you doesn't mean it's not burning you. I've seen people with red arms and necks because they refused to wear sunscreens. It wasn't that sunny, they said, it wasn't even that warm, they said.
The thing about Scottish summertime is that it's not really here that often and when it is, we tend to complain about it being way too warm for our Highland skin. We can never get the balance right and we never will, it is a subject matter that's started our small talks since the beginning of time and it shall remain so until its end.
But yes, be prepared, wear your sunscreen.
The water is always Baltic
I don't know if you've ever dipped in a Highland Loch before, or into the west coast sea, but if you have, you'll know that the water despite being under the sun for a while, will never reach that desired temperature that will entice you to swim in it. It looks tempting, we know, but unless you know how to control your breathing in cold water, we suggest you wear a wetsuit.
There are some areas of the north-west coast of Scotland that are awesome for some surfing, but you'll never see those surfers even in the heat of summer wear anything but their wetsuits, and they still come out with blue lips. Perhaps if you're brave and don't mind losing a few toes then go ahead, we can watch with our dogs on the beach.
Midges are agents from hell
If you've never encountered a Scottish midge before, we suggest you sit down and listen up. Midges have the power to make the toughest people cry. They are horrible little insects that bite you and suck your blood, sound familiar? Yes, we understand that mosquitoes are probably just as bad, but these little critters somehow make you feel as though you're completely incapable of doing anything, even to do something as mundane as breathing. Bring loads and loads and LOADS of midgey spray with you, bathe in it if you have to, even then you probably will be bothered by them.
Unlike mosquitoes you see, midges come in swathes, they can create clouds of darkness that can surround you in seconds, as soon as that sun goes down.
They breed on the boggy places, which is basically what the highlands of Scotland is made of. Pray for wind and have some spray, because this creature is something out of the gates of hell.
Tic season
Whilst here in the summertime and you've had a lovely walk in the woods with your friends and pets, do make time to do a 'tic check' when you get back. Because of livestock around and the warm weather, they multiply in droves. And tics can be the source of Lyme's Disease. Please be aware of your surroundings as this is a very lovely place to be, but there are also risks. It's better than worrying about snakes I suppose.
There you have it, something for you guys to consider when trying to plan some time up in the Highlands of Scotland in the summertime.