Walking Ice Axe leashes – to have, or not to have.
On buying their first ice axe many folk are also automatically sold a leash as an essential and permanent accompaniment. Here we look at the pro's and con's of having a leash on your walking/general mountaineering axe and discuss in what situations they might be necessary.
The fear of losing an Ice axe
Many folk have been sold a leash on this basis yet there has been at least one recorded instance where loosing grip of the axe during a sliding fall has resulted in head injuries as a result of the axe flailing uncontrollably about their head due it being attached to their wrist. Rather than rely on a leash to retain possession of your axe it's about instilling a mental capacity of not letting go of the axe i.e. the hand holding the head of the axe is allowed to pivot around the head but it never unintentionally lets go. It's also about developing that mental ability of properly securing your axe should you need to put it down.
Trip hazard
When not cutting steps the axe is always carried in the up hill hand. If you're making a zig-zag ascent or descent of a slope it requires the axe to be repeatedly swapped from one hand to the other. Having to repeatedly swap the leash from one wrist to the other is very cumbersome and time consuming. The leash can be wrapped around the head of the axe when not used but it isn't secure with the risk that it will be allowed to dangle with resultant hazard of a crampon point catching and causing a trip.
Photo caption: cutting steps in the Cairngorms on a winter skills course with Scot Mountain Holidays
Step cutting
This is where a leash is desirable especially if you are cutting into hard snow or ice. Wet gloves, cutting the steps too vigorously etc can all increase the chance of loosing grasp of your axe so this is where a leash comes into its own.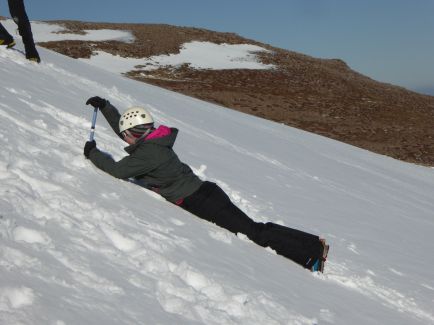 Conclusion
Minimalist light weight leash which can be quickly attached and detached to the head of the axe is the best option. It's generally stored somewhere relatively accessible e.g. in the lid of the rucksack and attached to the head of the axe on the few occasions it's required.
One of the simplest ways of attaching the leash is just by tying a loop in the end of leash and larks footing it through the Karabina hole in the head of the axe i.e. thread enough of the loop through the eye so you can in turn thread the rest of the leash through the end of the loop and then pull it tight.
Useful links:
Have fun in the snow: http://www.wikihow.com/Have-Fun-in-the-Snow
Snow related activities for kids: http://www.parents.com/fun/activities/outdoor/snow-activities-kids/#page=7
Family fun in the snow: http://powertochange.com/family/snow/
Free mountain weather service: Mountain Weather Information Service
Met Office forecast for the hills: Met Office Mountain Forecast
Scottish Avalanche Information service: Scottish Avalanche Information Service
USEFUL BLOGS
How to ice axe arrest: https://scotmountainholidays.com/blog/skills-how-ice-axe-arrest/
Best practice: how to build a snow hole in Scotland: https://scotmountainholidays.com/blog/best-practice-building-snow-hole-scotland/
How not to get lost – the art of navigation: https://scotmountainholidays.com/blog/hiking-how-not-get-lost-art-navigation/
Top 10 winter skills tips (for Scotland): https://scotmountainholidays.com/blog/top-10-winter-skills-tips/
How to prepare for a mountain challenge: https://scotmountainholidays.com/blog/classic-ridges-and-horseshoes-hiking-tips/
Which boots to choose for winter: https://scotmountainholidays.com/blog/which-boots-choose-winter-walking/
How to choose a walking ice axe: https://scotmountainholidays.com/blog/how-choose-walking-ice-axe/
How to predict snow: https://scotmountainholidays.com/blog/how-predict-snow-uk/
EXPEDITIONS FROM SCOT MOUNTAIN HOLIDAYS: https://scotmountainholidays.com/activities/mountain-challenges/
SKILLS COURSES FROM SCOT MOUNTAIN HOLIDAYS: https://scotmountainholidays.com/activities/mountain-skills-courses/
WINTER WALKING HOLIDAYS FROM SCOT MOUNTAIN HOLIDAYS: https://scotmountainholidays.com/activities/walking-holidays-uk/