Most popular self-guided hike
Lairig Ghru Logistics: a self guided hiking weekend in the Cairngorms National Park
The Lairig Ghru is the most prominent pass through the centre of the Cairngorms National Park. A road has never been built through the middle of it. It used to be a drovers' pass for taking the cattle to market, but is now a route for walkers and cyclists to pass through the centre of the Cairngorms National Park. It runs roughly north-south from Aviemore to Braemar and is a prominent feature on the mountain skyline from Aviemore.
Photo credit: David Mansell
The main roads all circumnavigate the which means that to drive from one side near Braemar, to the other, near Aviemore, will take close to 2 hours. To access either end of the route you'll need to make a massive diversion on public transport via either Perth or Aberdeen, as there is no longer a bus service from Grantown on Spey to Braemar. (The Council sponsored a bus route from Grantown to Braemar – the Heather Hopper, but when funding ran out no one took the route on.)
The walking route
The route for hikers through the pass is 19 miles from Linn of Dee to Whitewell. However, if you plan to organise your own walk you'll need to arrange for someone else to make the 2 hour diversion to the other end to meet you and take you back to your start point, or allow for the extra walk from Linn of Dee to Braemar, an additional 18 miles and perhaps the additional mile to Coylumbridge (and possibly from there to Aviemore if you miss the bus.
Photo Credit: Scot Mountain Holidays
The hike is 19 miles (minimum) and passes through the main Cairngorm massif under Ben Macdui, Braeriach and Carn Toul. The high point is at approximately 2000ft, so not a mean feat. The high point is within sight of Aviemore and towards the end of the south – north route we advise. You'll finish the hike within sight of the Lairig Ghru itself.
Inclusive package:
Scot Mountain Holidays have put together a package for hikers to make the Lairig Ghru accessible to small groups. We can accommodate up to 8 people in our own transport, but have also arranged the trip for larger groups with additional transport. Max: 14
We offer:
2 nights accommodation at Fraoch Lodge,
all the meals are taken care of by us at Fraoch Lodge,
route advice from Andy who is a qualified Mountain Leader who has often walked the route himself, and
transfers to Linn of Dee
plus pick up from Whitewell.
The trip is very popular with couples, but priced on our website for 4 or more people. Please enquire directly with us if your group is smaller than 4 people. We'll quote you directly.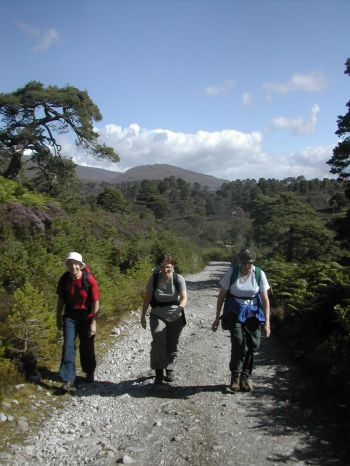 Photo credit: Scot Mountain Holidays
Hiking the Lairig Ghru is a challenge in itself which anyone can complete as a charity challenge. It is a well-known and clearly defined goal familiar to most Scottish hikers, though has less of a reputation south of the border. Some mountain rescue teams already offer the route as an organised challenge event. Please contact us if you are proposing to hike the Lairig Ghru to raise funds for a charity.
Guided hike option:
We can also offer the Lairig Ghru as a guided option which might be a good option if you are on your own as we are not able to combine self-guided groups for insurance reasons. Please phone: 01479 831 331 for full details or visit our contact us page.
When is it a good time to visit Skye?
We're often asked when it is a good time to come to Scotland. For us every season has it's advantages and perhaps disadvantages, depending on your point of view. There are definitely certain times of year which are better for hiking than others. There are also certain times of year when it is best to be in particular areas. If you're a weather geek, you can find out for yourself which are statistically the best weeks to plan your trip by studying the "weather singularities".
Weather singularities are statistically proven times of year when the same weather tends to re-occur e.g. always dry that week. In fact, these have been noted so frequently in some cases that they even have traditional names like: "St. Luke's Summer" or "Old Wives Summer". Andy has studied the weather very closely and plans our west coast trips around the times of year when we are statistically likely to have the best conditions. This is why one of the most frequent comments we have as guests depart is: "Haven't we been lucky with the weather?" Mind you, that might also be due to the fact that they come expecting to be rained on every day. Any day which is dry is considered to be a bonus!
You can choose by season which would be the best time of year to plan your trip. Whether it will rain or not, is not necessarily the only factor which would influence your decision. You may also want to consider what wildlife will be around or how long the day will be.
Is Spring a good time to visit Skye?
The division for the Spring months may be surprising, but here in the Highlands of Scotland, Spring doesn't really arrive until April. Skye is a wee bit more of a warmer climate than by our home base in the Cairngorms. Being closer to the sea, Spring can arrive earlier and the wildflowers will often start to put on an appearance in March. Our Spring months are more often than not April, May and June. Spring is an amazing time to visit Skye, in particular, as more often than not the dreaded midge has not awoken from her winter slumbers; the days are long and the weather is frequently dry and more often than not, sunny.
The seabirds, like the gannets and guillemots' start to return to the cliffs surrounding Skye in Spring. and Golden Eagles nest on Skye. The Sea Eagles tend to lay their eggs early in the Spring with a 6 week incubation period. The chicks could well be hatching around the time we will be on Skye in May. Once the chicks hatch the Sea Eagles and Golden Eagles are very active hunting for food to feed them. Spring is a very good time to spot the eagles.
Baby lambs will be playing in the fields. Skye is certainly a good place to spot lambs. Plenty of sheep in the lower fields of Skye as well as a thriving wood industry producing both yarn and cloth.
Another advantage of Spring, particularly May, is that the daylight hours are so long. Though we're not quite at the longest day (mid-June), you can still be out at 10pm without the need for a headtorch.
Is Summer a good time to visit Skye?
Seeing the sun still up at 10pm and 3am or earlier is something which astounds most tourists. Be sure to make sure your accommodation has good curtains though if you'd rather have a good night's sleep. If the sun is out, it can be glaring at 4am and most of us don't appreciate that when we'd rather be sleeping.
July is the month to see the best of the orchids.
In August, there are plenty of wading birds to be found on the shores of the lochs and the heather is out in full bloom turning the sides of the hills purple. It's also a really good time to spot whales, dolphins and porpoises.
The biggest disadvantage of visiting Skye in the height of summer is the sheer volume of tourists with the same idea. It can be extremely difficult to find accommodation and the road's there just aren't built for the volume of traffic.
Is Autumn a good time to visit Skye?
October is far and away the best time to spot the northern lights from Skye and November is the time to see the fireworks display at Dunvegan Castle. The display includes setting fire to a Viking longship. The difficulty for hikers though is that the sun sets before 5pm meaning that it is difficult, but not impossible, to complete a full mountain day in the light. The plus side though is that both sun rise and sun set can be glorious. It's much easier to spot a good sunrise when it takes place around 7am rather than in the early hours of the morning.
Is Winter a good time to visit Skye?
December is an extremely good time to spot the sea eagles who are in the midst of their mating rituals now. The eagles will be soaring in the sky displaying and getting ready to pair up. Winter can also be a very good time to spot red deer who tend to come lower down the hills and can be spotted at the roadside in search of food. It's also the best time to look for otters.
Visiting Skye with Scot Mountain Holidays
We've picked a prime week in May to visit Skye and pick off the Cuillin Munros. The guided trip will be fully inclusive of accommodation and meals as well as transport to the walks and pick up from Inverness airport, Fort William and Aviemore station depending on your travel arrangements.
We also have our Superlative Skye trip available to groups of 4 or more people. It's not currently scheduled and our calendar for 2017 is rapidly filling up so do get in touch soon if you're hoping for us to run this itinerary. We could even make a plan for 2018!
Related web links:
Outlander adventure: The Droughtlander is finally over…



For all you fans of 'Outlander', the time-travelling TV drama set in Scotland and based on the compelling novels written by Diana Gabaldon, we have a temporary fix just for you with our Outlander adventure! Season 3 and 4 are not set to premiere until September but to tide you by over the next few months why not beat the Droughtlander and join us on our brand new 'Outlander' tour. 
Yes. You heard it right. We're taking you to Outlander itself to live the story yourself. You'll not only get to visit the battlefield at Culloden but also Clava Cairns, which served as inspiration for Craigh na Dun; a secret Jacobite cave hideout; stunning scenes from the TV opening sequence and the Mackenzie village.
Outlander adventure: Jacobite stories
We'll walk in the footsteps of our Jacobite ancestors. John Roy Stuart is considered one of the most colourful and charismatic characters of the 1745 Jacobite Rising. Born just a few miles from Aviemore in 1700, he became one of Strathspey's best-known and best-loved heroes. He certainly sounds like he could've been inspiration for the fictional character, Jamie Fraser.
This outlandish, fun filled expedition in the quintessential Scottish Highlands offers…
an all-inclusive adventure based from Fraoch Lodge in Boat of Garten
4 days of 'Outlander' packed film locations and Jacobite landmarks
hiking in the footsteps of our Jacobite ancestors
5 nights accommodation at Fraoch Lodge
all meals throughout your stay
transport to all the sites/walks/activities
trips over the months of July, August & October
pick up from Aviemore station and Inverness airport
Be your own Claire Randall searching for your very own Jamie Fraser, or vice versa! End your Droughtlander now. Come join us on our adventure.
NB – there is some hiking and active days on this tour. You can't experience the whole tour from a bus.
Win a hiking weekend in Scotland
This month we're offering the chance to win a hiking weekend in Scotland. On offer is our Gentle Giants weekend at the end of August. A guided hiking break in the Cairngorms National Park with Scot Mountain Holidays for one lucky person (and their chosen +1). The weekend is fully inclusive of accommodation, guiding, transport to the walks, pick up from Aviemore station and all your meals during your stay. The prize is worth over £500.
To win scroll down to the bottom of the page to enter. Hurry though – closing date is 31 March 2017
Gentle Giants – the details
Win a 2 day guided hiking weekend in the Highlands of Scotland with Scot Mountain Holidays.
We'll provide:
all your accommodation,
all your meals,
a highly qualified, experienced local walking guide
and transport throughout the trip. We'll even pick you up from Aviemore station or Inverness airport. (Train/bus/air transport not included.)
All you'll need to arrange is your transport up to Scotland.
win a hiking weekend in Scotland: the routes
During the weekend in the Cairngorms National Park we'll hike to Ben Macdui (Britain's second highest peak) and also go up Cairngorm, the peak which gives the park its name, following a lesser known route to the summit avoiding the ski slopes. Full details are available from the trip information page
win a hiking weekend in Scotland: the accommodation
You'll stay at our home base, Fraoch Lodge, in the small village of Boat of Garten, in the Cairngorms National Park. Boat of Garten is just 30 minutes south of Inverness and a 10 minute transfer from Aviemore. You and your +1 will have a private room. Fraoch Lodge is our family home as well as the accommodation for our holiday guests. We offer a comfortable lounge with a very full book case and loads of family games but no TV. Instead we have an open fire. We don't go in for dainty decorations but have chosen to share our memories of great travelling experiences in the photos on the walls and the carvings we've collected around the world.
win a hiking weekend in Scotland: the food
We'll cook for you and provide your picnic for heading out into the hills. We don't go in for Michelin star or nouveau cuisine type food. We provide good quality, hearty home cooked meals suitable for active people. Rebecca is an adventurous cook who likes to provide good, healthy meals made from fresh, local produce. She has travelled widely, particularly in Asia, and often brings these influences to bear in the meals she prepares. She also loves to bake, particularly with chocolate. All the treats we provide for when you come back after your hike are freshly prepared on the premises. Previous guests are often keen to know the secrets of our recipes particularly for the more unusual bakes like green tomato cake.
win a hiking weekend in Scotland: the destination – Cairngorms National Park
Have you ever been to the Cairngorms before? If not, prepare to be surprised and amazed by the sheer which stretches before your eyes when you reach the summits.
Well it has been a while since I shared a showreel. Here are some shots from my drone of the winter past and the summer to come. All the shots were taken in the Cairngorms Park in Scotland. I think a few of the shots are the first of there kind from a drone, ice skating on Loch Avon and fly fishing on the River Spey! Enjoy:) Hit HD for a nicer view!

Posted by on Friday, 29 April 2016
The Cairngorms are also renowned for wildlife. Many rare species make their home here. The BBC Springwatch team are often to be found in the Cairngorms filming such animals as the pine marten or birds like the Capercaillie or Crested Tit. We hope that during the weekend you'll have opportunities to see the ptarmigan, the mountain hare, red grouse and red deer. Much of the land on our side of the Cairngorms is owned by the RSPB and managed by them to provide excellent habitat for the wildlife.
Go for it – hope to see you in the Cairngorms this summer. Good luck!

Hiking in Spring:
5 reasons to come hiking in the Cairngorms in Spring
How exciting! The approach of the school Easter holidays is always an exciting time here in the Highlands of Scotland, especially in Boat of Garten, as it signifies the start of so many more opportunities to get out and about. Winter can be a bit of a sleepy time, when if you don't ski, there are far fewer places to go and things to do than during the summer. Many of the castles and other visitor attractions either close or are on such reduced opening hours, you wonder why they bother at all. But once we're over half way through March, we can look forward to being spoilt for choice
1. The wildlife is all starting to come back to life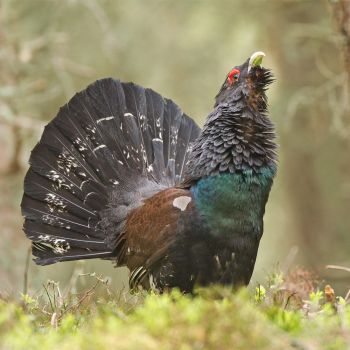 The ospreys should be returning to Boat of Garten in April. The RSPB are poised to open up the visitor centre over the Easter holidays and are closely monitoring the birds on their migration back to Scotland. Unfortunately sometimes the chicks  get lost over in Africa, but hopefully EJ and Odin will make it back safely to Loch Garten to raise another batch of chicks.
Spring in the Cairngorms – nature
Your Natural Adventure in the Cairngorms
2. The days are longer.

Photo Caption: Wild and remote scenery of Knoydart on a visit in May – Wild Knoydart guided walking holiday
If we think about hiking in Spring, the long daylight hours definitely make it more pleasurable – if challenging to get the kids to sleep when camping. At the beginning of March, we already have 10.5 hours of daylight here in the Cairngorms but by the end of March it's already increased rapidly and we're up to 13 hours daylight. For example, March 19th 2015 sunrise is around 6.20am and sunset about 6.25pm. Early starts no longer essential to make the most of the daylight.
– images from Scot Mountain Holidays
3. Get fit in the outdoors
Don't kid yourself – it's hard to keep fit in winter. Even if it's not snowing, the shorter days and cooler temperatures just bring to mind more images of hibernating than getting outside and hiking or biking.
Of course, there are those (in a large minority) who love winter for the snow, for the skiing etc; but for the rest of us it takes a cattleprod to get out to the gym … but then something magical happens by the middle or February as the days start to lengthen here in the Highlands and all of a sudden it's not so hard to get up and out. There is certainly a reason why we have the phrase: "The Joys of Spring". Now we can say goodbye to the inside of a sweaty gym and take the bike out of the shed, dust off the backpack and take the running shoes out in the woods and along the trails.
Photo caption: Spring also means that it's a time the kids can get back outside. You no longer need to wrap them up like Mummies. This photo was taken on a backpack to a wild camp in Assynt in May. If you'd like details of this trip, we can arrange this for small groups and family groups under Andy's guidance.
4. Warmer weather – an end to the dangers of snow & ice
In winter, we spend a lot of time instructing about the dangers involved in going out on the snow and ice. Andy runs multiple courses showing clients how to use ice axe and crampons and how to assess the risk of avalanches. All these are things which put the multitude of hikers off. Most people perceive the Highlands as being far too dangerous in winter. You'd almost be taking your life in your own hands to even consider it. Of course, reality is nothing like that and for the number of people who do go out in the hills. The number who have accidents or need to call on mountain rescue is a minute proportion. Accidents are always reported in the media which exaggerates the frequency with which they occur.
Nevertheless, Spring means that these worries can retreat once more and the hiking boots can be dusted off and the maps taken down once more to plan for some high level hikes across the hills. There's a reason why events such as the TGO Challenge take place in the Spring.
Do bear in mind though – that winter is never far away in Spring here in the mountains and due to our latitude, snow can return with unexpected force in April and May.
5. No midges
Hiking in Spring means that you can enjoy long blue sky days, without the ever-present midge. To be honest, in the Cairngorms the midge question is not as great a threat as on the west coast. Despite the relative proximity of the west coast (in Australian or American terms) the weather is very different. In the Cairngorms, the weather is drier and the winters on average colder. Cold winters greatly reduce the presence of midges in the summer. At Fraoch Lodge we are also lucky enough to have a bat colony in the chimney stack next door. Bats eat millions of midges every night, so we can be out in our garden most of the time without swarms of midges.
You can tell our local climatic zone is drier more often than the west coat by the colour of our hills. The hills in the Cairngorms in summer are purple as the bell heather flowers. Bell heather likes dry conditions to flourish. The wetter west coast hills are generally green and grass covered.