Outlander Adventure Experience
Duration:
4 days, 5 nights
Tour Type:
Private guided walking tour
Enquire about this tour

Walk in the footsteps of our Jacobite ancestors, visit a Jacobite hideout high on the side of a local hill and imagine what it would have been like to actually live there in hiding from the redcoat army. Hike through the magnificent scenery which is the backdrop to the "Outlander" opening sequence and experience the unique atmosphere and fresh air which still permeates the area. You'll also visit the site of the famous Culloden battle along with the standing stones, which form such a focus for the "Outlander" story. This is a full-on Outlander adventure experience like no other.
Day of arrival:
Travel up to Aviemore in the heart of the Highlands. There are plenty of train options from both Edinburgh and Glasgow. You'll be met at Aviemore station by your hosts for the week. If you can arrange to arrive in the late afternoon (around 4 or 5pm) this should give you plenty of time to settle in and make yourself a wee bit familiar with our village before you join us for a hearty family meal.
Day 1: Visit a Jacobite cave hideout, the Mackenzie village and redcoat barracks
Get involved in a real life Jacobite story which has inspired authors like Diana Gabaldon & Robert Louis Stevenson for his story "Kidnapped". Our local hero, John Ruaridh Stuart, was a leading Jacobite, close to Bonnie Prince Charlie, who survived the Battle of Culloden and spent time hiding out in a cave high on the side of a local hill. We'll visit the cave before moving on to visit Mackenzie village and a red coat barracks close by.
Hiking Stats: 6 miles (10km) with 540m (1780ft) of ascent on dirt tracks and paths. The route up to the cave is challenging on rough vegetated ground. 4:00 hrs of hiking excluding stops and breaks.
Day 2: Hike to the site where the opening sequence of Outlander was shot
We'll hike out to a beautiful spot on the Ardverikie estate. The track leading to the loch is a good but unsurfaced track on a steady gradient. We'll hike in the footsteps of our Highland ancestors up to the loch, surrounded by beaches, and on to the top of a nearby wee hill popular with climbers for the cliffs on one side. This hilltop offers stunning views of the surrounding countryside. This site has appeared in the movie "Mrs Brown", the TV series "Outlander" and frequently in the BBC series "Monarch of the Glen".
Hiking Stats: 11.5 miles (18.5km) with 260m (840ft) of ascent mainly on dirt tracks plus a little rough walking along the edge of the Loch. 6:00 hrs of hiking excluding stops and breaks.
Day 3: Culloden battlefield and Clava Cairns
A central part of the Jacobite story is the battle of Culloden, the last pitched battle on British soil, which resulted in the severe depression of the Highland culture (no wearing of kilts, no playing of bagpipes, no gatherings of more than x people etc). As part of our "Outlander" theme we'll go to the visitor centre at the battlefield before going on to see the standing stones at Clava Cairns which inspired the time travel in Claire's story.
We'll also pop in for tea or lunch (depending on our timing) at Culloden House where Bonnie Prince Charlie made his headquarters.
Optional walk exploring the Jacobite sites in Culloden woods (max: 5 miles) Prisoner rock and the clootie well are very interesting historical sites close to the battlefield.
Day 4: Tulloch Ghru, Loch an Eilean and Ord Ban
This local, wooded beauty spot appears more than once in the Outlander story, particularly in the opening sequence.  The ancient Caledonian pines around provide a beautiful shady spot, dappled with sunshine while the ruined castle in the middle of the nearby loch really adds to the romantic atmosphere.
Hiking Stats: 7 miles (11.5km) with 430m (1400ft) of ascent mainly on dirt tracks with a little on mountain paths. 4:15 hrs of hiking excluding stops and breaks.
Day of departure:
After a leisurely breakfast, you'll need to pack your bags up and get ready to move on to the next stage of your adventure. We'll be sorry to see you go but we'll be in touch with photos and memories of your stay with us. We hope you'll return again as there is a lifetime of exploring waiting in the Highlands.
Optional extensions:
Highland Games
Castle and pub walk
Cairngorm summit walk
Outlander experiences at the Highland Folk Museum
Outlander adventure – travel back in time through the stones
Outlander adventure – discovering the secret cave hideout of John Roy Stuart
Live like the Jacobite Highlanders
If you manage to catch one of the battle re-enactments which often take place in the summer, you'll be amazed.
Countryside walks in spring and summer
Surprising colours of the Highlands
Colours of the Cairngorms in late summer
We asked our guests what sets Scot Mountain Holidays apart, why they return year after year:
"the social aspect"  –  "the camaraderie, food and conversation"   –
"the company of the hosts"  –  "so warm and welcoming"  –  
 "a profound sense of belonging"  –  "the welcome of Rebecca's home cooked meal"  –  "Andy's skills as a guide, naturalist and leader"  –  "stewardship, sustainability and a small footprint"  –  "in harmony with the land"  –  "a slice of rural Scottish life"
Scot Mountain Holidays is the ONLY adventure tour operator in Highlands of Scotland with a combined home and guest lodge. We strive to be more than just an tour. We aim to provide you with a 'home away from home' on your adventures. We thought of no better way of doing this than to welcome you into our own home.
We have owned and operated Fraoch Lodge as our home base and business since 1999. In that time, we have come to embrace our guests as members of our extended Highland family.
We source our meals from locally produced and home grown ingredients to provide you with the most delicious flavours and traditions the area has to offer (while minimising our impact on the environment, too). Our dining room and lounge are shared spaces where we gather with guests and friends to share in the holiday and offer you extensive knowledge of your tour.
No matter the season, the Cairngorms and Fraoch Lodge is a place to relax and explore all its beauty and comforts, and we hope to make you feel as at home as we are.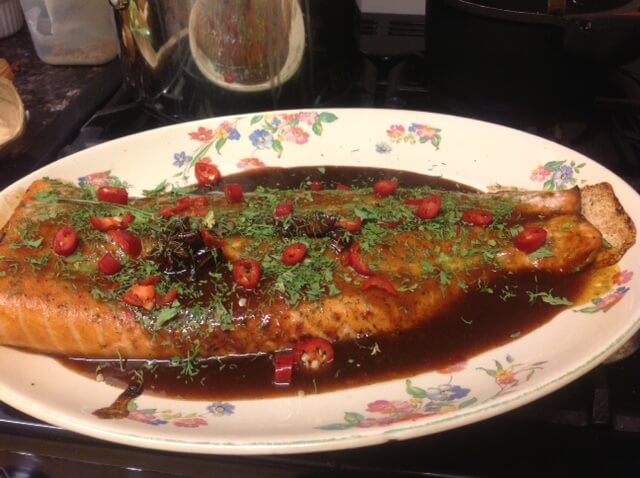 We have achieved Gold Star Awards from the world's most highly respected green accreditation scheme, Green Tourism, and were awarded Highly Commended in their Green Star Awards 2013 for both Scot Mountain Holidays and Fraoch Lodge. We offer a Green Travel Discount of £15 to any guests who travel to us by public transport. Our primary aim is to minimise the carbon footprint of our holidays, and to this end we donate 1% of the price of our tours to the RSPB's Abernethy Reforestation project.
It is a holistic approach we have to the care of the environment. Andy your adventure guide has a passion for the natural world – whether it's the flora, fauna or fungi. He has a background in geology and a lifelong interest in natural history, as well as being a keen gardener.  He knows a Golden Plover from a Dotterel, a Green Shank and a Dunlin. He also makes no apologies to being very excitable upon spying a Golden Eagle!
For further information, please don't hesitate to check out our Environmental Responsibility page, or contact us directly at info@scotmountainholidays.com.