Why go walking in winter
1. Why go walking in winter – Keep fit
It's all in vogue these days. As our normal lives become more and more sedentary, there's an increasing emphasis on keeping fit. As we get older too, it becomes increasing difficult to maintain our fitness levels. We can't afford to hibernate over the winter. Instead of heading abroad, we can take on a new experience and continue getting out in the countryside throughout the winter months. If you find the winter weather a challenge or too scary, take a course to give you the confidence to get out walking the hills in winter.
Extra ways of burning calories while walking in winter include:
carrying a rucksack
walking on rough ground
using walking poles
wearing heavy boots
walking in colder temperatures as you have to burn more calories to keep warm
All of which you can tick when you go hillwalking in winter.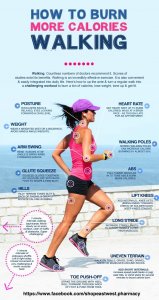 As far as anyone can tell, the "one pound on your feet equals five pounds on your back" notion originated with Sir Edmund Hillary's successful in 1953. Since then, numerous studies by academic researchers and even the have concluded one thing on the matter: Weight on the feet is disproportionately more exhausting than weight carried on the torso.* To find out more read the links in our further reading section. Therefore walking in winter boots requires more effort and will burn more calories!
2. Why go walking in winter – Spectacular views
The air in winter is so much more crisp and clear than in the spring/summer months. In spring the large estates who own huge swathes of the Scottish hillside, often start to burn the heather to maintain the grouse moors. Obviously this produces a haze from the smoke which can affect visibility. In the summer the air is generally more hazy due to the humidity which then affects how far you are able to see clearly.
In the middle of winter it is possible to see 100km or more from the high hills. For example, Ben Nevis can clearly be seen from the summit of Cairngorm.
3. Why go walking in winter – It's a challenge
Challenge is the big buzz word these days. Have you run your first marathon? Have you participated in your first triathlon/ironman? Tough Mudder anyone? Compared with challenges like these, winter hill walking is much more accessible and something you could do every day (in season). The biggest challenge for winter hillwalking is building up your stamina when you're also trying to hold down a full time job. Many of us have deskbound jobs these days and the closer we get to "middle-age" (our 40s and 50s) the more difficult it is to maintain fitness and stamina levels. However, in the course of a week, many people find that their fitness and stamina levels noticeably improve on a guided winter hill walking trip.
On a typical winter walking day out with Andy, the guests record steps in excess of 30,000 per day! You'd be well on your way to your #Walk1000miles at that rate.
4. Why go walking in winter – Camaraderie
Sharing is a major part of walking. People tend to chat as they walk in a group and often end up discussing all manner of topics; setting the world to rights. When you share an interest (i.e. walking) already with the people you're with, chances are you have topics in common you can discuss without coming to blows. Of course, camaraderie is not something which is confined to winter, but there is something about pitting your skills against the environment which pulls your group together and gives you something to share.
5. Why do walking in winter – Gear
It doesn't matter what sport you're enthusiastic about, people love to talk about their gear and share their experiences of using it. When it comes to winter walking, if you're a novice, you will need to make some investments to upgrade from your summer/autumn walking equipment in order to be safe in the winter hills. If you're not sure it's going to be your thing (though if you already enjoy walking, you might get hooked quite easily), you can always hire the technical stuff – winter grade boots, ice axe and crampons, before making the leap yourself into buying the kit.
6. Why go walking in winter – Legitimate adult play in the snow
Sliding around in the snow with a sharp tool – sliding down a hill on your bum – digging in the snow – kicking into ice with crampons – all become legitimate "skills" when you're on a winter course learning the "personal safety skills" of safe movement on the winter hills.
 7. Why go walking in winter – Cheap alternative to skiing
To go out walking you don't need to pay for a lift pass for every day you want to go up the hills.
You don't need to buy the skis and generally you're further away from the ski lodges, so you don't have access to the cafes and restaurants, which means you have far fewer opportunities to spend your hard earned pennies.
8. Why go walking in winter – Builds confidence
Gaining new skills and becoming proficient in using them builds confidence not only in the activity you are doing, but also in other areas of your life. It is always a good idea to keep your brain active and to learn new things, particularly if you are also learning new physical skills which will help your body remain fit as well as your brain.
If you're a novice or if you're lacking time to gain the skills yourself, remember that winter is harsh environment and not everyone has the experience to head up into the mountains but there are plenty of local, highly-qualified guides who are very happy to take you out.
9. Why go walking in winter – Something to share
It's much more fun to share unusual experiences with your friends. Most people like to see images and videos of adventurous activities, spectacular views, mountains, nature – you can tick all these boxes when you record your experiences out and about in the winter hills, then share then on your favourite social media channel. You're virtually guaranteed some interaction with your friends/followers.
Resources/Extra reading
*
– discussion on the science behind extra weight on your feet.
The United Kingdom is treacherous when it comes to weather. One minute the sun is shining and the next its dreary, cold and you've retreated inside. Getting at least one wet day on your Scottish holiday no matter what the season is quite likely. But don't let it dampen your day. No matter what the season we have the perfect wet weather inspiration for you.
Strathspey Steam Railway
The Strathspey Steam Railway is a major attraction in the Cairngorms National Park, and for good reason. This is a must do activity regardless of the weather. Jump aboard and enjoy the stunning scenery of the Cairngorms from the comfort of inside as well as a unique dining experience, and a piece of history. An activity the entire family will enjoy with the added bonus of it being a piece of history.
Castles and historical landmarks
The Cairngorms National Park and Scotland in general is full of historical sites, such as castles and museums. Exploring castles and learning about Scottish history is the perfect way to spend a wet weather day. Made especially easy if travelling with a vehicle. Within easy reach of Fraoch Lodge are Balmoral, Braemar, Blair and Ballindalloch castles.
Blair castle is the only castle  where there is a private army.
Ballindalloch is perfect for families.
Balmoral has limited access during the main summer period when the royal family are in residence.
Braemar castle is run by the local community and tours are excellent. Furniture is not kept behind "do not touch" barriers and guests are encouraged to sit on furniture and touch displays. There is also a very large Cairngorm Stone on display – the second largest in the world (the largest one is part of a private collection).
Breweries and Distilleries
Scotland is famous for it's whisky and home to many delicious beers and other liquor. There are plenty of breweries to choose from depending on personal preference all within easy access some of which offer free tours and have gift shops. A tasting day and a bit of history is a great way for some wet weather inspiration.
Glenlivet distillery offer free tours on demand and can offer tours in a range of languages.
Cairngorm Brewery offer a very affordable tour and are quite liberal with their tastings. Make sure you are hiking, on public transport or have a designated driver as there are quite a range of beers on offer.
Eat and Drink
Nothing is quite as enjoyable as enjoying local food and watching the world go by. It's also a lovely way to spend a wet and cold day. Whether you head to a coffee shop and enjoy some delicious Scottish treats or a nice pub lunch of some haggis it's the perfect excuse to take you indoors. Or, if you don't want to leave at all join Fraoch Lodge for a delicious home cooked meal served family style.
If you're out and about we recommend the Copper Dog in Craigellachie or the Rowan Tree just outside Aviemore or for a family meal with plenty for everyone try La Taverna for excellent pizza and pasta choices.
Indulge in some shopping
There are plenty of opportunities in Aviemore to check out the latest outdoor fashions. Mountain Warehouse and Blacks both have large stores in the village centre along with numerous independent (like Mountain Spirit) and smaller chain stores (like Nevisport).
Alternatively if you would like to pick up some souvenirs there are plenty of excellent art and craft galleries, including our own excellent gallery and coffee shop 1896 Gallery in Boat of Garten.
Visit a mountain bike trail centre
Mud is a feature to many a good day out on a bike. The more spattered you are, the more fun you've had. There are also many wee skills areas which you can use for free to practise your balance and bunny hops etc.
Take a crafty slant on the day
There are also craft workshops and demonstrations like "Throw a Pot" at Loch an Eilean pottery, weaving or spinning at Knockando Wool Mill or a tour of the Cashmere factory at Johnston's of Elgin (tours are free). Interactive crafts can easily be arranged for groups, please contact us for full details of the options available.
Quiet day
If you're on holidays you'll most likely want some down time. And a rainy day is the perfect excuse. Stay inside, read a book, enjoy an open fire and take some time for yourself.
Scotland is a destination to be appreciated, and like anywhere the weather can be a little disruptive. But Fraoch Lodge is the perfect base for a number of inside activities and you're sure to have an amazing time regardless of the weather.
So you're considering going on a hiking holiday? Firstly; great choice. Not only is hiking extremely beneficial to your health and wellbeing. But it's also a cheaper way to travel and allows you to experience the essence of a place. Hiking holidays are becoming increasingly popular, but there is the question, how to choose a hike in Scotland when there's such a wide range available?
How to choose a hike for you
The first thing to consider is if you want to go on a hike or a walk.
Do you want or need a guide? Fortunately, Scot Mountain Holidays have a range of group hiking holidays, tailor made tours, and private guiding options available, so you'll definitely find the right hike for you. But to ensure you've found the perfect hike you do need to consider certain aspects.
Are you intending to go on an inn-to-inn hike? Follow a long distance trail? Or do you want to get into the mountain wilderness areas and have a truly unique and off the beaten track experience?
Are you quite happy hiking on your own but you'd like some guidance on choosing routes, support with transport? Find out about Scot Mountain Holidays self-guided options for the more adventurous.
Availability
Tours with Scot Mountain Holidays range from weekend getaways to seven days long. With tours running throughout the year, all that is required is for you to decide on your availability.
Choose a season
Choosing a season is one of the most important decisions in finding the right hike for you. Spring and summer are the most popular hiking periods and also provide the most pleasant hiking conditions. Perfect for those with families or first time hikers. Autumn is a wonderful season for hiking due to the beautiful colours, the changing environment and lack of climbing traffic. Autumn is suitable for everyone, and ideal for those who prefer a cooler temperature. Winter is considerably more difficult to hike in, and we recommend winter hiking for those confident in their abilities. This is due to the additional gear required and the added challenges of often hiking through snow. Winter is however often a more rewarding experience, with the raw beautiful scenery, clear winter views and the satisfying sense of accomplishment.
Level of difficulty
Scot Mountain Holiday tours are graded on a level of difficulty from two to five, with five being the most difficult. When considering how to choose a hike in Scotland it's important to take into account your own level of fitness and choose a tour suited to you. For an overview, refer to the Scot Mountain Holidays grading system.
All Scot Mountain Holidays tours are all inclusive. So, all you need to do now, is chose a hike. To ensure the experience pre, during and post hike is completed stress free for you, Scot Mountain Holidays will take care of the rest.
Snow-holing in Scotland Best Practice
Snow-holing in Scotland has a long established history in both our own winter mountains and further afield. Over the last 10 years, snowholing has grabbed the attention of the media and the viewing public. This exposure has introduced and encouraged people happy enough to pay for the experience. Andy Bateman* of Scot Mountain Holidays asks, should we assume what works in other mountains will work well in our own?
 Likely Ambient Temperature
With the seasonal minimum in some recent Scottish winters approaching -20oC and an official record of –27.3oC, you would be forgiven for assuming you'd might be sleeping in temperatures approaching those of Arctic Norway.
Yet Cairngorm (1245m) has only ever recorded around half of this at –16.5oC (12th Jan 1987). Supporting this, Coire Cais Ski Base Station (630m) has a low of -9.2oC.  The residents of nearby Nethybridge (210m) though, claimed the mercury dropped to -31.3oC on 10th January 1982. Satellite evidence suggests they were right!
The vital bit of information on these -30-ish lows are that they were all recorded during temperature inversions. The cold air flowed off the mountains and pooled in the valley bottoms where it cooled further whilst the mountain summits remained appreciably warmer. These record minima are in no way a reflection of the likely temperature you would find on our mountains. It's not surprising when we're never that far from a relatively warm sea in the UK!
So what temperature is likely at the main snow-hole sites, let's say, in the Cairngorms at around 1100m? The seasonal minimum for 900m is usually around -8oC. At 1100m this could translate to -10oC. Far more frequently winter temperatures at this height are around -5 and above. Our mountains simply don't experience anything like the temperatures you might get in e.g. Arctic Norway.
Avoiding roof collapse or sagging
Considering the warmer temperatures, do we really need snowhole features designed to capture warm air? Are sleeping platforms and cold air drains really necessary or should our aim be to lose the warm air?
Snow is a great insulator. A meter thickness in your roof and front wall is of vital importance in this regard. That is 20cm of insulating snow both on the exterior and interior surfaces with 60cm of well insulated structurally sound snow. Light penetrates to a depth of around 75cm so if you see daylight, they're getting too thin. It should also be borne in mind that a 1m thick roof represents a considerable weight. It's vital the front wall is adequately thick and strong enough to support the roof.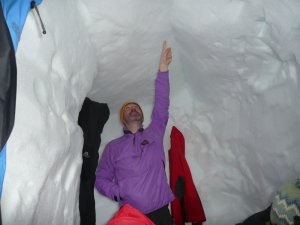 How high is that roof? Look at the apex centre.
Avoiding Avalanches
Snow-hole sites by virtue of their high snow accumulation and steep slopes can be prone to avalanches. To be safe, you may need to pick a slope with a more gentle gradient and spend more time digging out the entrance. The majority of avalanches occur on slopes at or above 30 degrees. To maintain a 1m thick roof, on a slope less than this, you'll have to dig in a minimum 2+ horizontal meters from the top of the doorway before you start widening out the living area.
An Apex Ceiling
Avoid large areas of unsupported roof by keeping your snow-hole narrow. Aim for a depth of 2 body widths between the internal surfaces of the front and back walls.
This means you can create a relatively steep-angled apex ceiling which helps to avoid any drip points. Warm air can then be channeled towards the ventilation holes at the apex high points. In addition with it running the length of the snow-hole it increases the height with minimal snow removal giving everyone the opportunity to straighten their weary backs! Importantly it also removes the unsupported dead weight from the ceiling. As you create the apex be careful not to make the roof too thin. The strength of the roof is in it's thickness.
The all Important Ventilation
Make sure there is good ventilation. My test is to regularly watch my breath. If it drifts off to one side it's a good indication that ventilation is adequate. Cooking with pressure stoves in a poorly ventilated snowhole is extremely dangerous due to the formation of toxic Carbon Monoxide. All pressure stoves work by first oxidising the fuel to Carbon Monoxide (CO) and then to Carbon Dioxide (CO2). The different colours in the flame indicate this. Irrespective of good ventilation a pan of icy water can have a severe quenching effect on the flame preventing combustion of the CO. Research for the British Antarctic Survey (BAS)** showed in heating a pan of icy water CO production could be significantly reduced by raising the pan supports higher above the flame. Snow-holers should acquaint themselves with the symptoms of CO poisoning.
To put this into perspective, I'm unaware of anyone dying from CO poisoning in a snow-hole in the last 18 years in the UK. I do know though, instructors who've attributed head aches to possible CO poisoning. It's worth considering taking a small portable CO detector with you. In a snow-hole with a single entrance and no through air movement, ventilation may well be inadequate. Extinguish candles before you go to sleep as they also produce small amounts of CO.
Although the temperature may remain around 0oC you may well still be "injecting" appreciable heat energy into the snow pack. It takes considerable heat energy to turn snow at 0oC into water at 0oC so it will not be reflected in a temperature rise. It's far more desirable that this heat energy drifts out of the doorways than being absorbed by the snow pack.
Further ways to improve ventilation
Make it large enough to stand up in. Large communal snowholes are less prone to an abrupt temperature rise as they have better ventilation characteristics by virtue of having several entrances, etc. An entrance walled up with blocks in combination with an open doorway will often still allow plenty of ventilation.
Putting aside the dangerous scenario of cooking in a poorly ventilated snow-hole, I've never got up in the middle of the night to purely unblock a doorway for ventilation reasons. All the medical research I have seen (references below) doesn't suggest there is any potential of becoming severely hypoxic in your sleep. Studies suggest sleep will become agitated, you will awake and in doing so get up and ventilate a stuffy snow-hole.
Make them big
One potential hazard of digging a small snow-hole is you don't have enough space to put the snow as you attempt to extricate yourself after a night of severe drifting. On one occasion I did have to tunnel out 1 ½ m before I hit the surface!
Tools of the trade
When it comes Scottish snow conditions, don't underestimate how hard the snow can get. You will need a snow shovel with a metal scoop and a good snow saw. The sintering effects of strong sunlight and hard frosts of high pressure can make wind-slab snow astonishingly hard to dig. A good snow saw is often the only effective way to deal with this type of snow.
"Pack it in & pack it out"
Many of the snow-hole sites are immediately adjacent to water courses. In addition, the snow pack often lasts well into the summer meaning there's little opportunity for biological breakdown of human waste. If you do have to go you should do your business well away from the snow-hole site and far more preferably have some system to carry it out. Cairngorm Mountain's Snow White Project has greatly improved the situation at the Cairngorm sites. All snow-holers coming to the Cairngorms are encouraged to use it.
Conclusion
The safety of a snowhole is often a reflected by the time it has taken to dig. I'm cautious about suggesting how long digging should take as it depends on a number of factors, not least the condition of the snow. From a "duty of care" perspective I feel a large communal snow-hole is much better than several separate small ones. I normally anticipate spending 4 to 5 hrs digging a 4 plus person snow-hole. I accept in soft snow conditions that this can possibly be shorter for a fit party of 2 each digging their own entrance.
With the vagaries of the winter weather, if done correctly Snow-holing is often the far safer option compared to a tented high camp in Scotland's Winter Mountains.
* Andy holds the WML and IML awards and has over 18 years Mountain Leading experience. He has guided well over 30 commercial snow-holing trips in this time and although none of the mountaineering qualifications have a remit that covers snow-holing, he is one of the few guides deemed competent by HSE criteria of "relevant experience" to run snow-holing trips.
** British Antartic Survey helped in a BSc thesis. Available on request from andrew@scotmountainholidays.com
Medical references: