Winter Skills at Hogmanay
(A synopsis in pictures)
The snow's back here in the Cairngorms and it's only 4th November 2014 – plenty of time for the snow to build up for a fabulous Christmas and New Year in the Highlands. Take a look at our selection of winter images below – all taken in during winter seasons in the Cairngorms. Will it be an official white Christmas or just white on the high peaks of the Cairngorms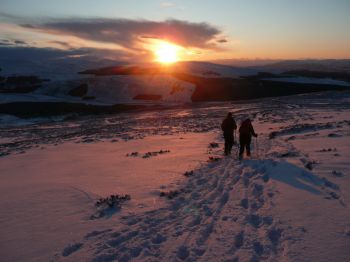 Photo caption: A day out in the snow – heading home in the sunset,
turning the snow pink and giving life to the Cairngorms –
also known as Mhonaidh Ruaidh (the red hills).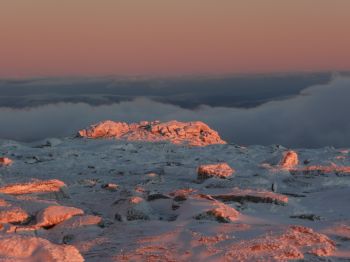 Photo caption: Sometimes a wee bit of cloud can play into your hands
and produce a much more stunning picture than a clear blue sky,
especially in the soft winter light we get here in the Cairngorms,
which is of course enhanced by reflection on the snow.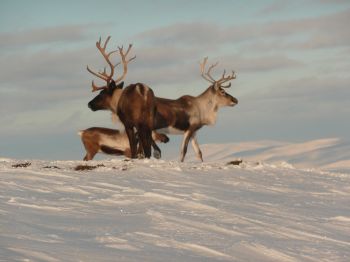 Photo caption: Unique to the Cairngorms National Park,
Britain's only reindeer herd, which are free-roaming
across the hills in the winter. You could bump into them
on any of our courses or winter walking holidays.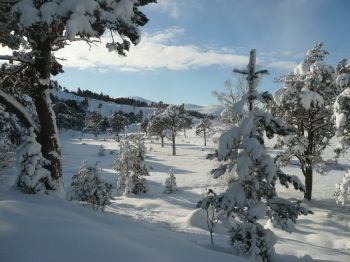 Photo caption: White Christmas? Wouldn't that be amazing?
This is the kind of snow laden scene
we'd all like to see, but how many of you would like to
experience it yourselves? When the snow lay round about,
deep and crisp and even …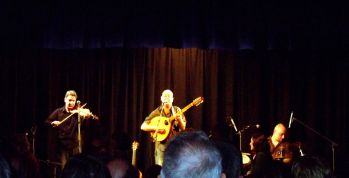 Photo caption: It's New Year and it's Scotland – must mean it's time for a party –
or as you're in Scotland let's give it the proper name and join the ceilidh!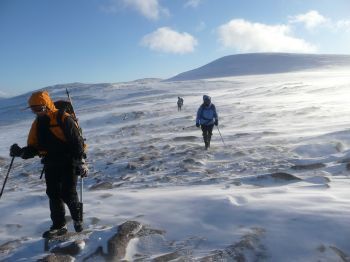 Photo caption: Winter walking holiday across the Cairngorm plateau. Check out the blue skies!
Inspired? Check out some of our winter offerings in the Cairngorms and further afield across the Highlands of Scotland