Why come to Scotland in winter?
10 reasons in pictures
Have you ever wondered what all the fuss is about? Scotland. Why? Especially in winter must be far too cold and far too dangerous. Take a look – yes, it's proper winter but isn't that preferable to wet rain, umbrellas and grey days with little to differentiate between summer and winter, except for the lack of leaves on the trees.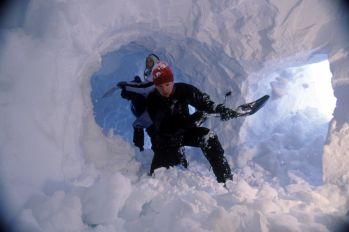 Photo Credit: Paul Tomkins/VisitScotland
1. A Snow Hole Expedition:
Digging out a snow hole site in the Cairngorms under the guidance of Andy Bateman of Scot Mountain Holidays. It's not quite Sweden't ice hotel as you have to create the living space yourself, but they'll have a relatively comfortable night out of the wind, cocooned in their sleeping bags enjoying being cooked for and served a three course meal by their guide.
2. Winter mountaineering and ridge walking:
Hiking along the ridges of Argyll, Kintail or Glencoe – space to yourself away from all the crowds and views which stretch for miles under clear skies. We often visit the west coast of Scotland in March to bag some winter Munros: we've run trips in Argyll, Glencoe and Kintail. For this year's offering check the calendar or the Munro bagging page. Some of our clients have left from these trips with the most spectacular images – but those are for another blog.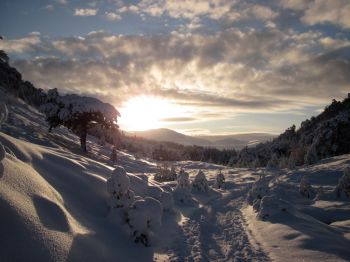 Photo credit: Dave Downing
3. Cross country skiing:
The beauty of Glenmore in the winter. Snow laden trees and cross-country skiing opportunities. Short days are not always a disadvantage as they allow for the most spectacular photographic opportunities, as seen above.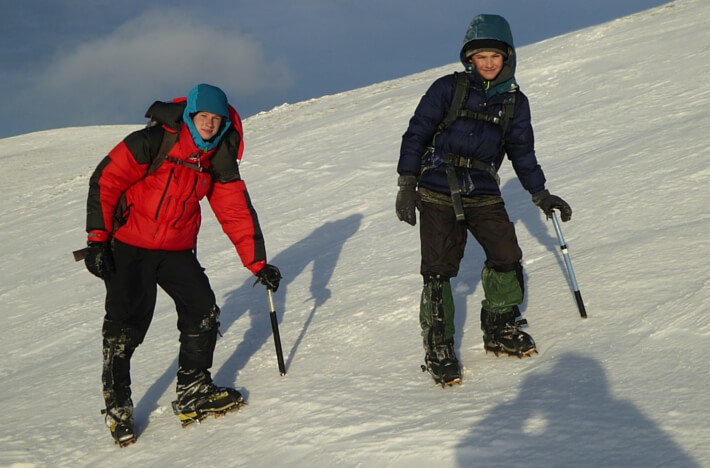 4. A winter skills course:
Safety skills for walking in the winter hills, demonstrated here by Andy Bateman – ice axe arrest. Legitimate playing in the snow, but as part of a learning process on how to avoid a sliding fall.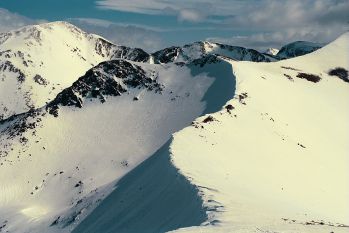 5. Winter photography:
Scotland on a cold, clear, crisp day in winter. What's not to like, especially if you like to take stunning pictures.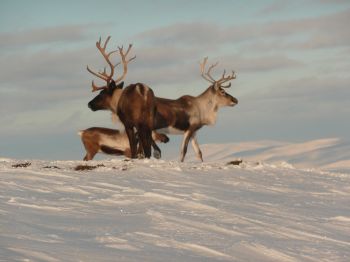 6. Reindeer:
The Cairngorm Reindeer herd in their natural environment. When out walking in the Park, you can come face to face with the reindeer who roam the hills in winter.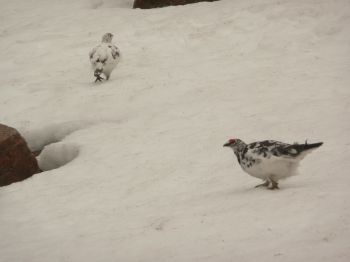 7. Ptarmigan:
The Scottish Munros, particularly the Cairngorms, are the only area of the UK where you can spot Ptarmigan. Ptarmigan change their plummage twice a year – they have a summer coat, a breeding plummage and a winter coloration to blend in with the snow. You can almost step on the Ptarmigan sometimes as they like to conserve their energy by walking rather than flying if they can and they nest on the ground – there being no trees at the elevation where they are found.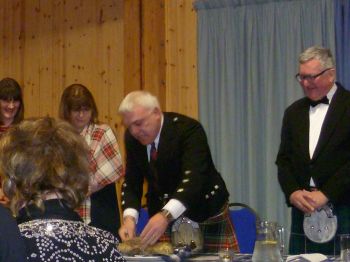 8. Burns Night:
a chance to savour some of Scotland's most famous and unique produce. Haggis is a traditional meal to celebrate Scotland's greatest bard, whose influence can be found everywhere from the Birks of Aberfeldy (where there is a thinking/writing seat dedicated to Rabbie Burns) to the Winking Owl in Aviemore, where the great bard is said to have taken breakfast. You might not even be aware of his influence on your own life from: "And we'll tak a cup o' kindness yet, for auld lang syne" – which you'll have sung if you've ever brought the New Year in; to "O' my luve's like a red, red rose, that's newly sprung in June" and a special Scottish grace for a meal: "Soem hae meat and canna eat And some would eat that want it. But we hae meat and we can eat, sae let the Lord be thankit."
Burns Night is 25th January and is celebrated throughout Scotland with a haggis meal and the address to the haggis – written by Rabbie Burns.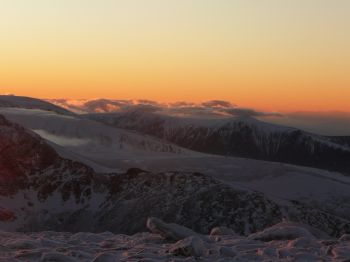 9. Colours of winter:
Scotland is famous for the colours of heather in the summer but the winter can be colourful too. This is the time of year that you'll get to appreciate the sunset. The snow also reflects the light of the moon & stars if the sky is clear, so a night out in winter can be glorious.
10. Snow is fun:
snow will entertain the kids for hours and cost nothing, but make sure you're well stocked with socks, gloves and hot chocolate!
Useful links:
Snow related activities for kids:
Free mountain weather service:
Met Office forecast for the hills:
Scottish Avalanche Information service: