Snow-holing in Scotland Best Practice
Snow-holing in Scotland has a long established history in both our own winter mountains and further afield. Over the last 10 years, snow-holing has grabbed the attention of the media and the viewing public. This exposure has introduced and encouraged people happy enough to pay for the experience. Andy Bateman* of Scot Mountain Holidays asks, should we assume what works in other mountains will work well in our own?
 Likely Ambient Temperature
With the seasonal minimum in some recent Scottish winters approaching -20oC and an official record of –27.3oC, you would be forgiven for assuming you'd might be sleeping in temperatures approaching those of Arctic Norway.
Yet Cairngorm (1245m) has only ever recorded around half of this at –16.5oC (12th Jan 1987). Supporting this, Coire Cais Ski Base Station (630m) has a low of -9.2oC.  The residents of nearby Nethybridge (210m) though, claimed the mercury dropped to -31.3oC on 10th January 1982. Satellite evidence suggests they were right!
The vital bit of information on these -30-ish lows are that they were all recorded during temperature inversions. The cold air flowed off the mountains and pooled in the valley bottoms where it cooled further whilst the mountain summits remained appreciably warmer. These record minima are in no way a reflection of the likely temperature you would find on our mountains. It's not surprising when we're never that far from a relatively warm sea in the UK!
So what temperature is likely when snow-holing in Scotland, let's say, in the Cairngorms at around 1100m? The seasonal minimum for 900 m is usually around -8oC. At 1100 m this could translate to -10oC. Far more frequently winter temperatures at this height are around -5 and above. Our mountains simply don't experience anything like the temperatures you might get in e.g. Arctic Norway.
Avoiding roof collapse or sagging
Considering the warmer temperatures when snow-holing in Scotland, do we really need snow-hole features designed to capture warm air? Are sleeping platforms and cold air drains really necessary or should our aim be to lose the warm air?
Snow is a great insulator. A meter thickness in your roof and front wall is of vital importance in this regard. That is 20 cm of insulating snow both on the exterior and interior surfaces with 60 cm of well insulated structurally sound snow. Light penetrates to a depth of around 75 cm so if you see daylight, they're getting too thin. It should also be borne in mind that a 1 m thick roof represents a considerable weight. It's vital the front wall is adequately thick and strong enough to support the roof.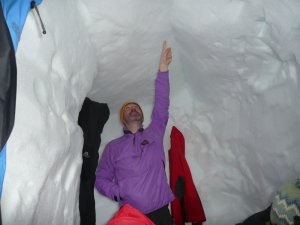 How high is that roof? Look at the apex centre.
Avoiding Avalanches
Snow-hole sites by virtue of their high snow accumulation and steep slopes can be prone to avalanches. To be safe, you may need to pick a slope with a more gentle gradient and spend more time digging out the entrance. The majority of avalanches occur on slopes at or above 30 degrees. To maintain a 1 m thick roof, on a slope less than this, you'll have to dig in a minimum 2+ horizontal meters from the top of the doorway before you start widening out the living area.
An Apex Ceiling
Avoid large areas of unsupported roof by keeping your snow-hole narrow. Aim for a depth of 2 body widths between the internal surfaces of the front and back walls.
This means you can create a relatively steep-angled apex ceiling which helps to avoid any drip points. Warm air can then be channelled towards the ventilation holes at the apex high points. In addition with it running the length of the snow-hole it increases the height with minimal snow removal giving everyone the opportunity to straighten their weary backs!
Importantly it also removes the unsupported dead weight from the ceiling. This is one of the most important aspects of snow-holing in Scotland. Although not mutually exclusive, removing the ceiling dead weight is of more importance to ceiling stability than temperature! Very few, experienced and inexperience alike, pay attention to removing the dead weight. I've managed to snow-hole once at +5 Deg C without any roof deformation! The roof of a snow-hole I constructed for the BBC Travel Show lasted through until around the 25th June!! The ceiling at that point was only a foot off the floor, but it hadn't collapsed!! Every other snow-hole at that point was merely a hollow in the snow. As you create the apex be careful not to make the roof too thin. The strength of the roof is in it's thickness.
The all Important Ventilation
Make sure there is good ventilation. My test is to regularly watch my breath. If it drifts off to one side it's a good indication that ventilation is adequate. Cooking with pressure stoves in a poorly ventilated snow-hole is extremely dangerous due to the formation of toxic Carbon Monoxide. All pressure stoves work by first oxidising the fuel to Carbon Monoxide (CO) and then to Carbon Dioxide (CO2). The different colours in the flame indicate this. Irrespective of good ventilation a pan of icy water can have a severe quenching effect on the flame preventing combustion of the CO. Research for the British Antarctic Survey (BAS)** showed in heating a pan of icy water CO production could be significantly reduced by raising the pan supports higher above the flame. Snow-holers should acquaint themselves with the symptoms of CO poisoning.
To put this into perspective, I'm unaware of anyone in the last 25 years dying from CO poisoning whilst snow-holing in Scotland. I do know though, instructors who've attributed head aches to possible CO poisoning. It's worth considering taking a small portable CO detector with you. In a snow-hole with a single entrance and no through air movement, ventilation may well be inadequate. Extinguish candles before you go to sleep as they also produce small amounts of CO.
Although the temperature may remain around 0oC you may well still be "injecting" appreciable heat energy into the snow pack. It takes considerable heat energy to turn snow at 0oC into water at 0oC so it will not be reflected in a temperature rise. It's far more desirable that this heat energy drifts out of the doorways than being absorbed by the snow pack.
Further ways to improve ventilation
Make it large enough to stand up in. Large communal snow-holes are less prone to an abrupt temperature rise as they have better ventilation characteristics by virtue of having several entrances, etc. An entrance walled up with blocks in combination with an open doorway will often still allow plenty of ventilation.
Putting aside the dangerous scenario of cooking in a poorly ventilated snow-hole, I've never got up in the middle of the night to purely unblock a doorway for ventilation reasons. All the medical research I have seen (references below) doesn't suggest there is any potential of becoming severely hypoxic in your sleep. Studies suggest sleep will become agitated, you will awake and in doing so get up and ventilate a stuffy snow-hole.
Make them big
One potential hazard of digging a small snow-hole is you don't have enough space to put the snow as you attempt to extricate yourself after a night of severe drifting. On one occasion I did have to tunnel out 1 ½ m before I hit the surface!
Snow-holing in Scotland: tools of the trade
When it comes Scottish snow conditions, don't underestimate how hard the snow can get. You will need a snow shovel with a metal scoop and a good snow saw. The sintering effects of strong sunlight and hard frosts of high pressure can make wind-slab snow astonishingly hard to dig. A good snow saw is often the only effective way to deal with this type of snow.
"Pack it in & pack it out"
Many of the snow-hole sites are immediately adjacent to water courses. In addition, the snow pack often lasts well into the summer meaning there's little opportunity for biological breakdown of human waste. If you do have to go you should do your business well away from the snow-hole site and far more preferably have some system to carry it out. Cairngorm Mountain's Snow White Project has greatly improved the situation at the Cairngorm sites. All snow-holers coming to the Cairngorms are encouraged to use it.
Conclusion
The safety of a snow-holing in Scotland is often a reflected by the time it has taken to dig. I'm cautious about suggesting how long digging should take as it depends on a number of factors, not least the condition of the snow. From a "duty of care" perspective I feel a large communal snow-hole is much better than several separate small ones. I normally anticipate spending 4 to 5 hrs digging a 4 plus person snow-hole. I accept in soft snow conditions that this can possibly be shorter for a fit party of 2 each digging their own entrance.
With the vagaries of the winter weather, if done correctly Snow-holing is often the far safer option compared to a tented high camp in Scotland's Winter Mountains.
* Andy holds the WML and IML awards and has over 20 years Mountain Leading experience. He has guided well over 30 commercial snow-holing trips in this time and although none of the mountaineering qualifications have a remit that covers snow-holing, he is one of the few guides deemed competent by HSE criteria of "relevant experience" to run snow-holing trips.
** British Antartic Survey helped in a BSc thesis. Available on request from andrew@scotmountainholidays.com
Medical references:
www.ncbi.nim.ni.gov/pubmed/18665947
www.ncbi.nim.ni.gov/pubmed/9340627
www.ncbi.nim.ni.gov/pubmed/8355417
www.ncbi.nim.ni.gov/pubmed/15265339